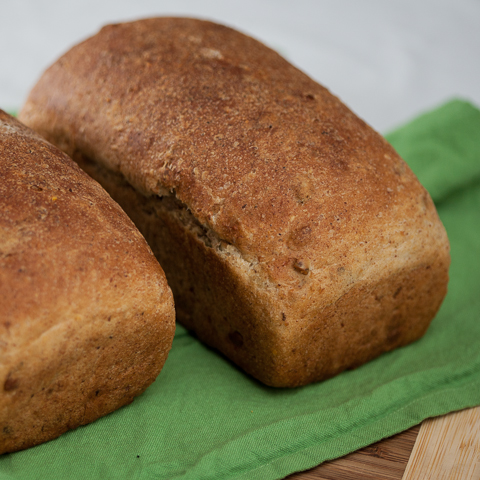 I've already lost track of how many loaves of bread I've baked this school year.   Maybe next year I'll keep a list, but for now it's enough that I'm well ahead of my goal of baking bread at least once a week for my daughters' school lunches.
Since I usually squeeze bread-baking in between various family or work responsibilities, I tend to make the same recipes over and over again.  A couple of weeks ago while I prepared to make some multigrain loaves, I eyed the large container of pumpkin seeds that we've enjoyed so much in these Pumpkin Millet Muffins.  On a whim, I toasted some seeds and tossed them in the with the rest of the ingredients.
The next morning, as my husband cut into one of the deep golden loaves to make sandwiches, I eyed a slice eagerly;  the pale green pumpkin seed cross-sections dappling its surface prompted me to slather it with butter  and indulge in a second breakfast.  The seeds added a toasted nuttiness and pleasant crunch to the tender, flavorful bread….