A honeyed cherry topping and toasted pecans give simple elegance to this baked brie appetizer.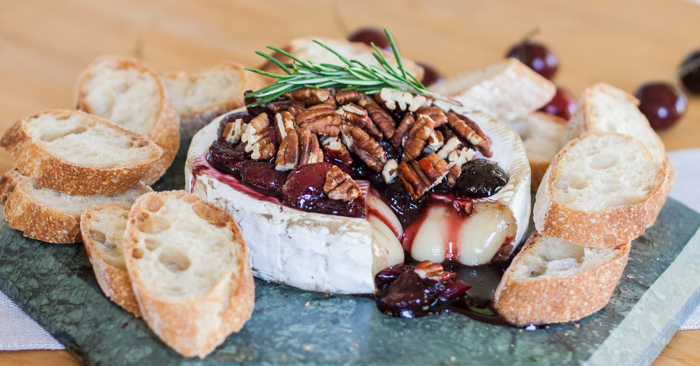 Summer's warm weather and longer days make it a great season for spontaneous entertaining. Last minute gatherings depend on quick and easy recipes, and this Baked Brie with Honeyed Cherries and Toasted Pecans is perfect for its ease, deliciousness, and impressive presentation.  It's simple to prepare yet decidedly elegant.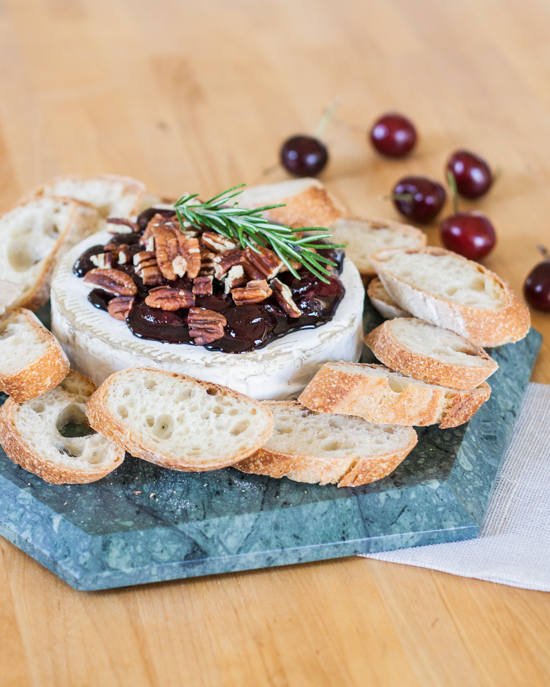 Brie's edible rind keeps the warm, oozy cheese contained as it bakes, and the cherry topping, which simmers and thickens on the stove, is ready just as the brie comes out of the oven.
Tossed with honey and a splash of balsamic vinegar, the cherries add sweet, tart flavor to the creamy, oven-warm brie, and a handful of toasted pecans rounds out the flavors with nutty goodness. Spread on thin slices of baguette, this tantalizing combination won't last long at any party. Happy summer!
Baked Brie with Honeyed Cherries & Toasted Pecans
Ingredients
1 small (13.4 ounce) round of brie
1 generous cup fresh cherries, pitted and halved
1 tablespoon honey
1 teaspoon balsamic vinegar
1 pinch salt
¼ cup pecans, toasted and coarsely chopped
thinly sliced baguette, for serving
Instructions
Preheat oven to 350º F. Unwrap brie and place it on a parchment-lined baking sheet. Bake for 14 minutes.
While the brie bakes, combine cherries, honey, balsamic vinegar, and salt in a small sauce pan over medium heat. Bring to a boil, and then reduce heat and simmer, stirring occasionally, until the juices are slightly thickened, about 12 minutes.
Transfer brie to a serving platter and top with cherry mixture. Sprinkle pecans over the top and serve warm with baguette slices.
PIN BAKED BRIE WITH HONEYED CHERRIES & TOASTED PECANS: