Fruity and moist, these Ginger-Chocolate Chip Banana Muffins include generous quantities of crystallized ginger and chocolate chips for extra flavor and richness.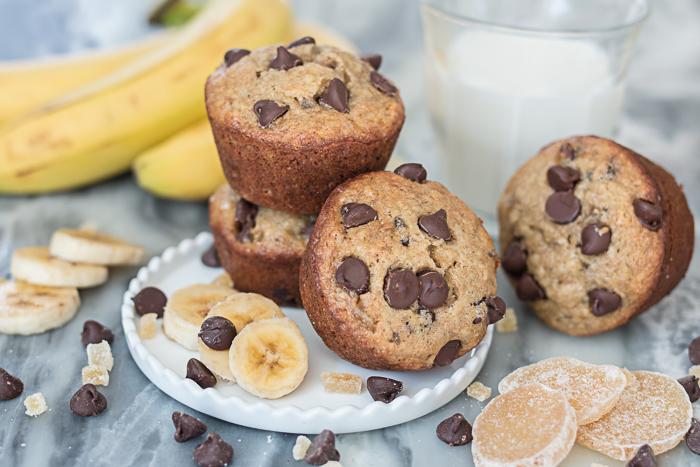 We've been mixing crystallized ginger into all kinds of recipes at my house lately. Tessa loves it in her chocolate chip pancakes, and I love it in my granola.
Recently, when I had some overripe bananas, I couldn't help reaching for the crystallized ginger to bake into some banana muffins, and I'm so glad I did!
Sweet and moist from three large ripe bananas, these flavorful Ginger-Chocolate Chip Banana Muffins deliver warm, vibrant bursts of ginger in every single bite.
Chocolate tastes amazing with bananas, and, it turns out, it works incredibly well with crystallized ginger, too!  A generous helping of semisweet chocolate chips adds rich smoothness to these fruity muffins.
When mixing the batter, I usually hold back some of the chocolate chips to sprinkle over the top right before baking to give them more visual appeal. Warm from the oven, the exposed chocolate glistens temptingly. The chocolate's melted, velvety consistency — both inside and out of the muffins — is pure perfection!
These muffins also taste delicious once cooled, but if I'm snacking on a room-temperature muffin, I usually toast it, or, at the very least, give it a 10 to 20-second burst in the microwave to remelt the chocolate. Warm, luscious chocolate is just too hard to pass up for me.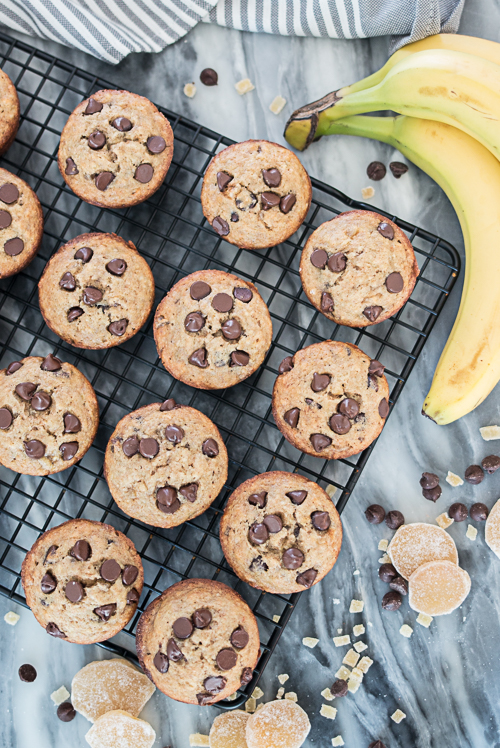 This quick and easy muffin recipe is a welcome addition to breakfast or snack-time, and it's super satisfying to make.  I'm usually so careful with bananas because I'm afraid of bruising them, so it's kind of freeing for me to smash them up for baking with a potato masher or fork.
I used both unbleached all purpose flour and whole wheat flour in these muffins to give them extra texture, but if you don't have it on hand, just sub in unbleached all purpose flour for the whole wheat. Your muffins will still taste fantastic!
These Ginger-Chocolate Chip Banana Muffins taste so good that I've found myself grabbing extra bananas so I can bake them regularly! Enjoy!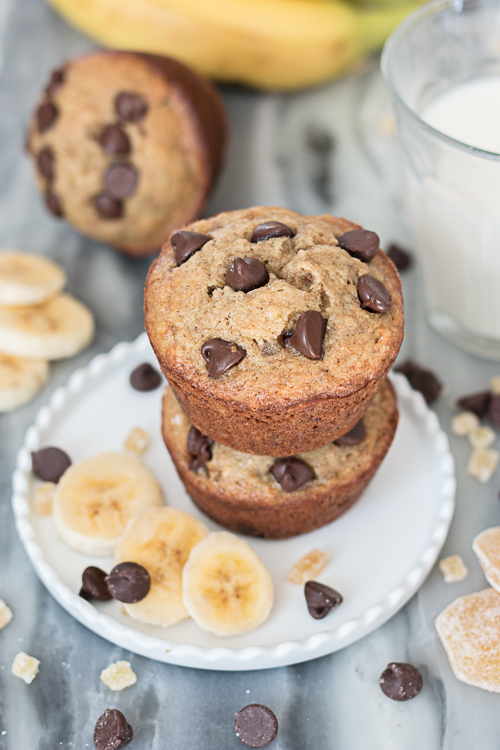 Ginger-Chocolate Chip Banana Muffins
Fruity and moist, these Ginger-Chocolate Chip Banana Muffins include generous quantities of crystallized ginger and chocolate chips for extra flavor and richness. Makes 18 muffins.
Ingredients
1 cup unbleached all-purpose flour
1 cup whole wheat flour (okay to sub in all-purpose if you don't have whole wheat flour)
1 teaspoon baking powder
½ teaspoon baking soda
½ teaspoon ground cardamom
½ teaspoon kosher salt
3 well-mashed ripe, soft bananas (about 1½ cups)
1 cup granulated sugar
⅓ cup buttermilk
2 large eggs
6 tablespoons unsalted butter, melted and cooled slightly
½ cup finely diced crystallized ginger
1 cup semisweet chocolate chips, divided
Instructions
Preheat oven to 375º F. Grease or paper-line 18 standard-sized muffin cups.
Combine flours, baking powder, baking soda, cardamom, and salt in a large bowl. Whisk until well mixed.
In a separate bowl, mix mashed banana, sugar, eggs, buttermilk, and butter until well combined.
Add the wet ingredients to the dry and mix until just combined. Fold in the crystallized ginger and about ¾ of the chocolate chips.
Divide the batter equally between muffin cups with a spoon or ice cream scoop. Sprinkle remaining chocolate chips over the tops of the muffins.
Bake in preheated oven until the muffins are set and a toothpick inserted in the center comes out clean, about 20 minutes.
Let the muffins cool in pan for about 5 minutes before removing to a rack. Serve warm.
Some of the links in this post are affiliate links. If you click through and make a purchase, I earn a small commission for my referral at no additional cost to you. Thank you for supporting Flour Arrangements.
YOU MIGHT ALSO LIKE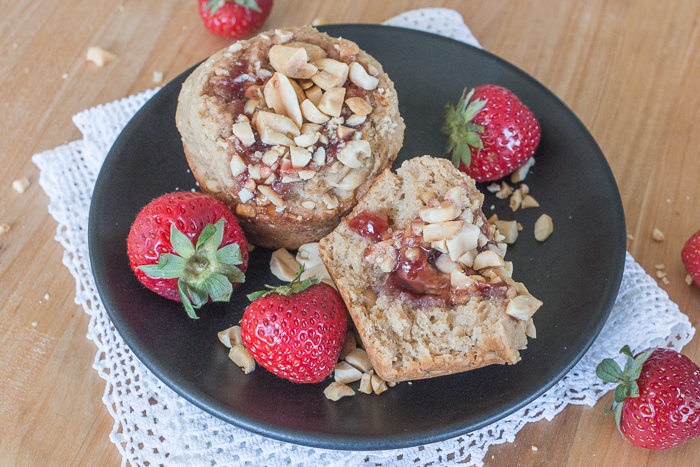 Peanut Butter and Jelly Muffins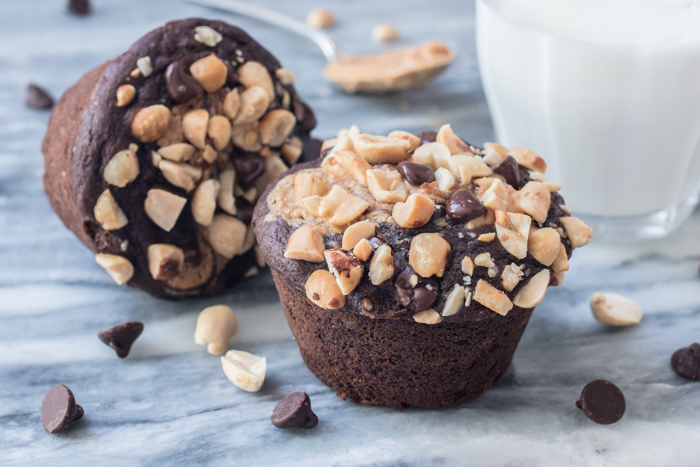 Chocolate Peanut Butter Muffins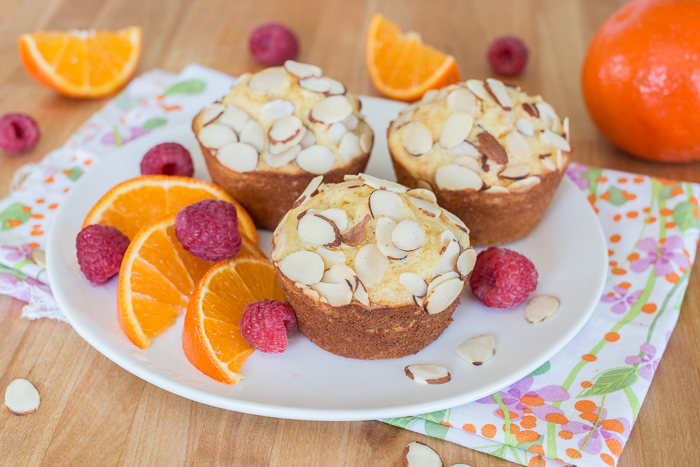 Orange Almond Muffins