Sweet, tart raspberries and Framboise blend perfectly with the deep chocolate flavor in this Chocolate Raspberry Cake. Rich chocolate ganache adds a decadent touch to this bundt cake.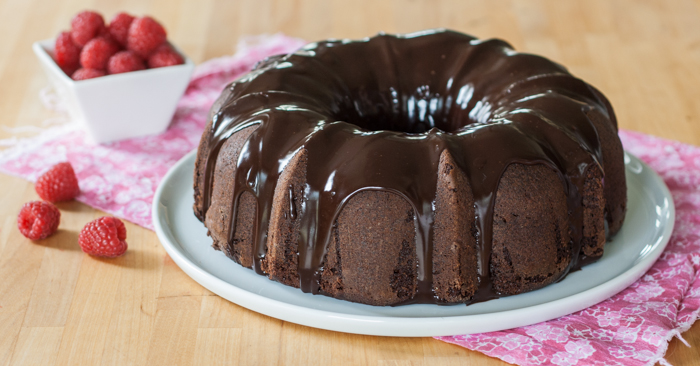 Sweet, tart raspberries and rich, dark chocolate are a perfect flavor combination. I've been totally hooked on this dynamic duo lately, indulging with frightening regularity in this  Raspberry Cream Tart. While I could eat this tart happily any time, I started thinking about other ways to get these two friends together.  A rich chocolate cake studded with raspberries seemed like a great idea — a simple yet delicious dessert along the lines of  this Kahlua Chocolate Cake recipe. Since I'd picked up a bottle of Chambord for the Raspberry Cream Tart recipe, I figured I could substitute Chambord for Kahlua in the cake recipe, toss in some berries, and call it a perfect Chocolate Raspberry Cake!
Then I remembered just how much Kahlua gets mixed in the batter — one cup — and I thought again. Chambord, while decidedly delicious, is seriously pricey. I don't mind using a splash here and there in baking projects, but a full cup! No way!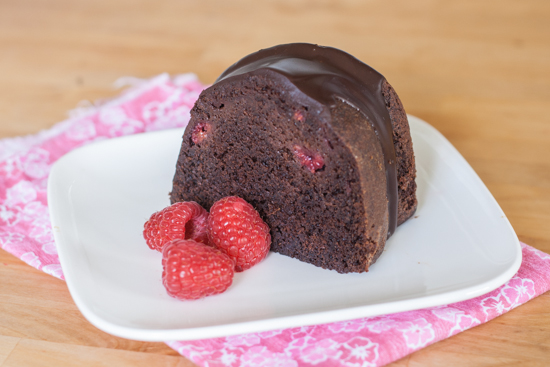 Enter Framboise. We used to drizzle this sweet raspberry wine into mimosas back when we lived in Santa Barbara. Life must have gotten busier and more hectic over the last seven years because I can't remember the last time I sipped a mimosa — Framboise-spiked or otherwise.
…