Mixed by hand, these Simple Chocolate Cupcakes are just as easy to prepare as box-mix cupcakes. They're rich, tender, and delicious, especially topped with Vanilla Frosting, which, like the cupcakes, is easy to make without an electric mixer.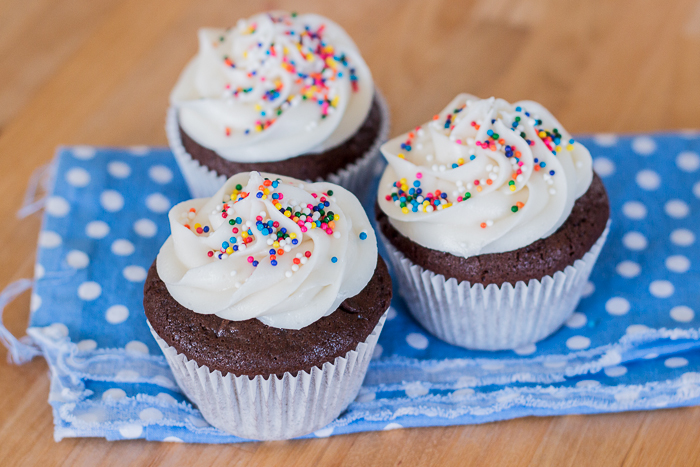 My daughter Eliza and I were recently talking about the kinds of treats her classmates bring to school for their birthdays. Clearly looking for an opening, she said, "If kids only knew how easy it was to make cupcakes, I bet they'd bake their own birthday treats."
I wasn't surprised to learn that most kids bring grocery store cupcakes to school. If you don't bake regularly, the idea of making a classroom's worth of cupcakes seems like a lot of extra work.
With the addition of birthday activities to an already full week, it totally makes sense. Eliza, though, was bound and determined to expose her fellow fifth-graders to something new.
I've been baking with her class one morning a week during math centers this year, and since we're always on the lookout for recipe ideas, she wasn't going to let this opportunity pass without exercising her persuasive skills.  I'm partial to baking cupcakes, anyway, so it didn't take much to sell me on the idea….