Pear Pie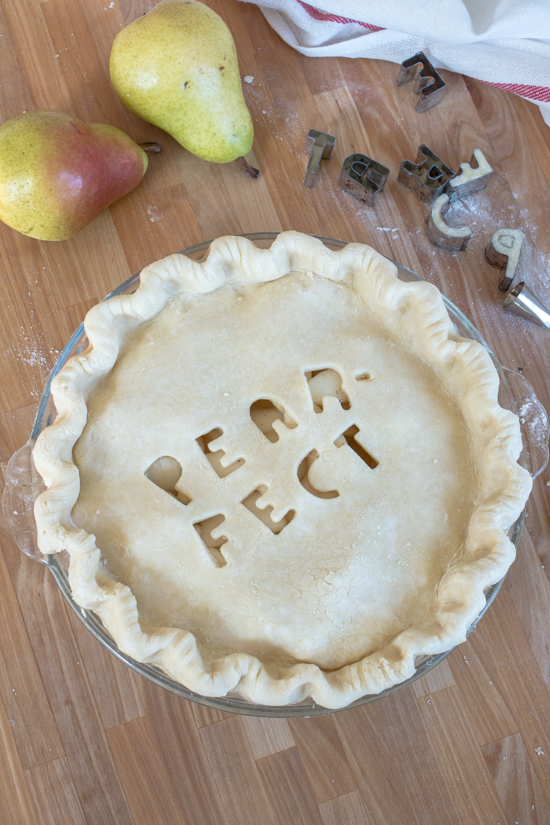 Pastry
2½ cups unbleached all-purpose flour
1 tablespoon confectioners' sugar
1 teaspoon kosher salt
2½ sticks cold butter, cut in ¼-inch slices (1¼ cups)
⅓ cup plus 1 tablespoon ice water, strained
Pear Filling
5 to 6 large pears (about 5 cups, sliced)
2 tablespoons fresh lemon juice
½ to ¾ cups maple syrup, depending on the pears' sweetness
½ teaspoon ground cardamom
pinch freshly grated nutmeg
⅛ teaspoon kosher salt
3 tablespoons corn starch
1 tablespoon unbleached all purpose flour
Egg Wash
1 large egg
2 teaspoons cold water
pinch kosher salt
To prepare the pastry dough, whirl flour, confectioners' sugar, and salt in food processor with the blade attachment. Add about half of the butter and whirl until no chunks remain. Add remaining butter slices and whirl briefly to chop them up slightly. Turn food processor on again and quickly begin drizzling ice water through the feed tube, stopping before the dough comes together. Pinch some crumbs together between your fingers; if they don't stick together, add a bit more water and whirl briefly.
Turn the mixture out onto a large piece of plastic wrap. Use the plastic wrap to help you bring the dough together; fold the edges of the dough toward the center and press down until it holds together, taking care not to overwork the dough. Divide it in half and shape into two flat disks wrapped tightly in plastic. Refrigerate for at least 30 minutes.
While the dough chills, preheat oven to 425° F.
Peel, core, and slice pears to ¼-inch thickness. Toss the slices gently with lemon juice, maple syrup, cardamom, nutmeg, salt, corn starch, and flour. Let the mixture stand for about 20 minutes to soften the fruit.
Whisk egg, water, and a pinch of salt in a small bowl and set aside.
On a lightly floured surface, roll out one of the dough rounds into a 13 to 14-inch circle. Transfer it carefully to a 10-inch pie dish. Brush some of the egg wash over the bottom and up the sides of the pastry dough. Roll out remaining round into a 13 to 14-inch circle.
Fill bottom crust with the pear mixture. Brush the overhanging edge with cold water, cover with the top crust, and seal gently by pressing down on the edge with the bottom of a fork. Trim overhanging dough with a knife and flute the edge with your fingers, if desired. Cut steam vents in the top.
Place pie on a baking sheet to catch any overflowing juices. Bake for 30 minutes. Reduce heat to 350° F and continue baking until the juices bubble thickly through the vents and the fruit feels just tender when poked with a sharp knife, about 40-50 minutes. Allow the pie to cool for several hours before serving.