Small cookie cutters make it easy to decorate a cheery Daisy Cake using marshmallow fondant.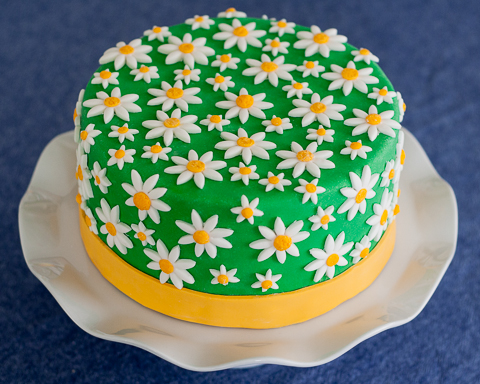 After last year's gingerbread Ferris wheel project, I breathed a sigh of relief when Eliza asked for a daisy cake for her birthday this year.  I pictured a cake with no moving parts, one that required no odd-shaped pans or carving to achieve an elaborate form, and one that didn't require an eruption to complete its effect.  This seemed almost too good to be true, so I asked Eliza to sketch the cake.  Fortunately, it looked just like I imagined it would: a simple layer cake topped with green fondant and covered with lots of little daisies.
Making the cake turned out to be as easy as I'd hoped.  I've had plenty of practice making fondant shapes with cookie cutters, including hearts, balloons, and even diamonds. Repeating basic shapes on a cake is an simple trick for creating a dramatic effect.
…