Flavor-packed and delicious, Ginger-Spiced Waffles topped with Balsamic Roasted Strawberries works well as an indulgent breakfast or a simple dessert.
I've been addicted to balsamic roasted strawberries since my husband mixed them into homemade ice cream a few years ago.  Tossing berries in balsamic vinegar before roasting cranks up their flavor and gives them a sassy edge.  Whenever we have loads of strawberries, many of them make it into the oven. It's an especially great trick with berries that are a bit past their prime or aren't super sweet.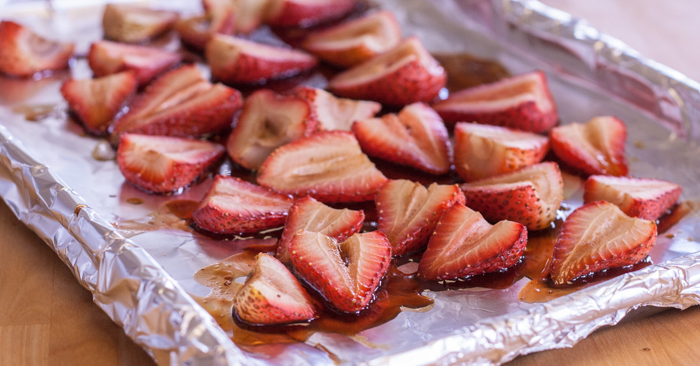 Balsamic roasted berries make pretty much anything better. We've tucked them in profiteroles, sandwiched them in strawberry shortcake, and layered them on vanilla ice cream under a dollop of hot fudge. Once you start roasting strawberries, I guarantee that you'll never run out of ways to eat them.
While you're getting carried away with roasted strawberries, you're going to want to try them with waffles, Ginger-Spiced Waffles to be exact….