Roasted tomatoes really shine against a backdrop of rich caramelized onions, nutty Gruyere cheese, and flaky pastry crust in this tomato & onion tart recipe.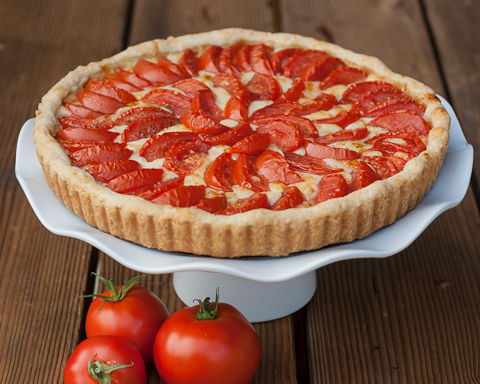 E
very time I bite into a juicy, luscious home grown tomato, the chorus from Guy Clark's
"Home Grown Tomatoes"
plays in my head like a soundtrack:
Home grown tomatoes, home grown tomatoes What would life be without home grown tomatoes? Only two things that money can't buy That's true love and home grown tomatoes It's playing on a constant loop right now since I'm popping little tomatoes in my mouth just as quickly as the plants produce them in these golden days of summer.  Tomatoes are like candy, only better, since you can eat them all you want without any of the sugary guilt. While the zucchini harvest sometimes requires creativity, disposing of an abundance of tomatoes poses no such challenges.  There's no scarcity of dishes that give summer tomatoes' sweet, bright flavor center stage.  On bread or pasta, there's really nothing finer than chopped fresh tomatoes tossed with basil and olive oil.  And as far as lunch goes, what's better than thick tomato slices tucked in a sandwich along with bacon and lettuce? When I'm feeling the need to get more elegant, though, I make tomato & onion tart.
…