Topped with Lime-Cilantro Sour Cream and sprinkled with chopped bacon, these Savory Corn Pancakes taste like little bites of summer.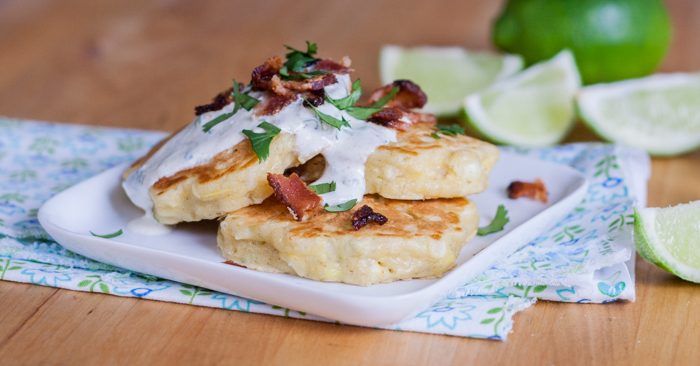 W
hile my kids love to make sweet pancakes, like these little
chocolate-chocolate chip numbers
that are really more dessert than breakfast, I managed to talk Tessa into helping me make some Savory Corn Pancakes the other day. She seemed skeptical at first, but after she nibbled one hot-off-the-griddle, she added — in large, bold letters to the top of my recipe — the words "It's YUMMY!"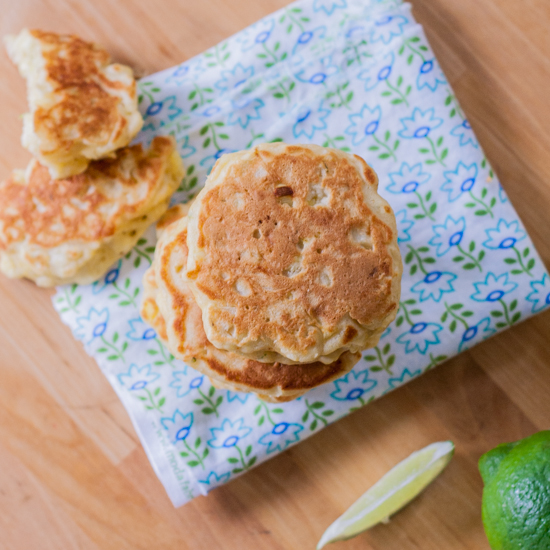 Fresh corn takes center stage in these savory treats, while minced leek, lime zest, ground coriander, and chili powder add interest without overpowering the fresh and flavorful corn goodness. Topped with Lime-Cilantro Sour Cream and sprinkled with chopped bacon, these pancakes taste like little bites of summer.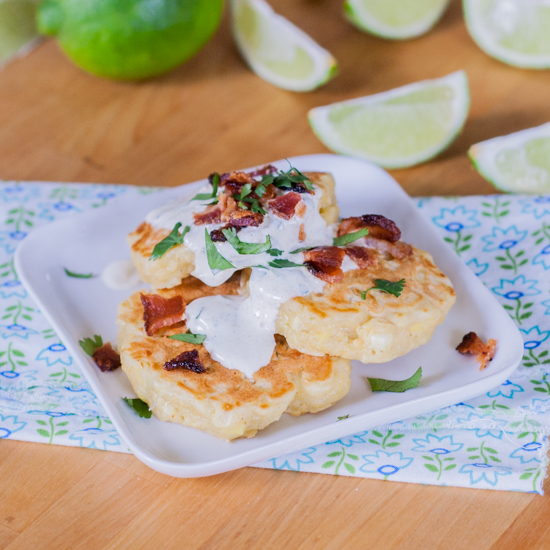 Our savory corn cakes were a spectacular accompaniment to a dinner of grilled chicken and steamed broccoli, but I'm thinking they'd be a great addition to brunch with some smoked salmon, too. My husband suggested that we try them with chili, which tells you just how versatile this recipe really is. It's worth noting, too, that we ended up with more pancakes than we could eat for dinner; when we reheated them in the oven the next day, they tasted just as delicious as they did freshly made.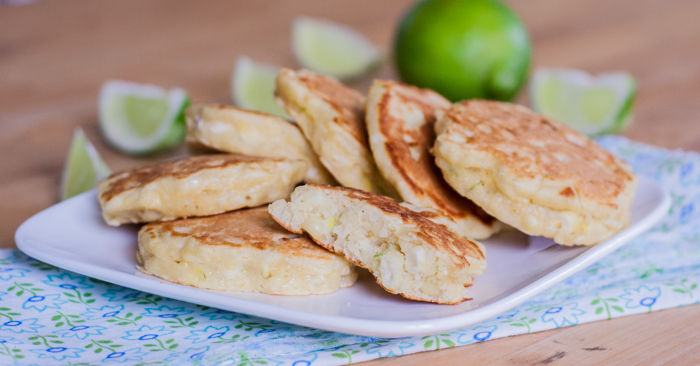 I'm super ready for the height of corn season to arrive. When it does, you'll find me flipping these pancakes just as fast as I can make them!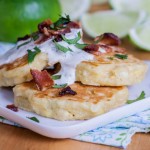 Print Recipe
Savory Corn Pancakes with Lime-Cilantro Sour Cream
Ingredients
Corn Pancakes

1 1/2

cups

unbleached all purpose flour

2

tablespoons

cornmeal

1 1/2

teaspoons

baking powder

1/2

teaspoon

baking soda

3/4

teaspoons

salt

1

teaspoon

ground coriander

1/8

teaspoon

chili powder

4

tablespoons

unsalted butter

1

cup

buttermilk

1

tablespoon

honey

2

cups

fresh corn kernels

(from 2-3 ears)

1

large leek

white part only, finely chopped

1

large lime

zested

2

large eggs

separated

1

large egg white

Lime-Cilantro Sour Cream

1

cup

sour cream

2

tablespoons

chopped fresh cilantro

1

lime

zested and juiced

1

teaspoon

cumin

hot sauce (such as Tabasco)

to taste

1/4

teaspoon

salt
Instructions
For the pancakes, combine flour, cornmeal, baking powder, baking soda, salt, coriander, and chili powder in a large bowl.

In a small saucepan, melt butter over medium heat. Remove from heat and add buttermilk and honey, stirring until honey is dissolved. Mix in the two egg yolks, corn, leek, and lime zest. Combine wet and dry ingredients, stirring until just combined.

In the bowl of a standing electric mixer, beat the three egg whites until soft peaks form. Fold egg whites gently into the corn batter.

Using a 1/4 cup measure, transfer scoops of the thick batter to a lightly buttered skillet or griddle. Flatten them slightly for more even cooking. Let the pancakes cook until bubbles start to pop on their top surfaces and the bottoms are golden brown. Flip with a spatula and cook until lightly browned on the reverse side.

Combine ingredients for the Lime-Cilantro Sauce in a small bowl. Mix well.

Serve pancakes warm drizzled with Lime-Cilantro Sauce. Garnish as desired with chopped bacon, smoked salmon, or other savory topping.
Some of the links in this post are affiliate links. If you click through and make a purchase, I earn a small commission for my referral at no additional cost to you. Thank you for supporting Flour Arrangements.
PIN SAVORY CORN PANCAKES FOR LATER