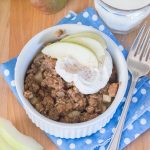 Print Recipe
Quick and Easy Single Serving Breakfast Crisp
If using an apple or pear, there's no need to measure as they are just the right size for a single serving crisp! Frozen berries work especially well with this recipe, which makes it an easy breakfast to prepare without advance planning.
Crisp

1

cup

fruit

diced if using larger fruit; small berries work fine as is

1

tablespoon

brown sugar

2

tablespoons

rolled oats

quick or regular

1

tablespoon

flour

1/8

teaspoon

cinnamon

pinch

salt

1

tablespoon

butter

chopped in pieces

For Serving

fresh fruit

ground nutmeg or cinnamon

Greek yogurt
Place fruit in an 8-ounce ramekin or mason jar. Set aside.

In a separate bowl, combine remaining ingredients. With a pastry blender or clean fingers, work butter into the dry ingredients until the mixture is crumbly and the butter is evenly distributed. Cover fruit with the topping.

Bake at 375°F for 25 to 30 minutes OR microwave on high for 2 and 1/2 minutes or until fruit is tender.

Top with Greek yogurt, a sprinkling of nutmeg or cinnamon, and fresh fruit.