White and black sesame seeds, along with sunflower seeds — both inside and out — add great crunch and a rich, nutty flavor to this Seeded Wheat Bread.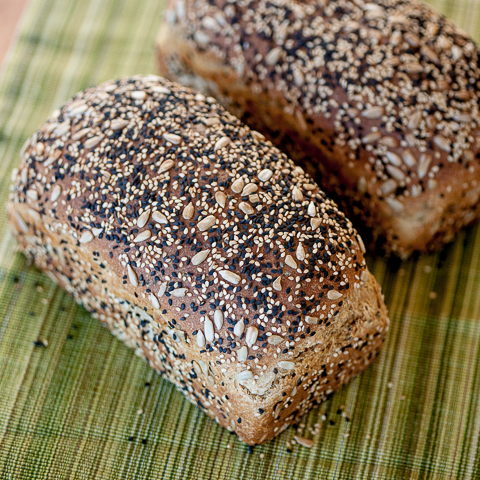 My daughter Eliza eats like a bird.  I mean this literally.  Almost without exception, when I ask her what kind of bread to bake, she asks for bread with seeds — Seeded White Bread or White Bread with Sesame Seeds or Multigrain Pumpkin Seed Bread.
And after I bake seeded bread for her, as the loaves cool on racks, she avidly nibbles any stray seeds that fall onto the counter.
I came up with these latest loaves — seedy as can be, both inside and out — just for Eliza, but we all love them.   White and black sesame seeds, along with sunflower seeds, give the bread great crunch and a rich, nutty flavor, and molasses adds subtle sweetness.
Since I wanted an even coating of seeds on the outside, I experimented with rolling unbaked, just-shaped loaves in scattered seeds before settling them in pans to rise.  This works well as long you shape the loaves on an unfloured surface;  the tackiness of the dough helps the seeds hang on to the bread.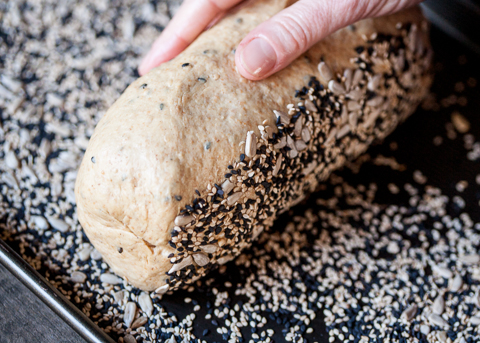 This Seeded Wheat Bread doesn't last long at our house.  In addition to eating it with her peanut butter and jelly sandwich nearly everyday, Eliza toasts up slice after slice to snack on when she gets home from school.
While this may seem contrary to the idea of "eating like a bird," many seed-eating birds consume from a quarter to one-half of their body weight every day.
Fortunately, she's never consumed that much bread in a day's time;  my baking couldn't keep up with her if she did.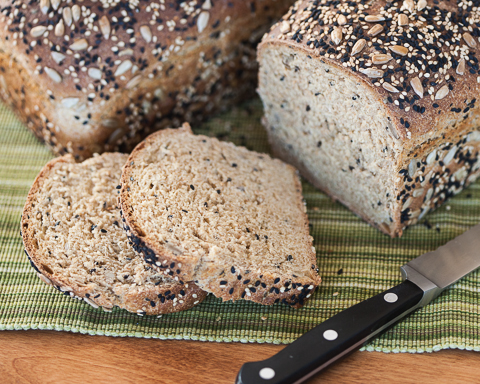 Seeded Wheat Bread
Makes two 9-by-5-inch loaves.
3/4 cups warm water (105° to 115° F)
1 tablespoon active dry yeast
pinch of sugar
1 1/2 cups milk (105° to 115° F)
2 cups whole wheat flour
5 tablespoons black sesame seeds, divided
5 tablespoons white sesame seeds, divided
1/4 cup plus 3 tablespoons sunflower seeds, divided
3 tablespoons vegetable oil
1 /4 cup molasses
1 tablespoon salt
3 to 4 cups unbleached all-purpose flour
Combine water, yeast, and sugar in the bowl of a standing electric mixer.  Let sit at room temperature until foamy, about 10 minutes.
Add milk, whole wheat flour, 2 tablespoons each of black and white sesame seeds, 1/4 cup sunflower seeds, vegetable oil, molasses, and salt to the yeast mixture.  Beat hard until well combined, about 1 minute.  On low speed, add remaining flour, about 1/2 cup at a time, until a soft dough that just clears the sides of the bowl is formed.  Switch to the dough hook and knead for about 5 minutes, until the dough is smooth and springy, but still slightly sticky.  If desired, knead briefly by hand, adding flour only as necessary to keep the dough from sticking.
Place the dough in a deep, greased container.  Turn the dough once to coat the top and cover loosely with plastic wrap.  Let the dough rise at room temperature until doubled, about 1 1/2 to 2 hours.
Scatter 3 tablespoons each of white sesame, black sesame, and sunflower seeds in baking sheet with rolled edges. Set aside.
Turn the dough onto an un-floured surface.  Deflate dough and divide it in two equal pieces.  Shape one piece of dough into a tight loaf.  Roll the loaf in the pan scattered with seeds, pressing down gently but firmly to help the seeds adhere.  Holding the loaf carefully, dip both ends in the seeds, pressing to help them adhere.  Transfer seeded loaf to a buttered 9-by-5 inch loaf pan.  Repeat with remaining piece of dough, adding additional seeds to the baking sheet as needed. Scatter any remaining seeds down the sides of the loaf pans.  Cover loaves loosely with plastic wrap and let rise until they reach the tops of the pans, about 45 minutes.  About 20 minutes before baking, preheat oven to 375°F.
Place loaves on the center rack of the oven and bake for 40 to 45 minutes, or until deep golden brown and the loaves sound hollow when tapped.  Transfer immediately to a cooling rack.  Cool completely before slicing.