Sweet and tart, these Mini Blueberry Pies deliver bold blueberry flavor with a hint of lemon. Their small size makes them so easy to serve and eat!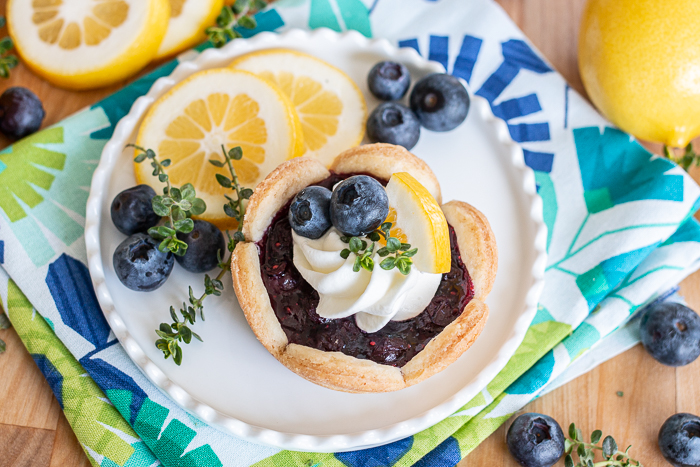 This is the first time in many years that we haven't hosted a pie making party for Pi Day, March 14 — 3.14, that annual celebration of calculations involving circles.
Our Pi Day festivities last year turned out to be our final hurrah before the pandemic turned life upside down. It's hard to believe we've been hunkering down and social distancing for almost a full year now.
While we may not be celebrating Pi Day as we normally do, we're still going to enjoy the day by eating nothing but pie, my favorite circular food. And since we can't host a pie making party, we'll deliver miniature pies to friends instead.
In honor of Pi Day, I came up with a new petite pie recipe perfect for drop off: Mini Blueberry Pies!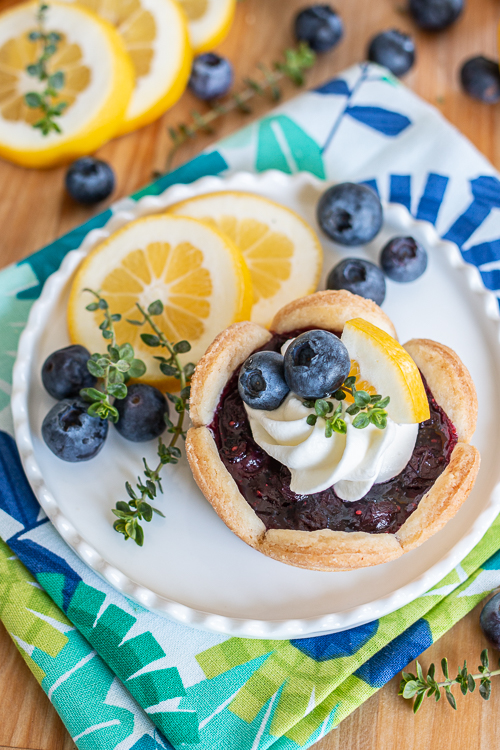 These Mini Blueberry Pies, while small, burst with bold blueberry flavor. They're tart and sweet with a hint of lemon. Topped with lightly sweetened whipped cream or vanilla ice cream, they're irresistible.
Their small size makes them so easy to share, serve, and eat.
How to Make Mini Blueberry Pies
Because these little pies spend very little time in the oven, precooking the filling on the stove ensures that it will thicken and set.
Warm the berries, lemon, sugar, and salt over medium heat until the berries begin to release their juices. Mix in corn starch and water, increase the heat, and bring the berries to a boil.
Transfer the mixture to a small bowl and allow it to cool to room temperature while you prepare the pastry dough.
I like to use a food processor to make the dough, but you can mix the butter into the flour with a pastry cutter or clean fingers, too. Feel free to sub in prepared pie dough if you like.
If you do make your own dough, chill it for at least 30 minutes before rolling it out and cutting a dozen shapes with a 3 ¾ to 4-inch flower cutter.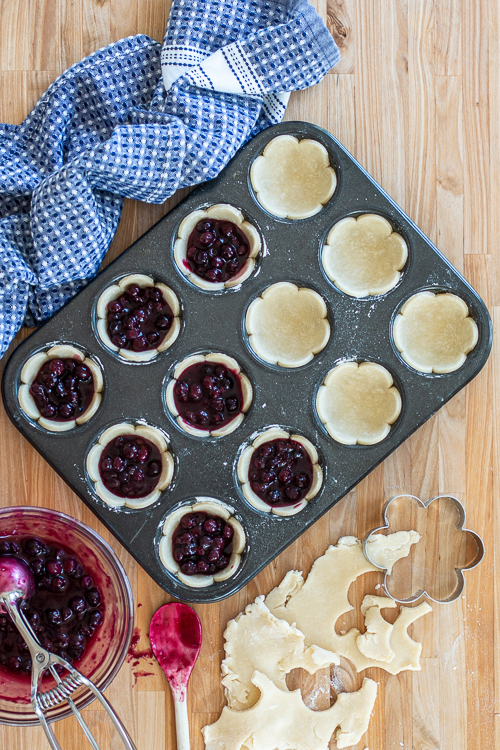 The flower shapes tuck easily into the wells of a muffin pan. Their curved petals prevent excess dough from bunching up around the muffin pan's top edge. It's almost like magic!
Add the cooled filling to each uncooked pie crust, dividing the berries evenly and taking care not to fill them higher than the "notches" between the fluted edges.
Bake the pies at 425º F for 10 minutes and then reduce the oven temperature to 350º F. Continue baking for 5 to 10 minutes, until the crusts are golden brown and the filling bubbles around the edges.
Allow the pies to cool completely in the muffin pan before serving. Working one at a time, run a thin spatula around the edges to loosen each pie before levering it out with the spatula's flat edge.

Mini Blueberry Pie Serving Suggestions
These little pies taste incredible on their own, and even better with vanilla ice cream or whipped cream. For a fun twist, try Meyer lemon or honey-chamomile whipped cream instead of the more traditional vanilla-flavored variety.
Fresh blueberries and lemon wedges add flavorful finishing touches to these dainty treats.
These Mini Blueberry Pies will add something special to Pi Day or, really, any occasion. Let's be honest — what day isn't better with pie?
Print Recipe
Mini Blueberry Pies
Sweet and tart, these Mini Blueberry Pies deliver bold blueberry flavor with a hint of lemon.  Their small size makes them so easy to serve and eat! Makes one dozen pies.
Ingredients
Blueberry Filling
2

teaspoons

corn starch

2

teaspoons

water

1/4

cup

granulated sugar

1

small

Meyer lemon

zested

10

ounces

frozen blueberries

(about 2 ¼ cups)

2

teaspoons

Meyer lemon juice

pinch

salt

1

teaspoon

vanilla extract
Pastry Dough
1 ½

cups

unbleached all-purpose flour

2

tablespoons

confectioners' sugar

1/4

teaspoon

kosher salt

3/4

cups

unsalted butter

sliced in pieces

3

tablespoons

ice water

strained
For Serving
1/2

cup

heavy cream

1/2

teaspoon

vanilla extract

2

tablespoons

confectioners' sugar

1

pint

fresh blueberries

1

Meyer Lemon

cut in small wedges

fresh thyme or mint sprigs
Instructions
Blueberry Filling
Combine the cornstarch and water in a small bowl, whisking until smooth. Set aside

In a medium saucepan, mix the sugar and lemon zest to combine. Add blueberries, lemon juice, and salt and cook over medium heat, stirring occasionally, until the blueberries begin to release their juices, about 4 to 5 minutes.

Whisk the cornstarch mixture once more and add it to the berries, stirring to combine evenly. Increase heat to medium high, stirring gently until the mixture comes to boil. Off heat, stir in vanilla extract.

Transfer the filling to bowl and let it cool at room temperature. If preparing in advance, once filling is cool to the touch, store it covered in the refrigerator until ready to use.
Pastry Dough
For the crust, whirl flour, powdered sugar, and salt in food processor with the blade attachment. Add about half the butter and whirl until no chunks remain. Add remaining butter and whirl briefly until the butter is chopped into pea-sized pieces.

Turn food processor on again and quickly begin drizzling ice water through the feed tube, stopping before the dough comes together. Pinch some crumbs between your fingers; if they don't stick together, add a bit more water and whirl briefly.

Turn the mixture out onto a large piece of plastic wrap. Use the plastic wrap to help you bring the dough together; fold the edges of the dough toward the center and press down until it holds together, taking care not to overwork the dough.

Flatten the dough into a disk and wrap the plastic wrap tightly around it. Refrigerate dough for at least 30 minutes before continuing.
Assembly and Baking
On a floured surface, roll the pastry dough a thickness between ⅛ and ¼ inches. Using a 3 ¾ to 4-inch flower-shaped cookie cutter, stamp out as many flowers as possible.

Gently transfer the shapes to a standard-size muffin tin, tucking each flower carefully into one of the cups. If necessary, combine remaining dough scraps and re-roll to fill 12 muffin cups.

Divide the filling between the prepared muffin cups.

Place the muffin tin in the preheated oven. Bake for 10 minutes. Reduce the temperature to 350° F and continue baking until the crusts are pale golden and the filling begins to bubble around the edges, about 5 to 10 minutes. Cool the pies completely in the muffin pan.
For Serving
To prepare the whipped cream, combine cream, confectioners' sugar, and vanilla extract in a large bowl. Using an electric mixer or hand whisk, beat until soft peaks form.

Remove blueberry pies from the muffin tin with a thin metal spatula. Top with whipped cream, fresh blueberries, lemon wedges, and herb sprigs, if desired.

These pies taste best the day they're made as the crusts will lose their crispness over time.
Some of the links in this post are affiliate links. If you click through and make a purchase, I earn a small commission for my referral at no additional cost to you. Thank you for supporting Flour Arrangements.
YOU MIGHT ALSO LIKE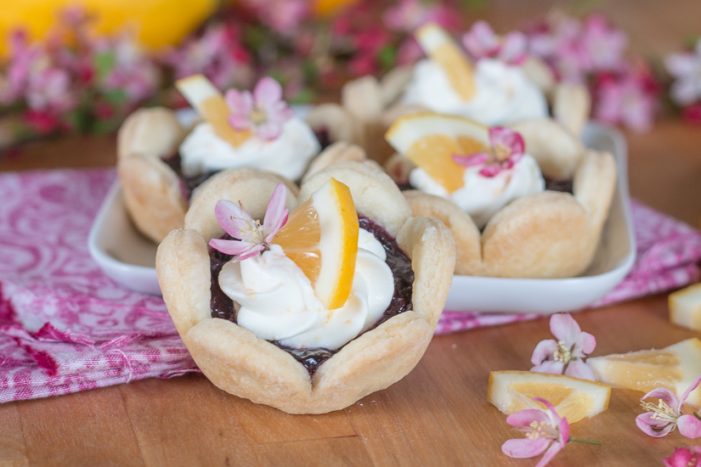 Mini Cherry Pies with Meyer Lemon Cream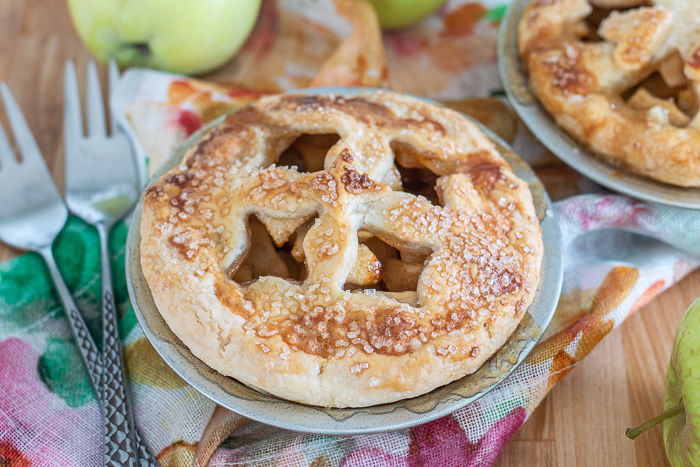 Personal Apple Pies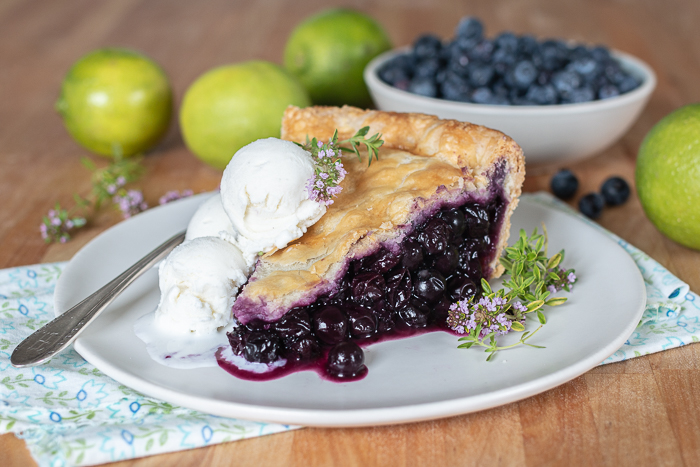 Blueberry Pie