Rich, dark chocolate and the sweet, resinous crunch of toasted pine nuts make these decadent Double Chocolate Cookies irresistible.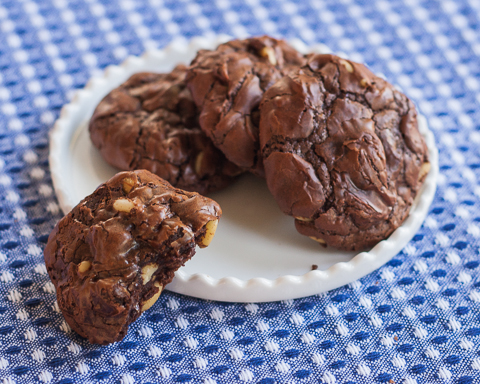 M
y tradition of baking a sweets to bring along on vacation started two years ago when I brought
sesame cookies
on a weekend getaway with girlfriends to Victoria, B.C.
I didn't recognize that baking had become an essential part of my travel routine, though, until my family headed to Disneyland this spring. Neglecting clothes, my younger daughter instead detailed, at length, essential food items to bring with us. As I started packing up lemon-thyme shortbread cookies for my own bag, I suddenly understood the origin of her obsession. Looking back, it's hard to recall a single trip for which I didn't bake something to take with us. In addition to cookies, a variety of cakes, brownies, and tiny tarts have accompanied us on various adventures.
Last week, as we prepared for our trip to the San Juan Islands, it felt only natural to bake a batch of double chocolate cookies before I stuffed a raincoat, Xtratuff boots, and other essentials into my suitcase.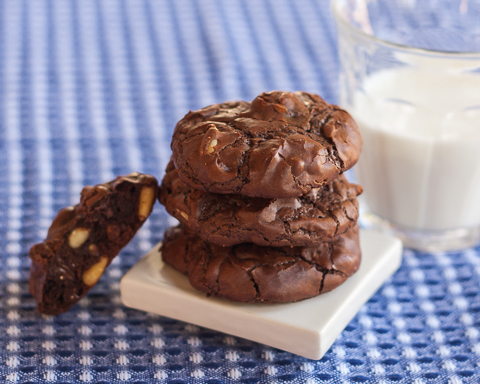 Full of rich, dark chocolate and the sweet, resinous crunch of toasted pine nuts, these cookies kept us going throughout our long day of travel, which included a train ride, a bus trip, an airplane flight, a taxi ride, a car drive, and a ferry crossing.
With half a pound of melted chocolate in the cookie dough, along with another healthy dose of chocolate chunks mixed in right before baking, these decadent bites are more chocolate than anything else. The sheer mass of chocolate gives the batter a soft, molten texture, which alarmed me the first time I baked them.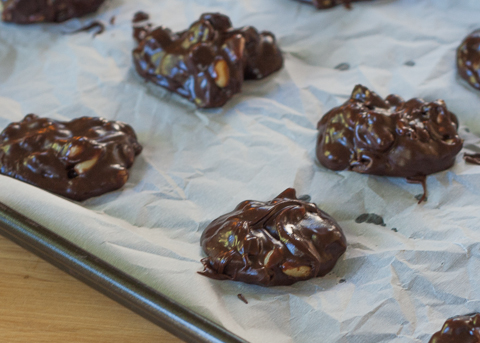 I needn't have worried, though. The oozy mounds of batter bake up perfectly with a thin glossy shell over the gooey, chewy center. I love the crunch and nutty flavor the pine nuts impart, but my husband prefers them unadulterated. If, like him, you believe that additions might distract from gooey chocolate goodness, skip the pine nuts. Really, you can't go wrong either way.
This trip, our cookie supply didn't last long enough to test out with toasted marshmallows during our camping adventure on Lopez Island. Next year, I'm baking a double batch.

Double Chocolate Cookies
Adapted from Seriously Bitter Sweet.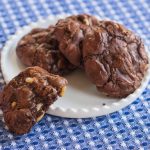 Print Recipe
Double Chocolate Cookies
Ingredients
8

ounces

bittersweet chocolate

coarsely chopped

2

tablespoons

unsalted butter

1/4

cup

unbleached all-purpose flour

1/4

teaspoon

baking powder

1/8

teaspoon

salt

2

large eggs

1/2

cup

granulated sugar

1

teaspoon

vanilla extract

1

cup

pine nuts

lightly toasted (optional)

6

ounces

chocolate chips

(about 1 cup)
Instructions
Combine 8 ounces of chocolate with the butter in a large stainless steel bowl or double boiler over simmering water. Stir frequently until melted and smooth. Remove from heat and set aside. Continue to heat the simmering water.

Meanwhile, whisk flour, baking powder, and salt together in a small bowl. Set aside.

In another large heat-proof bowl, whisk eggs, sugar, and vanilla together. Set the bowl over the simmering water and stir constantly until the mixture is just warm to the touch. Stir the egg mixture into the warm (not hot) chocolate. Stir in the flour mixture, and then add the pine nuts (if using) and chocolate chips.

Drop slightly rounded tablespoons of batter 1 1/2 inches apart on parchment-lined baking sheets. Bake in an oven preheated to 350° F until the surface of the cookies looks glossy and set but the centers are still gooey, about 12 minutes. Place baking sheets on racks and cool completely.
Some of the links in this post are affiliate links. If you click through and make a purchase, I earn a small commission for my referral at no additional cost to you. Thank you for supporting Flour Arrangements.