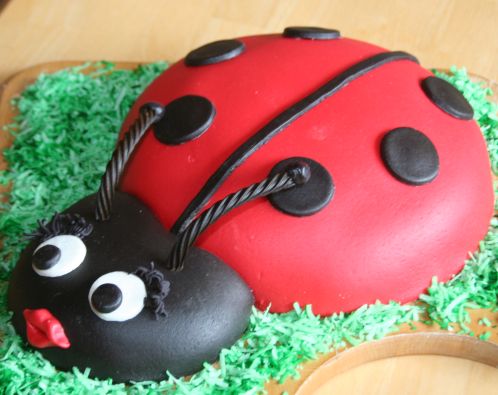 M
y daughter's very first island friend wanted a lady bug birthday cake. Her mother Rita, my very first island friend, started asking me questions about
fondant
and cake decorating.
Rita bakes amazing chocolate cake. She makes amazing jewelry. She paints amazing flowers and bugs on the walls of her daughters' bedrooms. I knew she could make a lady bug cake. She didn't seem so sure. "We'll do it together," I told her. The day before the party, I showed up to help assemble the cake. Two recipes of chocolate cake, divided between one large and one small Pyrex bowl, came out of the oven as I arrived. While they cooled, we mixed the red and black
coloring
into the fondant. To get deep colors, you have to knead the color in a bit at a time. If you put in too much color at once, it just spurts out all over the place. Sometimes it feels like you'll never get the right shade. But we did: perfect ladybug red and perfect ladybug black.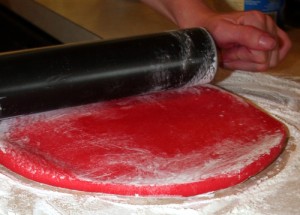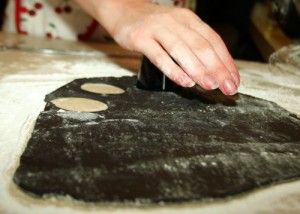 When the cakes had cooled, Rita trimmed down the smaller cake, and then cut a curve into it that would nest into the ladybug's body.
We frosted the bigger cake with a thin layer of butter cream, and then rolled out a large red circle to 1/8-inch thickness to center over the cake.
After carefully trimming and tucking in the edges with a butter knife, we got started on the head. We frosted, rolled, transferred, scooted, and then trimmed.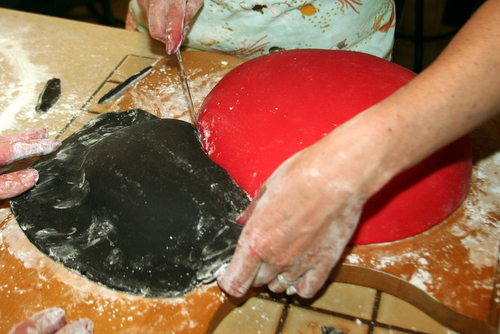 We were already starting to feel darn proud of ourselves, and we hadn't even added details.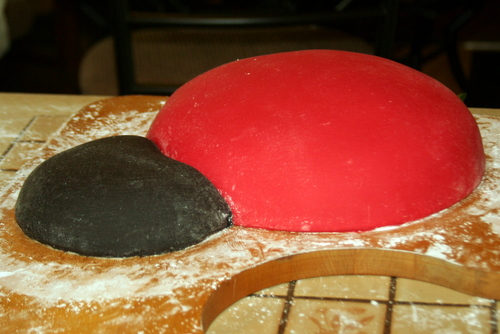 A shot glass pressed into a sheet of black fondant made the spots–six for the six-year-old girl–and a hand-trimmed a black strip divided the lady bug's shell in half.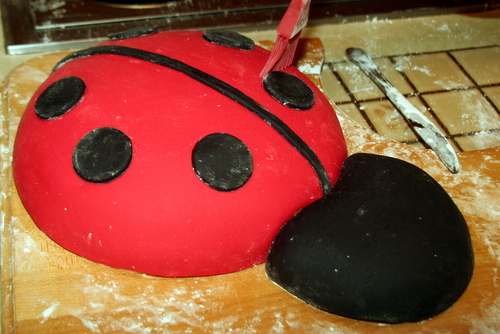 We added eyes and stuck black vines in her head for antennae.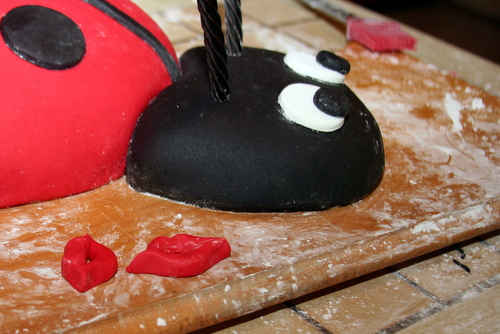 She didn't look complete, so we squeezed some fondant through a garlic press to make eyelashes; the fondant didn't hold its shape, so we rested the eyelashes over a straw until we could safely transfer them to her face. After we added bright red lips, the birthday girl declared her done.
Right before the party the next day, Rita nestled shredded coconut mixed with green food coloring around her. She looked fantastic. I wasn't sure Rita would let us cut her up.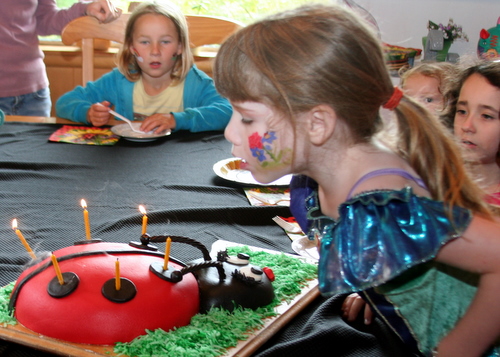 Fortunately for all of us, she did. Ladybug guts hit the spot.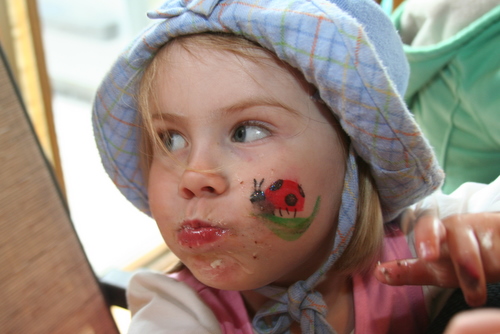 Some of the links in this post are affiliate links. If you click through and make a purchase, I earn a small commission for my referral at no additional cost to you. Thank you for supporting Flour Arrangements.