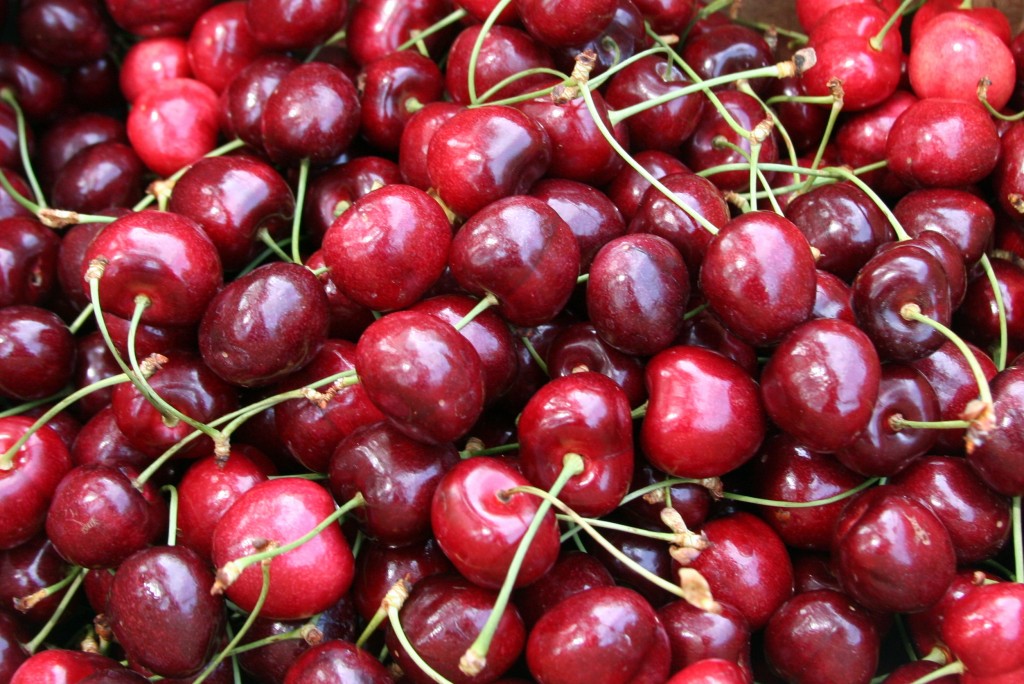 I broke my cherry pitter this week.
Over the years, it's mostly pitted Kalamata olives with the occasional cherry here and there. I guess it couldn't handle the sudden stress imposed by nine pounds of cherries.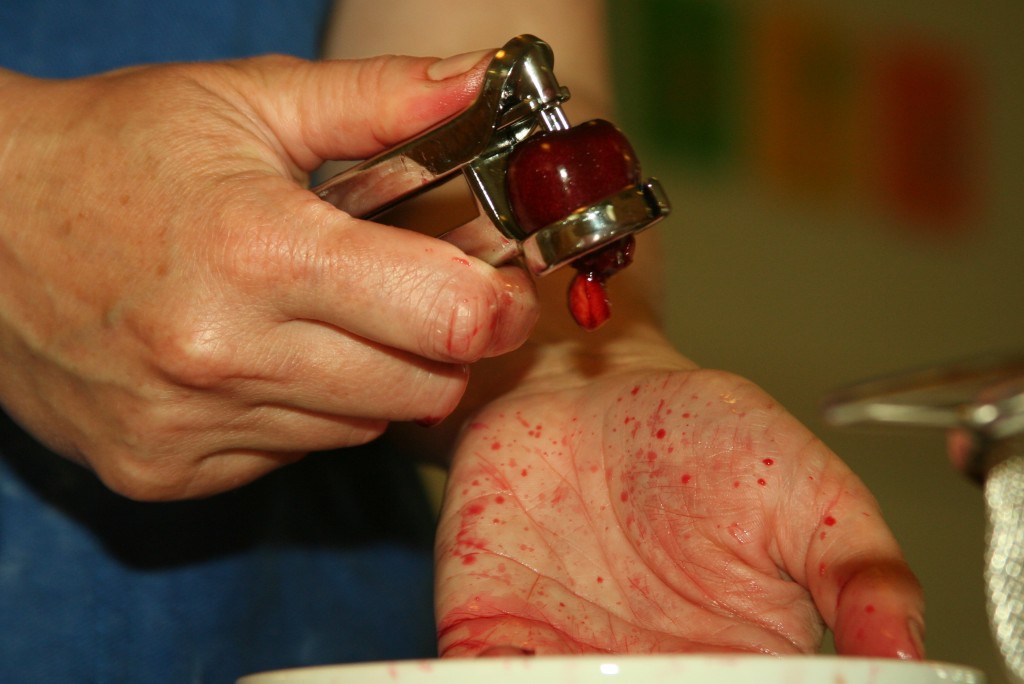 Let's just say I'm glad my husband talked me out of ordering my own 18 pound box from our local co-op. Thank God I listened and split a box with my friend Sharalyn.
It started like this. My six-year-old decided she needed to pre-pit a pile of cherries instead of popping them into her mouth whole and spitting out the seeds like a normal child. For the record, the spitting method is much cleaner. You'll have to take my word for it, though, because I failed to document the sheer quantity of juice that splatters every which way when a small child wields a cherry pitter. Thanks to the sudden death of the instrument, we won't have to repeat the experiment for at least a few days until my new pitter arrives.
Then the pitter prepped a bowlful of fruit for a Double Crust Cherry Tart.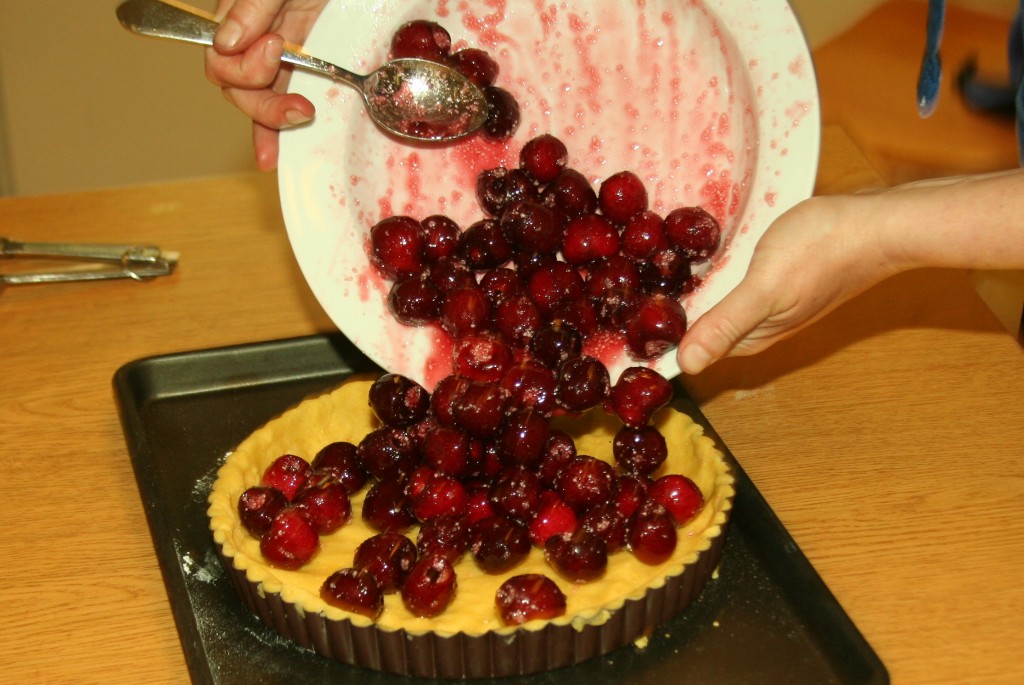 I haven't made this recipe since I lived in Pacific Grove, CA, close to the amazing cherries in Morgan Hill and Gilroy. I'd forgotten how delicious the cornmeal crust tastes. It's more of a shortbread cookie than a pie crust. As I nibbled the dough scraps (um, actually all of them, to my daughters' dismay), I promised myself I'd see how it works out as cookies sometime in absence of cherries.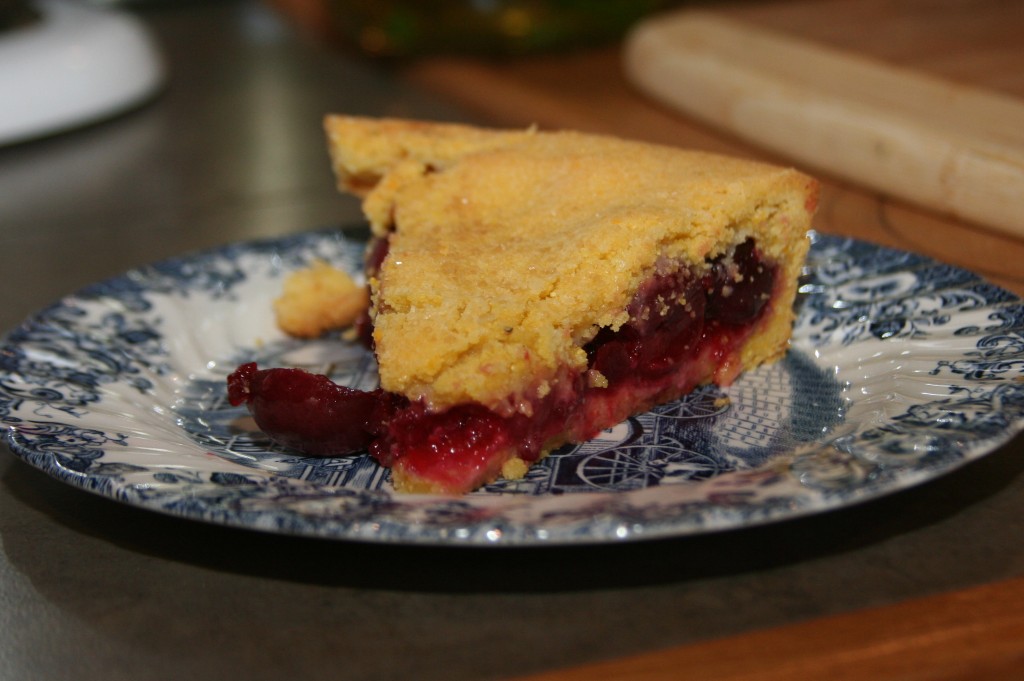 Next, in preparation for our weekly potluck at Roche Harbor, it went head to head with a galette's worth of cherries.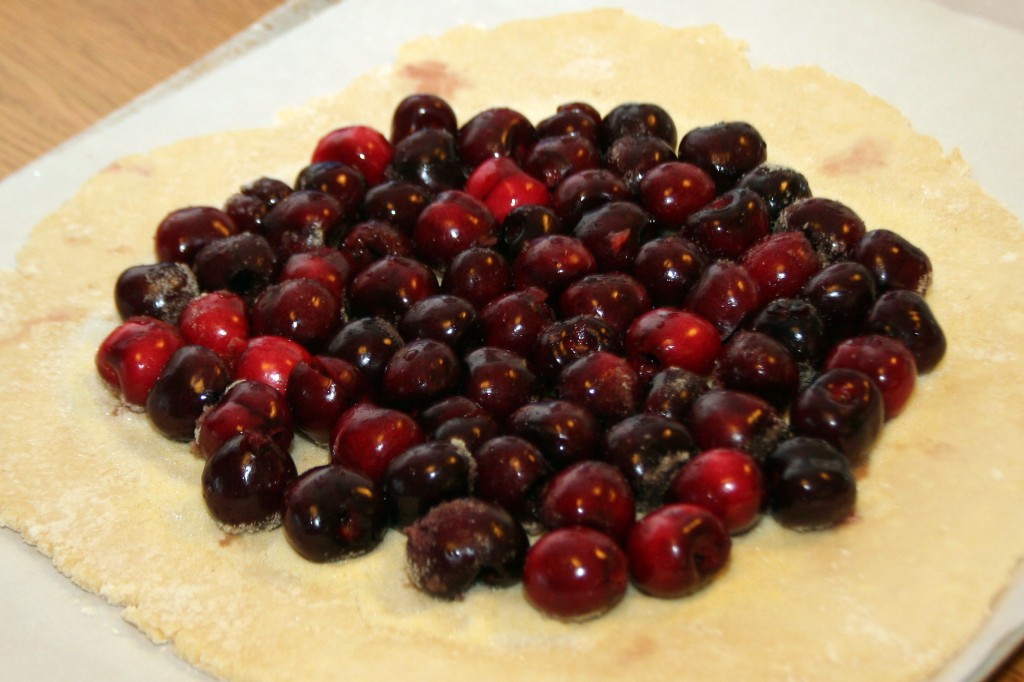 If you're looking for easy, make a galette. Yep, I prepped everything in the hour I had between dropping my kids off and picking them up at pottery class, and then I threw it together and baked it when I returned home. I recommend this recipe especially for people who feel intimidated by making pie crust. More than one person has told me that they will bake anything but pie because of some past crust disaster. With a galette crust, you don't have to flute the edges or make it look fancy; just fold up the edge and you've got rustic charm.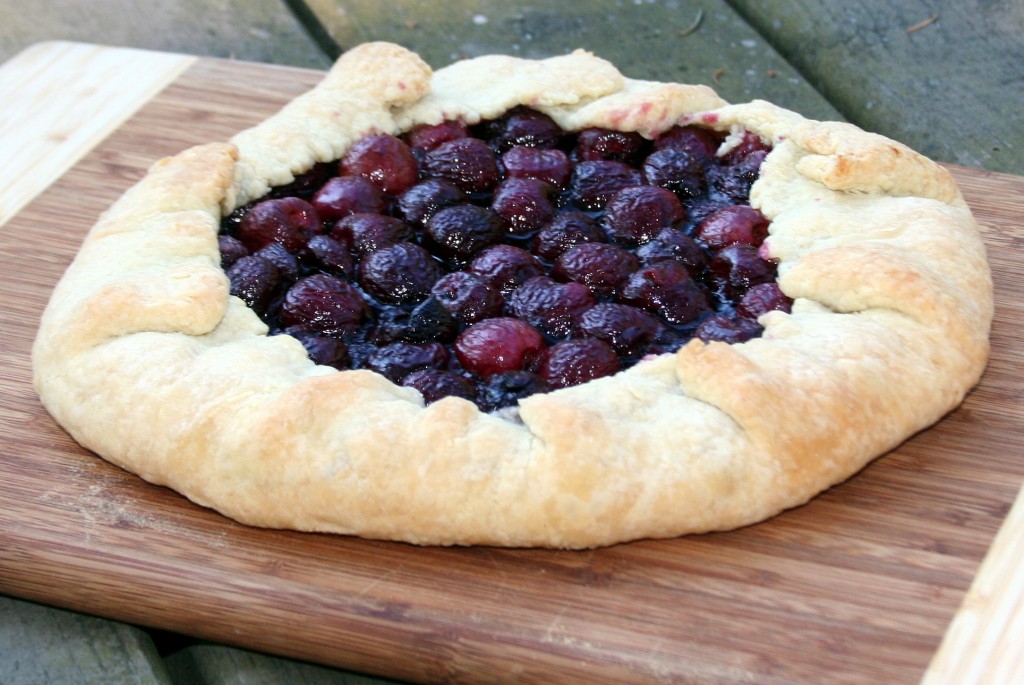 The poor pitter finally met its match on the cherries for a Gingerbread Cherry Cake for my friend Rita's birthday picnic at English Camp.
I decided Rita needed cake, even at a picnic, and planned to make a simple one in the morning before I left. I arrived at our designated picnic spot–the Big Leaf Maple–almost on time; attempting to fix the pitter again and again while I worked slowed me down. So much for simple.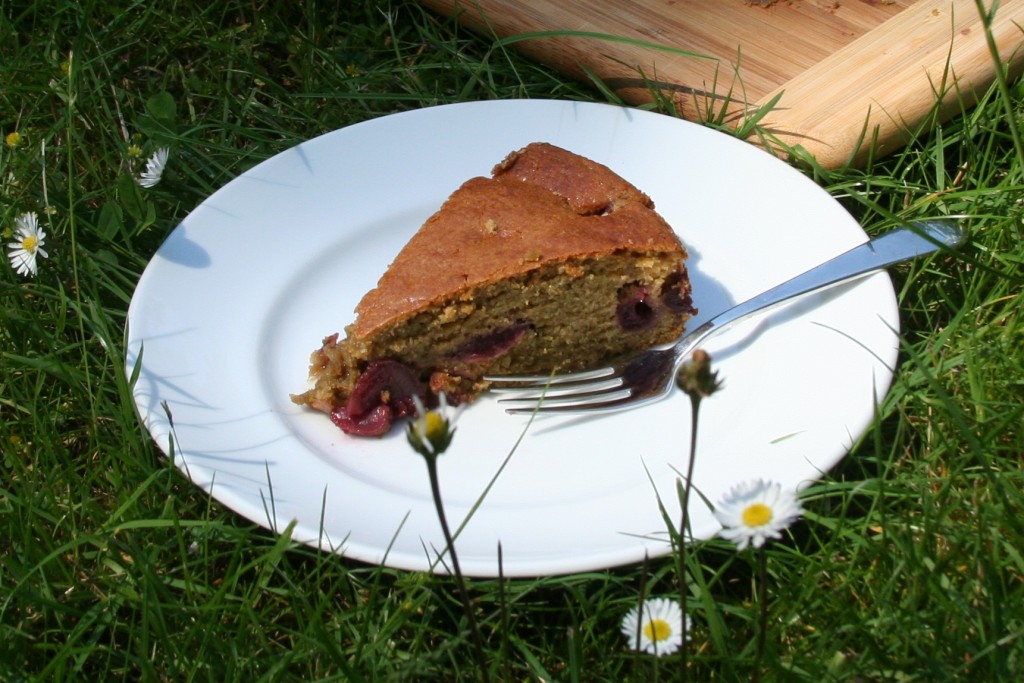 I'd hoped to pit and freeze several bags to use in the wintertime when we're craving a taste of summer, but it looks like for now we'll have cherries for breakfast, lunch, and dinner.
Double Crust Cherry Tart
From Sunset Magazine, June 2004
Serves 8-10.
2 1/2 cups all-purpose flour
2/3 cup yellow cornmeal
1 teaspoon baking powder
1/4 teaspoon salt
2 sticks butter, at room temperature
1 cup sugar
2 large egg yolks
1 1/2 pounds fresh cherries, pitted
2 tablespoons quick-cooking tapioca
1 tablespoon lemon juice
Combine flour, cornmeal, baking powder, and salt in a bowl and set aside.
In the bowl of a standing mixer, beat butter with 3/4 cup sugar until smooth, and then beat in egg yolks. Stir in flour mixture until well blended. Divide dough in half.
Press one portion over bottom and up sides of a 9-inch tart pan with removable rim (if you're like me, and think, "Oh, it will be easier to roll out and put in the pan," think again). Place other portion on a lightly floured piece of parchment paper. With a lightly floured rolling pin, roll out dough to a 10-inch round. Slide round onto a baking sheet. Chill tart shell and round until firm, at least 30 minutes, or wrap airtight and chill up to 3 days.
In another bowl, mix cherries, tapioca, lemon juice, and remaining 1/4 cup sugar. Let stand 10 minutes. Pour into chilled tart shell and spread level. Invert round over tart. Press edges into rim of tart pan, pinching off any excess. Sprinkle tart lightly with sugar.
Place tart pan on an uninsulated baking sheet. Bake on the lower rack of a 375 degree oven until top is golden brown, 35 to 40 minutes, rotating tart halfway through baking time. Serve warm or at room temperature.
Cherry Galette
Serves 8-10.
2 cups all-purpose flour
1/2 teaspoon salt
5-6 tablespoons sugar, divided
1 1/2 sticks cold, unsalted butter, cut into small pieces
1/3 to 1/2 cup ice water
2 tablespoons semolina flour
1 1/2 pounds of cherries, pitted
Whirl flour, salt, and sugar in a food processor with the blade. Cut in butter with several short pulses, leaving pea-sized chunks in tact. Working quickly, turn on the food processor and pour strained ice water through the feeding tube. Pinch the mixture to see if it holds together. If needed, whirl in more water. Turn out dough on a large piece of plastic wrap. With the help of the plastic wrap, form the dough into a flat disk: fold the edges of the dough toward the center gently and press down until it no longer crumbles apart. Refrigerate for at least 30 minutes.
Roll out dough on lightly floured surface into a 14-inch round. Transfer to a baking sheet lined with parchment paper.
Sprinkle semolina flour evenly over the dough, leaving a 1-inch border around the edge. Sprinkle 2 tablespoons sugar evenly over the flour. Mix gently with fingertips. Arrange cherries in a single layer in over the flour-sugar mixture. Sprinkle 2 to 3 tablespoons sugar over the cherries. Fold edges in to cover the outer rim of cherries, pleating dough as you work your way around.
Bake at 425 degrees Fahrenheit for 15 minutes, and then reduce heat to 375 degrees and continue baking until fruit is tender and juices bubble thickly, about 25 to 35 minutes. Using the parchment paper to help you, slide the galette to a rack and brush hot juices over the cherries with a pastry brush. Cool for at least 30 minutes before eating. Serve with vanilla ice cream or whipped cream.
Cherry Gingerbread
Adapted from The Bread Bible
.
Serves 8-10.
2 cups fresh cherries, pitted and halved
2 tablespoons granulated sugar
3 tablespoons balsamic vinegar
1 1/2 cups all-purpose flour
1/2 cup brown sugar, packed
1 teaspoon baking soda
1/4 teaspoon salt
2 teaspoons ground ginger
1/4 teaspoon ground cinnamon
1/4 teaspoon ground mace
1/2 cup sour cream
1 stick unsalted butter, melted
2 large eggs
2 tablespoons pure maple syrup
Toss cherries, granulated sugar, and vinegar in a bowl. Set aside and let sit for at least 15 minutes.
Preheat oven to 350 degrees Fahrenheit. Grease a 9-inch springform pan. Whisk flour, brown sugar, baking soda, salt, ginger, cinnamon, and mace in a medium bowl.
Place a strainer over the bowl for a standing electric mixer. Drain cherries over the bowl to catch the juices; set cherries aside. Add sour cream, melted butter, eggs, and maple syrup to the mixer bowl. Beat to combine. Add 1/2 cup flour mixture and beat until smooth. Add remaining flour mixture and beat until just smooth and fluffy, about 1 minute.
Spread two-thirds of the batter in the springform pan. Arrange reserved cherries over the batter. Spoon remaining batter over the cherries (it's all right if you don't cover them completely). Place the pan in the center of the oven and bake for 45 to 50 minutes, or until the top is dry and springy, and a cake tester inserted in the center comes out clean. Cool on a rack until serving time.
Some of the links in this post are affiliate links. If you click through and make a purchase, I earn a small commission for my referral at no additional cost to you. Thank you for supporting Flour Arrangements.