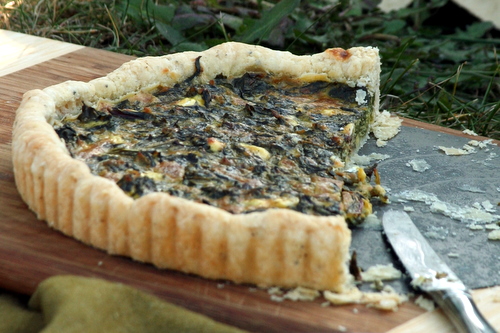 O
n Wednesdays this summer, I'm supposed to work on the astronomy class I need to finish in order to achieve "highly qualified" status for teaching high school science.
Summertime Wednesdays also bring "Music on the Lawn," which means we get to pack up a picnic dinner and go listen to live music at the San Juan Island Historical Museum. The lawn at the museum, surrounded by a
hodgepodge of old structures
, was once part of the 445-acre James King farm. Four of the original buildings stand, and four others were relocated here for posterity's sake. The featured band always plays on the front porch of the Scribner Log Cabin.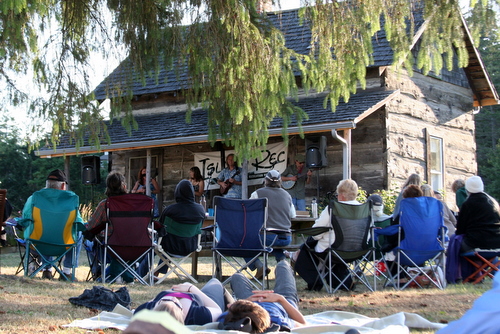 Folding chairs and picnic blankets dot the grass. Adults eat, listen, and watch the island kids run wild. Sometimes my own kids wander back to our blanket with a plateful of food that looks better to them than whatever we brought. If their scavenged dinner doesn't consist of a pile of gum drops, I'm just happy that they'll eat without a fight.
So, on this Wednesday afternoon, I took a break from my astronomy work to start on my other important assignment: making an easy and portable dinner. In my fridge's crisper drawer, I found the beet greens that I couldn't part with the other day.
I had harvested beets from the garden that we share with friends, and, as soon as I got home, I chopped and steamed them. Cutting up beets creates a huge mess that makes me crazy, and I've learned that if I don't deal with them immediately, they end up withering away into an inedible state until I finally force myself to throw them out.
Once I've dealt with the carnage of beet processing, though, I find myself blithely tossing tender purple beets slices into salads for days and days with nary a stain in sight. In the moment of it all, however, I'm all business; I just want to finish the task, which surely tells you something about the gorgeousness of the beet greens.
Now I felt pleased to have kept them, and, when the cheese drawer offered up goat cheese, I had a vision for dinner: beet green tart.
Once I got started, the tart came together quickly, so I decided I should make some macaroni and cheese as well. My brother-in-law was arriving with his family from California, and I wasn't sure that his kids would love the tart as much as I knew I would. My daughters would thank me for the mac 'n cheese as well, and probably my friends, too, who wouldn't have to feed my children again.
My husband's brother made my day when he started talking about the "generosity" of the tart crust. His wife raved about the beet salad that I threw together. My niece bravely tried the tart and was too polite to say she didn't like it. Everyone loved the mac 'n cheese.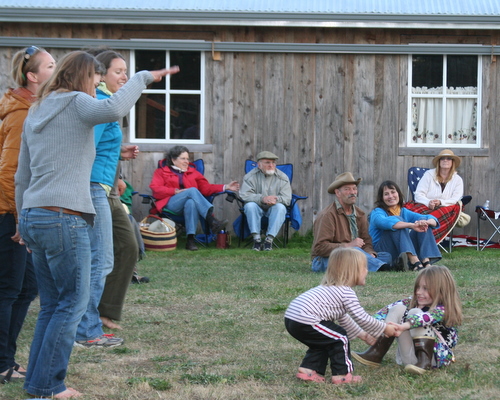 Full bellies, bluegrass music, golden sunshine, visiting family, dear friends, silly kids, belly laughter. I love "Music on the Lawn."
Beet Green and Goat Cheese Tart
You can make this with any type of greens or a combination of greens. Try spinach, chard, or kale.
Serves 6-8 people.
Crust
1 1/4 cups flour
1/2 teaspoon salt
1/4 teaspoon dried basil
1 1/2 sticks unsalted butter, cut into thick slices
1/4 cup ice water, strained
Filling
2 tablespoons olive oil
1 large onion, diced
1 pound greens, stems removed and roughly chopped
2 tablespoons fresh basil
salt and pepper, to taste
3 large eggs
1/3 cup heavy cream
4 ounces goat cheese, crumbled
Whirl dry ingredients for crust in the bowl of a food processor. Add half a stick of butter and process until you no longer see chunks. Add remaining butter and process briefly, leaving chunks the size of peanuts. Working quickly, turn on the food processor and pour the ice water through the feed tube, stopping before the dough comes together. Pinch a bit of the dough between your fingers. If it does not stick together, add a couple of teaspoons more water and whirl briefly. Turn out the dough onto a large piece of plastic wrap. Use the plastic wrap to help you create a large, flat disk: fold the edges of the dough toward the center and press down to smooth out the roughness. Refrigerate dough for at least 30 minutes.
Heat olive oil in a large skillet over medium heat. Cook onion until tender, about 15 to 20 minutes. Add greens and cook until wilted and tender, about 5 to 8 minutes. Remove from heat and add basil, salt and pepper. Lightly beat together eggs and cream. Add egg mixture to sauteed greens. Gently stir in goat cheese.
Roll out dough into a 13-inch circle. Transfer to an 11-inch tart pan with removable bottom. Fold overhanging edge down inside the tart pan, pressing gently to help it adhere. Pour filling inside and spread it evenly. Bake in an oven heated to 375 degrees Fahrenheit until the crust is golden and the filling is set, about 40 to 45 minutes. Serve slightly warm or at room temperature.