Last summer, my friend Kimi came to visit us for her birthday. She's spent enough time on the island to know how she wanted to celebrate: dinner at South Beach followed by buttermilk cake with fresh strawberries and cream.
I'm a fan of summer evenings at South Beach, and I'm also a fan of buttermilk cake, so I felt happy to oblige: I baked her a cake, and we loaded into our cars with food to grill over the fire pit.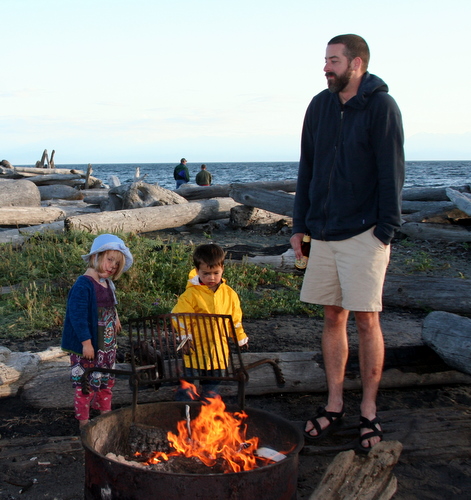 We had several hills to travel up and down along the way, so I held the cake nervously on my lap as my husband drove. If I could have crossed my fingers, I would have, and, as it turns out, I should have. As we rolled over the speed bump at the bottom of the hill where we live, the cake's four layers slid onto my chest. Whipped cream and strawberries covered me from shoulders to waist. We'd been in the car for less than a minute. When we arrived South Beach, I drank a beer and the kids got busy rebuilding the cake, adding blueberries from a bowl of fruit that somebody brought. Let's just say that it tasted great and leave it at that.
This summer, when Kimi came to visit us for her birthday again, I wanted to make her the same cake. Her eyes lit up when I asked her about it, squelching my husband's hope that she might want chocolate cake instead.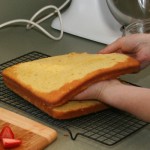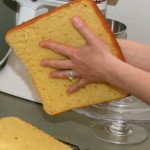 As I prepared the cake, Eliza and her friend Tarn started making presents for Kimi. These first graders-to-be finger-knitted scarves and fashioned cards. After some whispering in the corner, they asked for some cardboard boxes and went outside with a box of streamers and tissue paper. Awhile later, they sent three-year-old Tessa inside for candy, which obviously made me suspicious. I asked the girls' dads, who were sitting contently at the picnic table outside, to explain the situation. As it happened, Eliza and Tarn decided that Kimi needed piñatas. Notice the plural there. Not just one piñata, but three. This I could support. I dug out the plastic bin that contains loot from Halloween, the Fourth of July parade, and, of course, birthday piñatas, so they could fill the ones they'd made.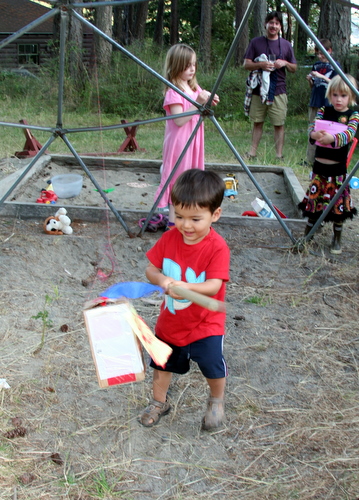 As luck would have it, my nephew Gregory also had a birthday to celebrate. Apparently he's always on the road for his summer-time birthday. Birthday cake and three piñatas this year seemed to ease the sting of being away from friends at home.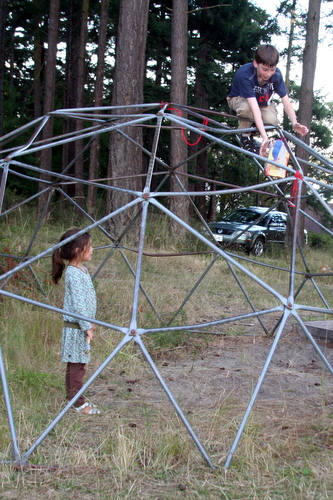 Turns out I only had 14 birthday candles. Fate? Good luck? A miracle? Who knows, but I put 11 in one corner for Gregory and three for thirty-something Kimi in another.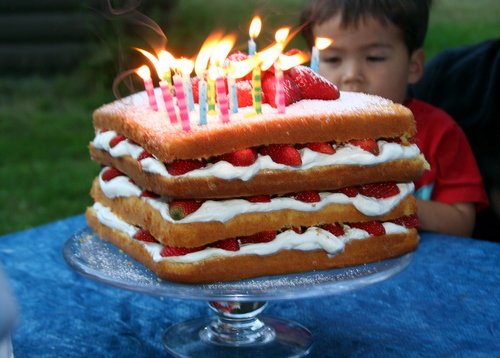 Kimi said she'd never even had one piñata at her birthday before. Good things come in threes, which means she should really come back next year for a third buttermilk cake with fresh strawberries and cream.
Buttermilk Cake with Fresh Strawberries and Cream
From Foster's Market
.
Serves 10-12.
4 1/2 cups all-purpose flour
1 tablespoon baking powder
1 teaspoon baking soda
1/2 teaspoon salt
3/4 pound butter
2 1/2 cups granulated sugar, divided
6 large eggs
2 teaspoons pure vanilla extract
2 cups buttermilk
3 cups heavy cream
3 pints fresh strawberries, hulled and cut into slices
1 pint fresh strawberries, hulled
Confectioners' sugar, for dusting
Preheat oven to 325 degrees Fahrenheit. Grease and lightly flour two 9-inch round or square cake pans and set aside.
Sift together the flour, baking powder, baking soda, and salt in a bowl. Stir to mix. Set aside.
Cream butter and 2 1/4 cups of sugar in the bowl of a standing electric mixer.
Add eggs to butter mixture one at a time. Beat several minutes until light and fluffy. Add vanilla extract.
Add flour to the egg-butter mixture, alternating with buttermilk. Stir until combined.
Divide batter between prepared pans. Bake 45 to 50 minutes, until cakes are firm to the touch and a toothpick inserted into the center of each cake comes out clean.
Remove cakes from the oven and cool for 10 to 15 minutes in the pans. Remove from pans and cool completely on a baking rack.
Use a serrated knife to slice off the rounded top part of each layer to make a flat, even surface. Cut each layer in half horizontally through the center to make 4 layers. Nibble or discard the trimmings.
Meanwhile, whip the cream in a bowl with the remaining 1/4 cup sugar until soft peaks form.
Place one of the layers, cut side down, on a cake plate. Top with about one-third of the whipped cream and one-third of the strawberries. Repeat the process with the next two layers and the remaining cream and berries. Place the fourth layer on top, cut side down. Top with hulled whole or halved berries and sprinkle with confectioners sugar just before serving.
Some of the links in this post are affiliate links. If you click through and make a purchase, I earn a small commission for my referral at no additional cost to you. Thank you for supporting Flour Arrangements.