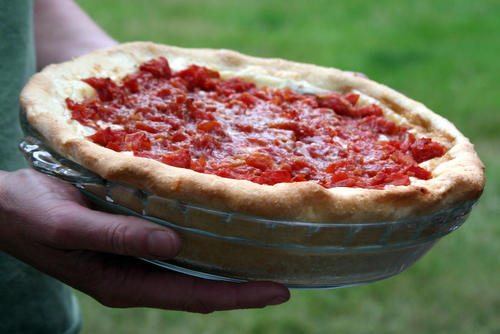 W
e eat pizza frequently in our house.
Much of the eating that takes place goes on in the creation phase, at least for my daughters. A snitch of prosciutto here, an olive there, some red pepper, maybe a pinch of dough, or two, or three. While they snack, they create faces with a combination of toppings.
Sometimes they shape their pizzas like puppy dogs or butterflies. Other times their pizzas are just pizzas, but they're always masterpieces.
They love making art that they can eat, and I love it, too. With two small artists-in-residence, our tiny cottage often gets overwhelmed with art projects of the non-edible variety. The pizzas turn out lovely, and then they disappear, taking with them any potential for guilt that might result from a post-clutter purge.
My friend Christian messed with my pizza reality, though, when he described the stuffed pizza that he had recently baked. When he said, "You laminate the dough with butter," I think I cut him off mid-sentence. Sometimes I can't help myself.
"We don't have anything planned for tomorrow night yet," I pointed out. "Are we making pizza?" Christian and his family had come to visit for only three days. I needed to see and taste this lamination.
The next morning, Christian made dough. While it rose, we rowed to town for lunch.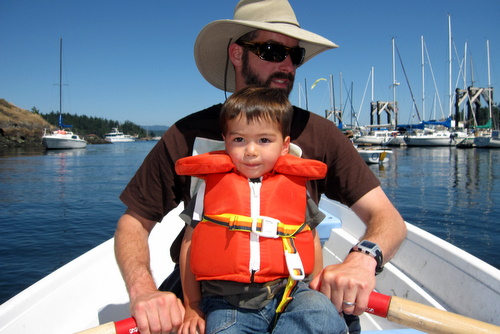 Once we arrived back home, Christian raced off to a curriculum development meeting with a summer scientist at Friday Harbor Labs. In his absence, I suddenly found myself laminating pizza dough with butter. At least he printed out the recipe for me.
I'm the first to admit that laminating pizza dough sounds intimidating, but it really just involves shaping the dough into a large rectangle, brushing it with a generous layer of butter, and rolling it up into a thick log before dividing it and forming it into two balls that rise again for the good part of an hour.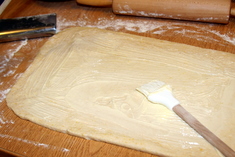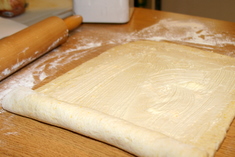 While it rises, you can make sauce and prepare toppings, or rather, fillings. Christian returned home from his meeting in time to fill the pies with cheese, sausage, pepperoni, and olives.
He topped them off with tomato sauce and some Parmesan cheese. I'm still savoring this perfect meal that we took to South Beach that evening.
It amazes me that any of us had room for the s'mores we made around the fire after dinner.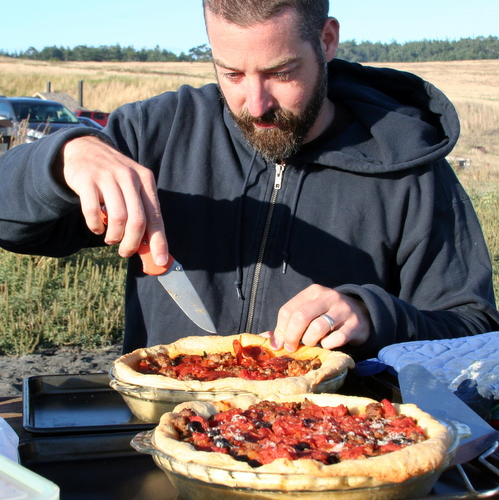 I am pretty adventurous in the kitchen, but I don't think I would have made this recipe on my own. I would have skimmed it and carelessly cast it aside, thinking it much too much trouble for my busy little life. Now I know better.
In fact, only two days after Christian and his family left town, I laminated dough for pizza again. It's that good, and it's that easy. And it's fun to say.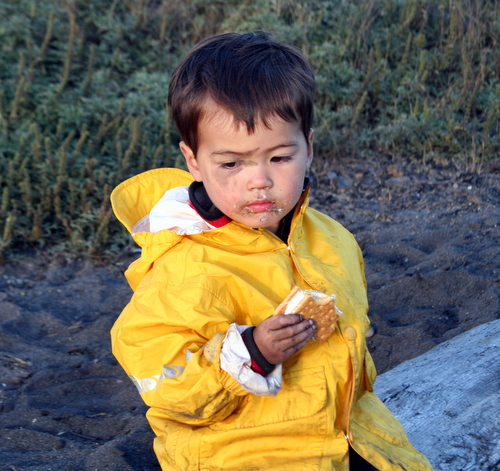 So here's the trouble. Part of this pizza's goodness lies in its fillings. The little girls who live in my house only agree on one thing about what belongs on or in a pizza aside from cheese: no tomato sauce.
This new pizza experience made me realize why pizza dinners had always made for such lovely evenings. Everyone handcrafted a pizza masterpiece perfect for its maker.
Now, as I faced two blank palettes for the whole family, I knew what I should do. I should make one sauce-less cheese pizza and fill the other with spinach, mushrooms, cheese, and sauce.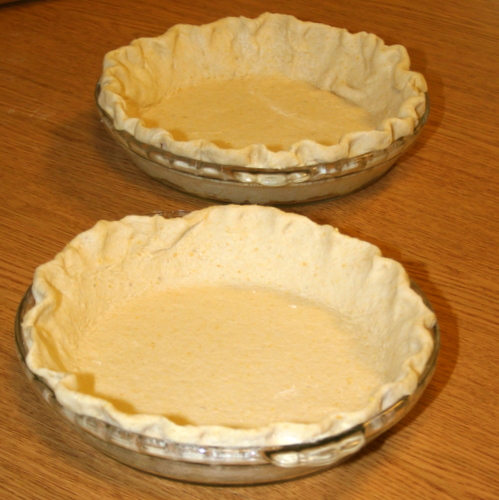 I couldn't do it, though. I filled that first pizza with cheese, and it just wasn't enough. I added a little sauce that my girls could scrape off if they wanted. They didn't complain, but they each only ate a tiny sliver. The rest of us polished off the spinach and mushroom pizza, took a look at the plain cheese one and called ourselves done.
I know I should feel thankful that the plain pizza didn't tempt anyone to eat more of this butter-laden meal than was really necessary, but I've already made a mental note to dig for the mini pie dishes that we have somewhere in our storage unit.
It's not just about plain cheese pizza going uneaten; I miss watching little artists busily creating masterpieces they can't wait to eat. Besides, I just recycled about a dozen paintings they water-colored that afternoon while I made pizzas.
Deep-Dish Pizza with Spinach & Mushrooms
Adapted from Christian Reilly's recipe, courtesy of Cook's Illustrated. Makes two 10-inch pizzas. If you're feeling adventurous, I'd recommend cooking up some sausage and re-creating the sausage, pepperoni, olive pizzas Christian made. Next time, with more pizzas to fill, I will.
Dough
3 1/4 cups unbleached all-purpose flour
1/2 cup yellow corn meal
1 1/2 teaspoons salt
2 teaspoons sugar
2 1/4 teaspoons yeast
1 1/4 cups water, at room temperature
7 tablespoons melted butter, divided
olive oil
Sauce
2 tablespoons unsalted butter
1/4 cup grated onion
1/4 teaspoon dried oregano
1/2 teaspoon salt
2 medium garlic cloves, minced
1 28-ounce can crushed tomatoes
1/4 teaspoon sugar
2 tablespoons chopped fresh basil leaves
olive oil
salt and pepper
Fillings
1 pound mozzarella cheese, grated
1/4 cup Parmesan cheese, grated
2 tablespoons butter
1 pound mushrooms, sliced
1 1/2 pounds fresh baby spinach
2 cloves garlic, minced
Mix flour, cornmeal, salt, sugar, and yeast in the bowl of a standing mixer with the paddle attachment. While mixing on low speed, add water and 3 tablespoons melted butter. Mix until will combined. Switch to dough hook and knead until the dough is smooth and glossy and pulls away from the sides of the bowl, about 4 to 5 minutes.
Coat a large bowl with olive oil. Transfer dough to bowl, turning dough once to coat the top with oil. Cover with plastic wrap and let rise at room temperature for 45 to 60 minutes.
Adjust oven rack to the lowest position. Heat oven to 425 degrees Fahrenheit. Turn the dough out on to a lightly floured work surface and roll into a 15- by 12-inch rectangle. Spread 4 tablespoons of softened butter over the dough's surface, leaving a 1/2-inch border along the edges. Starting at the short end, roll the dough into a tight cylinder. With the seam side down, flatten cylinder into an 18- by 4-inch rectangle. Cut in half crossways. Working with one half at a time, fold into thirds, pinch seams together, and form into a ball. Allow balls to rise in oiled bowls until nearly doubled in volume, about 50 minutes.
While the dough rises, heat 2 tablespoons butter in a saucepan over medium heat until melted. Add onion, oregano, and 1/2 teaspoon salt; cook, stirring occasionally until liquid has evaporated and onion is golden brown, about 5 minutes. Add garlic and cook until fragrant, about 30 seconds. Stir in tomatoes and sugar, increase heat to high, and bring to a simmer. Lower heat to medium-low and simmer until reduced to about 2 1/2 cups, about 25 to 30 minutes. Off heat, stir in basil and one tablespoon olive oil, then season with salt and pepper to taste.
Melt 2 tablespoons butter in a large skillet over high heat. Add mushrooms and cook, stirring constantly, until the mushrooms begin to color, about 5 to 7 minutes. Add spinach and cook until wilted, about 3 to 5 minutes. Add minced garlic and cook for another minute. Season to taste with salt and pepper. Set aside to cool slightly.
Coat two 10-inch pie dishes with 2 tablespoons of olive oil each. Transfer one dough ball to a lightly floured work surface and roll out into a 13-inch disk about 1/4-inch thick. Transfer dough to one of the prepared pie dishes. Repeat with remaining dough ball.
Divide spinach and mushroom mixture between the two pies, followed by cheese, sauce, and Parmesan. Bake until crust is golden brown, about 20 to 30 minutes. Remove pizzas from oven and let rest 10 minutes before serving.