Burnt Sugar Cake — a tasty cake with caramelized sugar mixed into the batter — tastes great with cream cheese frosting or chocolate satin frosting. Try both!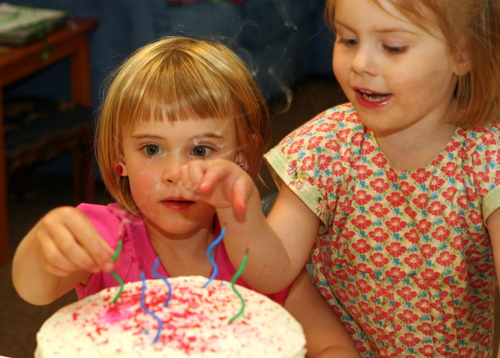 The first time I baked this cake, my husband said, "I can't believe you like this. It's so sweet."
It's true that I don't like super sweet things. I don't drink soda or eat candy. I don't even like milk chocolate; it's just too sweet. But hearing these words from my husband–who thinks Coke sipped through a red vine makes a nice afternoon snack–surprised me.
Sure, the cake tasted sweet. With a title like "Burnt Sugar Cake," that was the point. I didn't think, though, that it ranked in the category of over-the-top sugary sweet monsters.
In fact, before my husband interrupted my train of thought, I'd been mentally calculating how soon I could reasonably bake my new favorite cake again.
I had tried out the recipe for our friend Ellie's fifth birthday. Her actual birthday had long since passed; we'd been on vacation at the time, but that didn't mean we couldn't still celebrate with her.
Once I got going on this new recipe, though, I worried that I'd made the wrong choice. I lost count separating eggs and had to result to tricky math (two tablespoons equals one large egg white, if you ever find yourself needing to measure). Then I poured the milk too quickly into the caramelized sugar. Finally, I grew concerned about the lack of chemical leavening in the batter (really? no baking powder? no baking soda?).
Much to my relief, it emerged from the oven just fine. I didn't have time to bake another one, and I'd promised cake; when you promise cake to a five-year-old, well, you'd better deliver.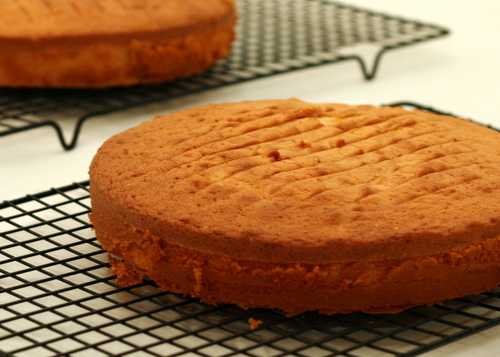 When it cooled enough to frost, and Ellie, Eliza, and Tessa watched intently, mostly because they wanted to get their hands on the extra cream cheese frosting. I didn't dare hand the bowl over before dinner, so I gave each girl a spoon to fill. Who knew how much frosting one could get on a small spoon?<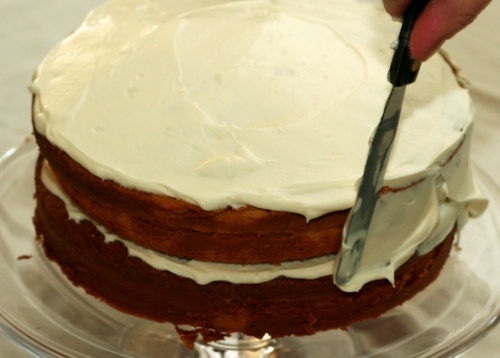 After we finished dinner, the girls decorated Ellie's cake with pink sprinkles. The only way I could get them to stop decorating was to remind them that we actually wanted to eat the cake.
Almost everyone loved it. Tessa started eating with with her bare hands because she couldn't eat it quickly enough with her fork.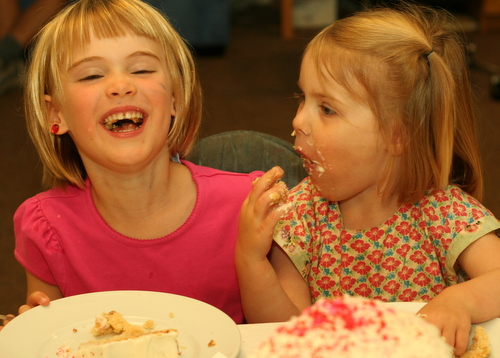 My fork-wielding husband, though, was on the fence. Upon pressing, it wasn't that the cake that was too sweet; he thought the frosting tasted like cotton candy.
"Maybe you could try it again with chocolate frosting," he said.
Tempted though I was to bake it the next day, I didn't have time. Days turned to weeks, and I still couldn't get the cake out of my mind. I found myself daydreaming about its delicate caramel flavor with the merest hint of coconut. So when we got invited to Ellie's dad's birthday party, I selfishly offered to bring cake.
While I perused chocolate frosting recipes the night before the party, my husband suggested that that I add caramel between the layers. I liked the idea. He even found me a recipe.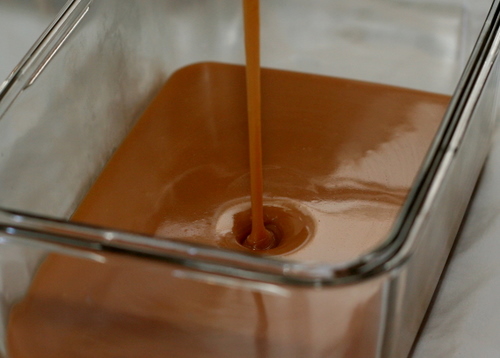 The caramel turned out so great that I decided to split each cake layer in half so we'd end up with three layers of caramel and chocolate instead of just one. I know, I know, I said I don't like super sweet. Go figure.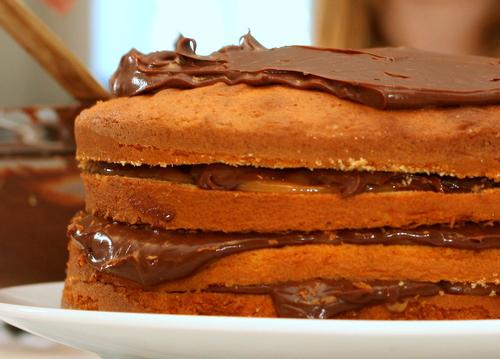 By the time the layers were baked, sliced in half, layered with caramel, and frosted with chocolate, the cake weighed eight pounds. The combination of caramel and chocolate between the layers made them slippery, resulting in a sloping cake. No matter — whenever the cake started to look lopsided, I picked it up and tilted it in the other direction to even it out. This kept me quite entertained as we drove to our friends' house, and unlike some, this cake made it to the party in one piece.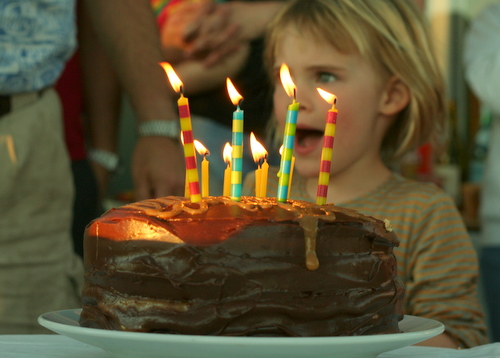 The layers of pale cake, golden caramel, and dark chocolate provided a dramatic pattern once we sliced into the cake. And the combination of flavors tasted, well, sweet — sweet and rich and carameliscious. Let's just say there were maybe two crumbs left at the end of the evening.
Delicious as it was, though, I missed the subtle, interesting flavor of the cake itself. For all the trouble I put into caramelizing sugar to stir into the batter, I wanted to savor the taste of it. The combination of chocolate and caramel just overwhelmed it.
Next time I make this cake, I'll skip the caramel and try it with chocolate frosting. I'll even pass on slicing the layers in half to squeeze in extra frosting.
And if it's not perfect, well, I'll just have to try again.
Darn.
Burnt Sugar Cake
From Baking in America
. Makes two 9-inch cakes.
2 1/4 cups sugar
1/2 cup milk
1 14-ounce can unsweetened coconut milk
3 cups sifted cake flour
1/2 teaspoon salt
2 sticks (1 cup) unsalted butter, at room temperature
2 teaspoons vanilla extract
3 large eggs
1 large egg, separated
3 large egg whites
Heat 1/2 cup of the sugar in a large saucepan over medium heat, stirring with a heat-proof spatula until the sugar begins to melt. Continue cooking, stirring occasionally, until the sugar is completely melted and turns a deep caramel color, about 10 minutes. Immediately remove the pan from heat and very gradually stir in the milk. The mixture will seethe and sputter (if you pour it in too quickly, it will solidify; if this happens, just reheat, stirring constantly until it melts again). Cook, stirring occasionally until the mixture is smooth. Transfer to a heatproof 2 cup glass measure. Shake the can of coconut milk and add enough of it to the caramel to make 1 1/4 cups. Set aside. Reserve remaining coconut milk for another use. (You can prepare the caramel/coconut mixture 1 day ahead. When cool, cover and refrigerate. Bring to room temperature before using.)
Adjust oven rack to the lower third position and preheat oven to 350° F. Butter or grease two 9-inch round cake pans. Line the bottoms with rounds of parchment paper; butter the paper, and dust the bottoms of the pans with all-purpose flour. Knock out the excess and set aside.
Resift the flour with salt; set aside.
In the bowl of an electric mixer, beat butter on medium speed until very smooth, about 1 minute. Add the vanilla and 1/4 cup of the sugar and beat for 1 minute. Beat in 1 1/4 more cups of sugar about 1/4 cup at a time, beating for 20 to 30 seconds after each addition, then beat on medium speed for 5 minutes. Scrape the bowl and beater. Add the eggs one at a time, beating for 1 minute after each. Add the egg yolk and beat for 1 minute.
On low speed, add the flour in 4 additions, alternating with the caramel mixture, beginning and ending with the flour and beating only until the batter is smooth.
In a large bowl with clean beaters, beat the 4 egg whites on medium speed until they form soft peaks when the beater is raised. Beat in the remaining 1/4 cup sugar about 1 tablespoon at a time, and continue beating until the whites resemble thick marshmallow cream and form softly drooping peaks. Fold the whites into the batter in 2 additions, just until incorporated. Divide the batter between the prepared pans. To level the batter, rotate the pans briskly on your counter top.
Bake for 35 to 40 minutes, until the layers are golden brown and spring back when pressed very gently in the center and a toothpick inserted in the center comes out clean. Cool in the pans on a wire rack for 5 minutes. Run a small, sharp knife around the layers to release them from the sides of the pans. Cover with wire racks, invert again, and cool completely before frosting.
Chocolate Satin Frosting
From Foster's Market
. One recipe will frost a two-layer cake or one large sheet cake.
1 1/2 cups heavy cream
2/3 cups sugar
5 large egg yolks
1 teaspoon pure vanilla extract
20 ounces (1 1/4 pound) semi-sweet chocolate
2 sticks (1 cup) unsalted butter, cut into 1/4-inch cubes
1/3 cup light corn syrup
1/3 cup sour cream
Combine the cream and sugar in a medium saucepan over medium-low heat and bring to a low boil, stirring constantly, until all the sugar has dissolved. Set aside.
Combine the egg yolks and vanilla in a small bowl and whisk until well blended. Whisk 1/2 cup of the warm cream mixture into the yolks. Add the yolk mixture to the saucepan and cook, whisking constantly over very low heat for 3 to 4 minutes, until the mixture coats the back of a spoon (be sure to keep the heat very low and that you whisk constantly so you don't cook the yolks).
Add the chocolate and butter and whisk several times. Remove from heat and whisk until the chocolate and butter have melted completely and the mixture is smooth.
Add the corn syrup and sour cream and whisk until well blended. Transfer the frosting to a shallow bowl and refrigerate for 30 to 40 minutes until cooled, stirring occasionally, until the mixture becomes thick and creamy (if you refrigerate it too long, it will become hard to work with). Frost cake while the frosting is smooth and creamy.
Cream Cheese Frosting
From Baking in America. Makes more than enough to frost a two-layer cake or one large sheet cake.
While my husband didn't care for this frosting, everyone else did. Adam, Ellie's dad, suggested that we use it to frost cinnamon rolls, which sounds like a fine idea to me.
1 stick (1/2 cup) unsalted butter, at room temperature
8 ounces cream cheese (do not use low-fat), at room temperature
2 teaspoons pure vanilla extract
1 pound confectioners' sugar
Beat the butter, cream cheese, and vanilla in the bowl of your electric mixer until very smooth and fluffy, 1 to 2 minutes. On low speed, gradually add confectioners' sugar and beat until incorporated. Increase the speed to medium-high and beat for 1 minute until smooth and creamy.
Caramel Filling
From Cake Central.
While I probably won't layer this filling into a Burnt Sugar Cake again, its deliciousness and texture compelled me to share the recipe. It made my cake slippery, but I'm guessing that omitting the chocolate layer on top of the slick caramel would take care of this problem. If you discover the perfect cake for its use, let me know.
2 sticks (1 cup) unsalted butter
2 cups packed brown sugar
1 cup light corn syrup
1 can sweetened condensed milk
2 tablespoons whipping cream
2 teaspoons pure vanilla
1 teaspoon salt
In a heavy saucepan, bring butter, brown sugar, corn syrup and sweetened condensed milk to a boil over medium heat, stirring. Carefully stir in whipping cream. Attach a candy thermometer to your pan. Continue to stir until the caramel reaches 238° F. Remove from heat and add vanilla and salt. If the the caramel is too thick to spread, heat in the microwave in 10 second intervals until it becomes workable.
Some of the links in this post are affiliate links. If you click through and make a purchase, I earn a small commission for my referral at no additional cost to you. Thank you for supporting Flour Arrangements.