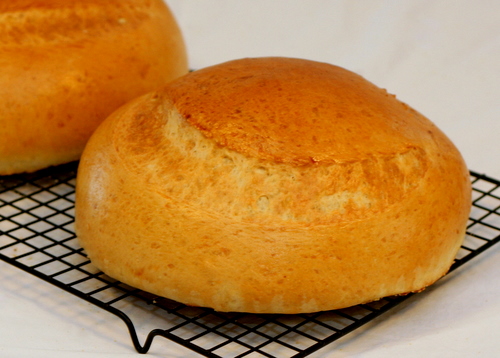 Ihe universe conspired to ease me into week two of my back-to-school bread baking plan.
On Monday, Labor Day holiday, when my husband arranged a sailing date for us, I decided to stay home.
As my family scrambled to the car clutching snacks and trailing life jackets, I averted my eyes from the mountain of laundry and the chaos of toys, art supplies, and dead batteries. I knew if I so much as started sorting light clothes from dark, my day would disappear unpleasantly and my family would return complaining about missing toys that had somehow made a fateful journey into the dumpster.
I cast these potential unpleasantries aside and started making bread dough in the peace and quiet of my messy kitchen. Lest you think I'm some magnanimous but slothful soul who forgoes fun to slave the day away baking for her family, I must set the record straight. Sure, I love making bread, and I love to bake for my family, but this particular morning was really about going swimming. When I finished the dough, I left it to rise on a clear corner of the kitchen table and hightailed it to the gym.
I go slightly crazy when I don't get to go swimming, and I hadn't been to the pool for at least a week. Starting the school year consumed any spare time I might have carved out for myself; my job at an alternative high school requires me to prep coursework for all the subjects needed by my 9th through 12th grade students. This is just about as insane as it sounds, maybe more so. So while I felt torn about not spending the day sailing with friends and family, in the interest of avoiding a nervous breakdown, I opted for exercise.
As it happens, the time required for a workout in the pool aligns well with the time required for dough to rise. And so the morning provided me the perfect opportunity to try out sourdough bread using a starter I mixed up a few weeks ago.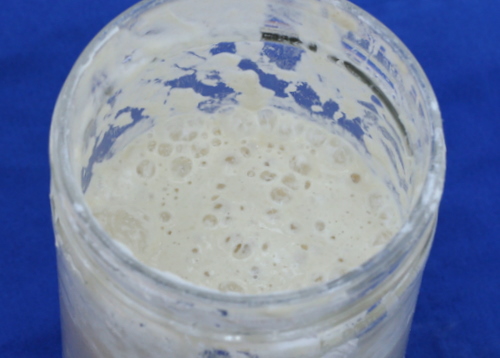 Now that I have this living, breathing jar of liquid burbling contentedly in my fridge, I've discovered extraordinary possibilities for its use. I've flipped sourdough pancakes and baked a sourdough chocolate cake. The time had finally come, though, for me to make bread with the stuff. I had, after all, cultivated the starter with the intention of baking bread in the first place.
So, on this leisurely Monday, I did. And, in doing so, I managed the small personal victory of making bread two weeks in a row for the first time in a long time.
When my family returned home from a day on the water, everyone was eager to slice into fresh loaves. Eliza gave the bread her seal of approval, calling it "squishy." I never dreamed of feeling complimented by that particular word, but if it makes the girl happy, I'll take it.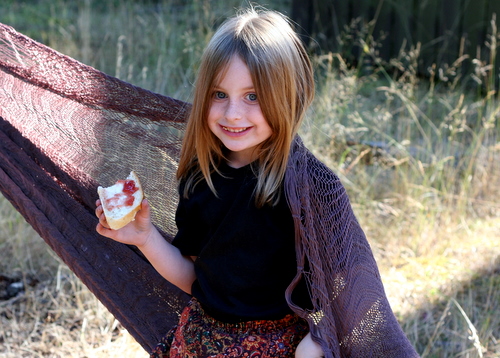 Sourdough Bread
Adapted from The Bread Bible. Makes two 9-by-5-inch loaves or two large round loaves.
1 1/2 cup warm water (105° to 115° F)
1 tablespoon active dry yeast
1 tablespoon sugar
1 cup sourdough starter
8 tablespoons unsalted butter, melted
1 tablespoon salt
5 to 6 cups unbleached all-purpose or bread flour
1/4 cup yellow cornmeal, for sprinkling
1 egg beaten with 2 teaspoons water, for glazing
Pour 1/2 cup of the warm water in a small bowl. Sprinkle yeast and a pinch of sugar over the water's surface. Stir to dissolve and let stand at room temperature until foamy, about 10 minutes.
In the large bowl of a heavy-duty electric mixer, combine sourdough starter, remaining water, sugar, melted butter, salt, and 3 cups of flour. Using the paddle attachment, beat until smooth, about 1 minute. Add the yeast mixture and beat for 1 minute more. Add the remaining flour, 1/2 cup at a time, until a soft shaggy dough that just clears the sides of the bowl is formed.
Switch from the paddle to the dough hook and knead for 3 to 4 minutes, until the dough is smooth and springs back when pressed. If desired, transfer dough to a floured surface and knead briefly by hand.
Place the dough in a deep greased container. Turn once to coat the top and cover the bowl with plastic wrap. Let rise at room temperature until doubled in bulk, about 1 to 1 1/2 hours.
Gently deflate the dough. Line a baking sheet with parchment paper and sprinkle with cornmeal or lightly grease loaf pans and sprinkle with cornmeal. Turn the dough out onto a lightly floured work surface and divide into 2 pieces. Shape into tight rounds or form portions into rectangular loaves and place in the pans. Cover loosely and let rise until doubled in bulk, about 1 hour. Slash tops decoratively and glaze with egg and water mixture.
At least twenty minutes before baking, preheat oven to 350° F. Place loaves on a rack in the center of the oven and bake for 35 to 40 minutes until the loaves are golden brown and the loaves sound hollow when tapped with your finger. Transfer to a cooling rack. Cool completely before slicing.
Sourdough Starter
Adapted from The Bread Bible.
2 cups lukewarm water
1 teaspoon active dry yeast
1 tablespoon sugar or honey
1/4 cup buttermilk powder
1/3 cup plain yogurt
2 cups bread flour
Pour the warm water into a medium bowl. Sprinkle the yeast, sugar, and buttermilk powder over the surface of the warm water. Stir with a large whisk to dissolve. Stir in the yogurt, and then add the flour and beat until well blended. Transfer to a largish glass jar, ceramic crock, or plastic container. Cover loosely with plastic wrap and let stand at room temperature for at least 48 hours, whisking the mixture 2 times a day, or up to 4 days depending on how sour you wish the starter to be. It will bubble and begin to ferment. A clear liquid will form on the top; stir it back in. On the fourth day, feed with 1/4 cup water and 1/3 cup flour. Let it stand overnight, and then store in the refrigerator, loosely covered. Feed the starter every two weeks.
Bring to room temperature before using. Remove amount needed for your recipe. Add 1 cup of flour and 1/2 cup water or nonfat milk to the remaining starter, stirring to incorporate. Let stand at room temperature for 1 day, then refrigerate. It will improve with age. If a pinkish color or strong aroma develops, discard and start anew.
Some of the links in this post are affiliate links. If you click through and make a purchase, I earn a small commission for my referral at no additional cost to you. Thank you for supporting Flour Arrangements.