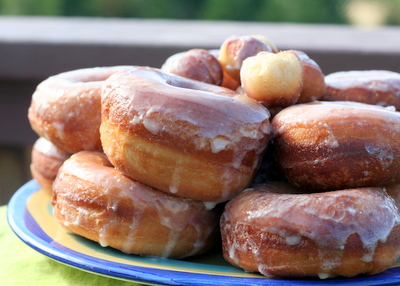 The wind howled outside our little cottage. We could hear the fir trees creaking and crackling dangerously.
Fortunately, we had plans that would get us out of the house on this first official Sunday of fall — plans that dovetailed perfectly with the suddenly blustery weather. We grabbed our bowl of rising doughnut dough and headed cautiously through the swaying trees to our car. When we reached the place where the narrow paved road usually begins, Eliza said, "If you didn't know the road was here, you wouldn't know to look both ways before crossing." She was right; orange fir needles completely covered the pavement.
We headed to our friends' house, where somehow or other, we had left our deep fryer. Maybe it's because we have a tiny kitchen with no room for more appliances, or maybe we're just generous people who believe our friends need fried food in their lives more than we do, or maybe, just maybe, we wanted a good excuse to have more frequent meals at their house. On this particular morning, I had offered to make doughnuts, which prompted my friend Sharalyn to invite a group of friends over for breakfast.
I don't usually eat doughnuts for breakfast because too much sugar in the morning gives me a headache, but I like doughnuts, and I have fond memories of eating lots of doughnuts. Back in high school, the Safeway in my town always sold doughnuts for 10 cents after 10:00 pm. My friends and I would wander the aisles eating doughnuts before dropping a big pile of dimes at the register on the way out the door. Now that I'm a high school teacher, I'm pretty sure I know exactly what the store employees and shoppers thought of our adventures, but I digress.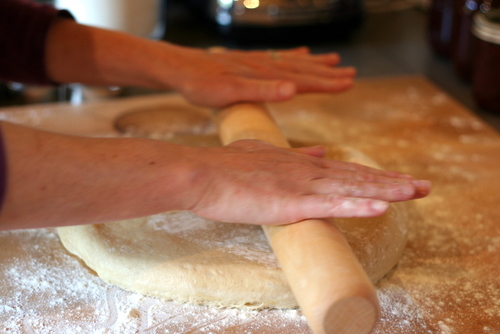 When we arrived at our friends' house, my daughters joined the collection of kids painting at the dining room table, and I joined my friends Sharalyn, Val, and Rita in the kitchen, where we got to work on the doughnuts. Cutting doughnuts allowed us to catch up and feel productive at the same time, if you can call prepping sweet treats for breakfast productive work.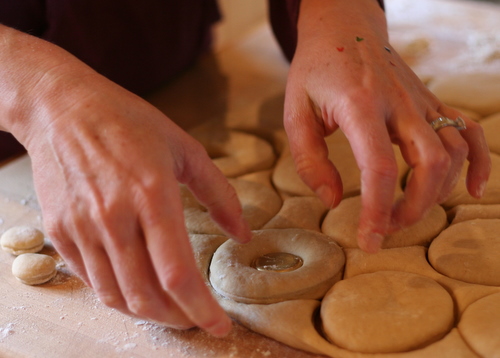 Since this was our first attempt at doughnuts, we didn't have a proper doughnut cutter. We improvised and used a biscuit cutter to make the rounds and the lid of the balsamic vinegar bottle to make the holes.
While the doughnuts rose, we sipped tea and chatted until we couldn't wait any more. Everyone wanted doughnuts.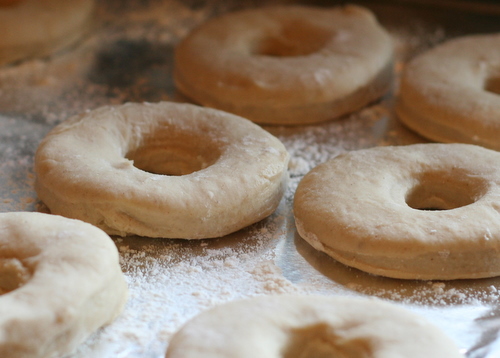 I can't remember being this excited watching a new recipe come together. As the first batch of doughnuts emerged from the fryer, they looked just like real doughnuts! I'm not sure why this surprised me so much. I guess I just never imagined that they'd turn out so perfectly.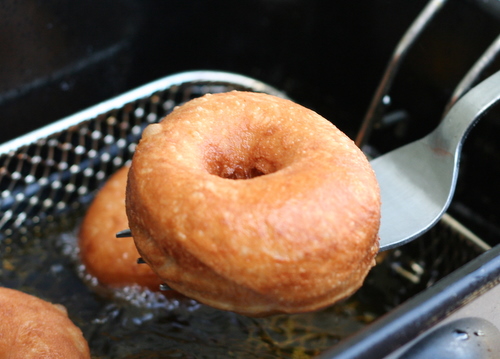 After they cooled slightly, I dipped each one in a batch of the glaze that accompanied the recipe, which provided a glossy sheen atop each little beauty.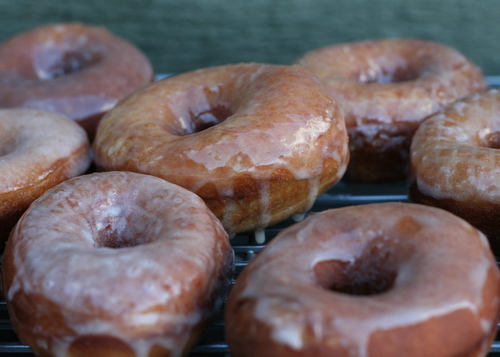 My husband, who was frying some sausage as a side dish, asked if we planned to make some chocolate glaze. I heard Sharalyn say, "Do you think we should?" and the next thing I knew, she handed me a bowl of chocolate glaze.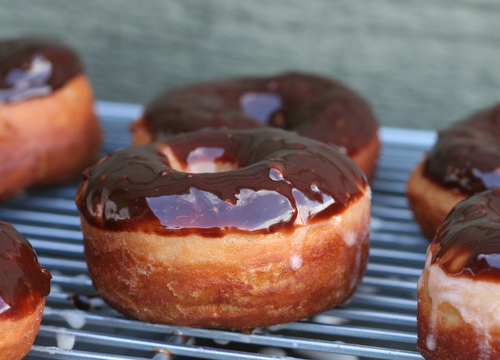 Since I had already glazed many of the doughnuts, I started to double-dip them, adding a layer of chocolate over the light sweet glaze already there. Nobody seemed to mind. Later on, when only plain glazed doughnuts remained, which prompted some minor grumbling, Sharalyn said, "Oh, that's all right, just chocolatize them."
Enjoying warm and tender doughnuts with great friends on a cold and windy morning made saying goodbye to summer a little less painful. Welcome fall.
Yeasted Potato Doughnuts
Adapted from Baking in America
. Makes 20 to 32 doughnuts.
1 large potato or two medium potatoes (12 ounces)
3/4 cup milk
1/2 cup sugar
2 1/4 teaspoons active dry yeast
1 teaspoon salt
1/2 teaspoon cinnamon
1 1/2 teaspoons pure vanilla extract
1 stick (8 tablespoons) unsalted butter, at room temperature
3 large eggs
5 1/2 cups unbleached all purpose flour, plus more as needed
3 quarts vegetable oil, for deep-frying
Peel potatoes and cut into 2-inch pieces. Place in a medium saucepan and cover with 1 inch water. Bring to a boil, reduce the heat to low, and simmer until the potatoes are completely tender when pierced with the tip of a sharp knife, about 20 minutes. Drain well and mash. Measure 1 packed cup potatoes and set aside.
Lightly oil a 6-quart bowl and set it aside.
Combine milk and 1 tablespoon of sugar in a small saucepan and stir over medium heat only until lukewarm. Transfer to the bowl of a standing mixer. Stir in the dry yeast. Let stand 5 minutes to soften, and then add remaining sugar, salt, cinnamon, vanilla, butter, eggs, and mashed potatoes. Add 3 cups of the flour and mix with the paddle attachment to make a soft, sticky batter.
Gradually stir in 2 additional cups flour to make a soft dough. Switch to the dough hook and knead until the dough is smooth, soft, and elastic. Sprinkle 1/2 cup of flour on the counter and turn out the dough onto it. Knead briefly by hand and form the dough into a ball. Place the dough in the oiled bowl, turning to coat with oil. Cover tightly with plastic wrap and let rise at room temperature until doubled in volume, about 1 1/2 hours.
Gently push down the risen dough. Lift it up, reshape the mass into a ball, and return it to the bowl. Re-cover the bowl with plastic wrap and refrigerate it overnight. The dough will rise again in the refrigerator.
Line two baking sheets with parchment paper or foil scattered lightly with flour. Turn the cold dough out onto a lightly floured work surface and sprinkle a bit more flour over it. Roll the dough into a 15-inch circle about 1/3 inch thick. Lightly flour your doughnut cutter or two circular cutters–one for the doughnut and one for the hole) and cut out doughnuts. Cut the doughnuts as close to each other as possible. Place them and the doughnut holes about 2 inches apart on the prepared sheets.
Form the scraps into a ball of dough, cover, and let rest for 10 minutes. Roll and cut doughnuts as before and place them on baking sheets. Spare bits of dough can be rolled into ropes and formed into figure eights or twists.
If you want to fry the doughnuts soon, let them rise, covered loosely with plastic wrap, in a warm place until they are puffy and light. They'll be about 1 1/2 inches tall. If you want to cook them later, cover them and refrigerate for up to 3 hours. About 2 hours before frying, remove them from the refrigerator and let rise in a warm place.
Heat oil in a deep fryer to 365° F. Alternatively, pour the oil into a 5- to 7- quart deep pot and attach a digital probe or a deep-fry thermometer to the side. Heat oil over medium-high heat until the temperature reaches 365° F.
Meanwhile, line your work surface or a couple of baking sheets with brown paper or paper towels. Place a large wire rack over a baking sheet for glazing the hot doughnuts.
To fry the doughnuts, carefully slip 3 or 4 into the hot oil. Adjust the heat if necessary so the temperature never falls below 360° F. Cook for about 2 minutes on each side, turning them over carefully with tongs, forks, or chopsticks without piercing them. They will puff up and turn deep brown, with a pale line running around their equators. Carefully remove the doughnuts from the oil with a slotted spatula and set them on the paper to drain for about 30 seconds. Dip doughnuts in glaze and set on wire rack to cool.
Continue cooking and glazing doughnuts until they're all done. Cook the doughnut holes last, moving them about in the oil frequently.
Doughnuts are best fresh, even a tad warm.
Plain Glaze
From Baking in America
.
3 cups confectioners' sugar
1 1/4 teaspoons pure vanilla extract
about 1/2 cup milk
Whisk together the confectioners' sugar, vanilla extract, and about 6 tablespoons of the milk until smooth. Add more milk to make a pourable glaze. Cover and set aside.
Chocolate Glaze
Adapted from The Joy of Cooking (2006 edition).
4 ounces semi sweet chocolate
1 stick butter
1/4 cup water
3/4 to 1 cup confectioners' sugar, to taste
Boil water and then add chocolate, stirring until melted. Add butter and sugar. Stir until smooth.
Some of the links in this post are affiliate links. If you click through and make a purchase, I earn a small commission for my referral at no additional cost to you. Thank you for supporting Flour Arrangements.