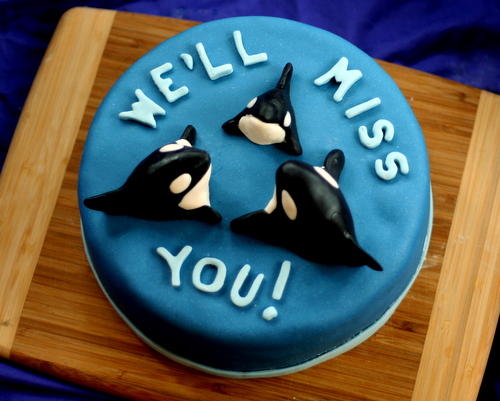 W
hen our German neighbors first moved to San Juan Island, they spent nearly every free moment at Lime Kiln State Park. The park includes a quaint lighthouse, rocky shoreline, and trails that lead to 19th century kilns used for transforming limestone into cement. As you take in the ocean view from almost any spot at Lime Kiln, you can look across the Haro Straight and see Canada's Vancouver Island. Whenever anyone expects me to know anything about getting from one place to another in in Washington State, I remind them that this California transplant lives closer to Canada than mainland United States. It's possible that our German friends spent time at Lime Kiln to feel more connected to the global community, but there's an even stronger draw than international views or scenic beauty. Lime Kiln may well be the best place in the world to view Orca whales from dry land. From about March to September, the San Juan Islands' resident population of whales passes by Lime Kiln on a regular basis. It's one of my favorite spots to savor a lingering picnic, ever hopeful that the whales will appear to add a bit of icing on the cake of your otherwise perfect afternoon. Our neighbors came here ready to see whales, and we understood this well. Before moving here ourselves, we took our daughters to meet Shamu at Sea World in San Diego to get them geared up for the wildlife of the Pacific Northwest. Eliza's Santa Barbara preschool friends sent postcard after postcard asking after the Orcas of the San Juan Islands. Since we moved here in fall, and Orcas don't usually show up until the spring, Eliza had to wait months and months before reporting back about the whales. Our neighbors also moved here in the fall, and so spent many a weekend hanging out at Lime Kiln waiting for whales to arrive. Finally, spring brought with it returning Orcas, and our neighbors saw quite a few. This didn't stop them from spending their weekends at Lime Kiln; if you've ever witnessed Orcas at close range, you recognize that quite a few will never be enough.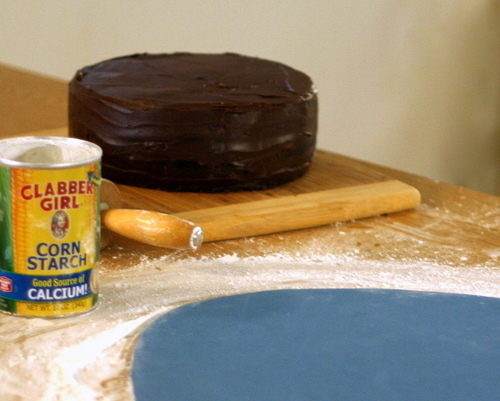 When our German neighbors arrived, we knew they would be here for two years, and that seemed like a long time. We live at a marine lab that bustles in the summer time, but after summer's bright days fade into fall, it gets pretty quiet around here.
Having another family close by to share our deserted summer camp made things cozier. Seeing another set of windows throw light out at the darkness at 4:00 pm on a winter afternoon always lifted my spirits. Having another mama to talk with while our kids played at the small playground here saved my sanity on more than one occasion.
We traded salt and sugar and eggs with regularity. We traded big slices of cake as well. This is not something I say lightly: Anja taught herself to bake while she lived here, and I threw together many a
cake trial
that needed testing. We ate more than our share of cake.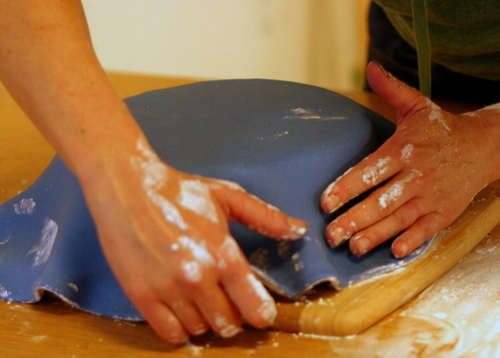 When our German neighbors finally had to return to Germany, I wasn't ready for them to leave. I'm still not used to the dark, empty cottage next door. At their goodbye party, it only seemed right to bring a cake since we'd traded so many slices back and forth during their two years here.
I baked an "American-style" chocolate cake, which Anja said she would miss in Germany. When it came to decorating the cake, I knew exactly what to do.
I covered it with blue fondant and fashioned three Orca whales for the top — one large, one medium, and one small. My daughter Eliza knew right away what was going on, "It's Thomas, Anja, and Lea!" she cried before asking me for the leftover fondant.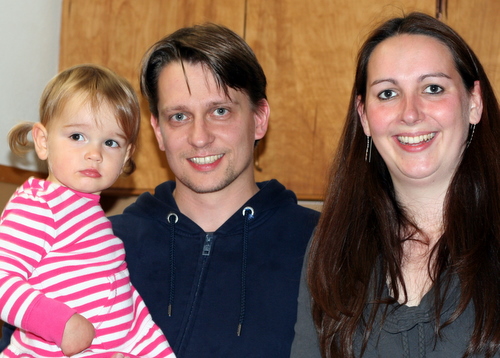 Like the whales that always come back to the San Juans, we await our neighbors' return. And when they arrive, we'll eat more cake.
Devil's Food Cake
Adapted from
Foster's Market
.
Makes one 9-inch layer cake. 5 ounces unsweetened chocolate, chopped 3 cups all-purpose flour 1/4 cup cocoa powder 2 teaspoons baking soda 1/2 teaspoon salt 1 1/2 sticks butter (12 tablespoons), softened 1 3/4 cups firmly packed light brown sugar 3 large eggs 1 tablespoon pure vanilla extract 1 1/2 cups sour cream 1 1/2 cups boiling water Preheat oven to 350° F. Grease two 9-inch cake pans. Line them with rounds of parchment paper and grease the top of the parchment paper. Flour pans and set aside. Place chocolate in a double boiler and melt over medium-low heat, stirring occasionally, until the chocolate melts. Combine flour, cocoa, baking soda, and salt in a bowl and set aside. Cream together butter and brown sugar in standing electric mixer until light and fluffy. Add the eggs, one at a time, to the butter mixture, beating well after each addition. Beat until well blended. Add the vanilla and melted chocolate and stir to mix. Add the flour mixture, alternating with the sour cream, to the egg-butter mixture. Stir just until the dry ingredients are moist and blended. Do not over mix. Stir in boiling water and mix until blended. The batter will be fairly liquid and runny. Divide the batter evenly between the prepared pans. Bake for 45 to 50 minutes, until the cakes are firm to the touch and a toothpick inserted into the center comes out clean. Remove from the oven and cool the cakes for 10 to 15 minutes in the pans. Remove from the pans and continue to cool on a baking rack. Once the cakes have cooled completely, use a serrated knife to slice off the top rounded portion of each cake to make a flat even surface. Discard the trimmings. Place one of the layers cut side down on a cake plate. Top with about 1/3 of your frosting and spread evenly over the top of the cake. Place the other layer on top with the cut side down. Top with remaining frosting and spread over the top and sides of the cake. If you plan to cover your cake with fondant, spread the frosting thinly on the outside of the cake.
Chocolate Sour Cream Frosting
From
The Joy of Cooking
(1997 edition).
Note:
Because I pulled this cake together on a weekday after work, I needed a quick and delicious chocolate frosting recipe. I'm glad I remembered this recipe I used for chocolate cupcakes several years ago. It's simple to make and incredibly decadent. Taste it on the trimmings of your cake to "make sure" everything will taste all right once you cut the cake. Try to restrain yourself from eating the whole bowl so you have some frosting left for your cake. 10 ounces chocolate chips 1 cup sour cream Melt chocolate chips in the top of a double boiler. Remove from heat and stir in sour cream until just combined. Use immediately; if the frosting becomes too stiff or loses its gloss, set the pan in a larger pan of hot water for a few seconds and stir to soften. If you plan to wrap your cake in fondant, cover with a very thin layer of chocolate frosting to ensure a smooth surface.
Some of the links in this post are affiliate links. If you click through and make a purchase, I earn a small commission for my referral at no additional cost to you. Thank you for supporting Flour Arrangements.