This Whole Grain Fennel Seed Bread gets a burst of flavor from a generous quantity of flavorful fennel seeds.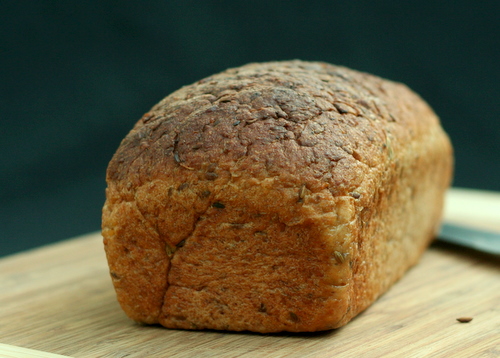 A
t the beginning of the school year, I decided to bake bread at least
once a week
for my daughter Eliza's peanut butter and jelly sandwiches.
She loves fresh bread — not that the rest of us don't — but it is her reaction to loaves warm from the oven that prompted me to make this commitment.  If I can bring indescribable joy to this six-year-old by doing something that I enjoy, well, why wouldn't I?
So far, I've produced at least two loaves a week, enough not only to stock her lunch box, but to provide sandwiches for the rest of us as well.  Every now and again I even end up with a spare loaf to share with friends.  I have had some late-night baking sessions, but on the whole, I'd say I'm almost back in the bread making rhythm.   I've learned I can make time for anything I really want to do.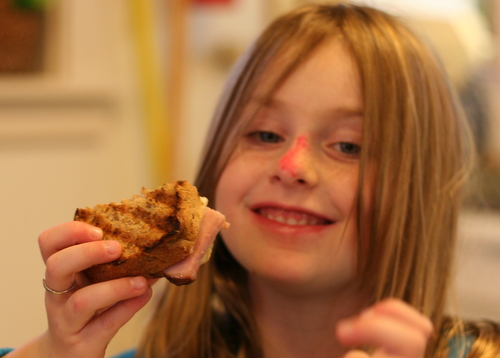 Eliza has a refined palette in some ways.  She can wax poetic about cheese, for example.  She loves a nutty Parmesan, a strong blue, and any number of expensive cheeses.   Her passion for cheese prompted her to name our white Prius "Feta" and our blue Accord "Gorgonzola."
She gobbles up prosciutto and Kalamata olives with abandon, but aside from these exceptions, she likes plain, bland food.  To call her a picky eater involves some serious understatement.  After a few embarrassing episodes eating dinner at friends' houses, we laid down the law:  at dinner, you eat what you're served.
Lunchtime in our house, though, is a different story entirely.  Since the sandwiches for adults always seem to involve elaborate customization, it only seems fair to let Eliza eat what she wants as well.  And since she balks at anything but a peanut butter and jelly sandwich, that's what we give her.
Until recently, that is.
Not long ago, she tasted some fennel seeds while I was making potato samosas.  On the spot, she ate nearly half a jar.  When lunchtime rolled around, she asked me to put seeds on her sandwich.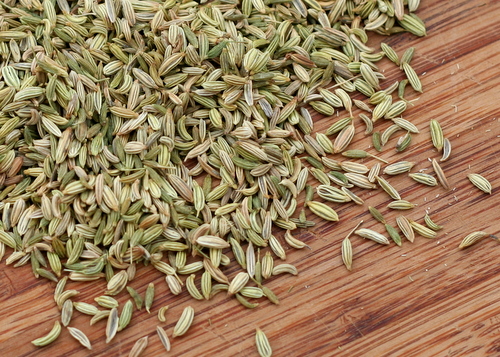 "Peanut butter and jelly with fennel?" I asked.
She thought about this, looking serious, then replied, "No, I think maybe with ham and cheese."
"Grilled or cold?" I asked, trying not to make a big deal of this momentous request.
She made the right choice.
The fennel seeds melted into the cheese, which kept them from spilling out of the sandwich.  And the taste?  Delicious.
As we ate, I asked her if she wanted me to try making bread with some fennel seeds in it.  Her full-mouthed smile gave me my answer.
After two weeks of tinkering, I've come up with a decent whole grain recipe.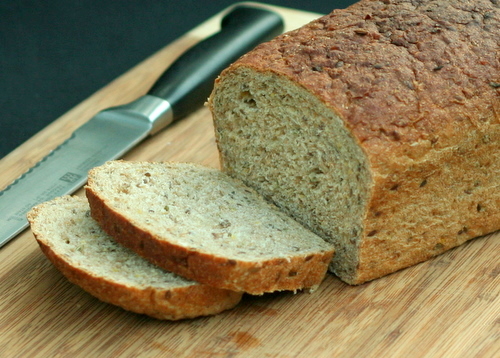 And, as I put last week's loaves in the oven, I fondly recalled the potato filling that inspired this widening of my daughter's lunch repertoire.   Suddenly, I felt inspired.
If next week's potato fennel loaves turn out great, I'll let you know.
Whole Grain Fennel Seed Bread
Sponge
1 cup uncooked multigrain cereal
1/4 cup fennel seeds
1/2 cup flax seeds
1 1/2 cups hot water
1 1/4 cups buttermilk
2 1/4 teaspoons active dry yeast
3 tablespoons honey
1 cup whole wheat flour
Combine all ingredients in the bowl of a standing electric mixer.  Mix and cover loosely.  Set aside for an hour to soften the grains and proof the yeast.
Bread
2 1/2 teaspoons salt
3 tablespoons butter, melted
4 cups whole-wheat, all purpose, or bread flour
1 teaspoon water
1 teaspoon honey
1 teaspoon vegetable oil
1/4 teaspoon salt
Stir down the sponge, then stir in the salt and butter.  Mix in two cups of flour and beat hard with the paddle attachment for two minutes.  Add remaining flour, about 1/2 cup at a time until the dough smooth but still a little sticky.  Switch to the dough hook and knead dough for 3-4 minutes.  Transfer to a lightly floured counter top and knead briefly by hand, if desired.   Turn dough into an oiled bowl, cover with plastic wrap, and set aside until doubled in bulk, about 1 1/2 hours.
Preheat oven to 375 ° F.  Grease two 4 1/2 by 8 1/2-inch loaf pans.  Deflate the dough and turn out on a counter top.  Divide in two pieces and shape into loaves.  Let loaves rise in loaf pans until doubled, about 30 to 45 minutes.
Mix water, honey, oil and salt in a small bowl.  Brush the tops of the loaves lightly with this mixture.  Bake loaves in the middle of the oven until the loaves are golden brown, well risen, and firm, about 45 minutes.