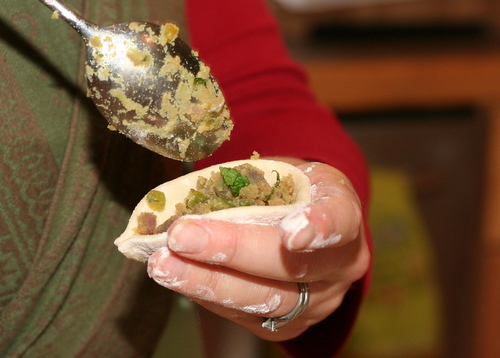 L
iving on a small island limits your food options. San Juan Island has some spectacular restaurants, but the ethnic choices, well, they're nearly non-existent.
I miss eating sushi. I miss eating Ethiopian food. And Greek food and Italian food and Indian food. And Maloula's — the Syrian restaurant open only from April to September — I heard it just closed it's doors for good.
My friend Sharalyn has devised a fix for Indian food cravings that doesn't involve getting on a ferry boat; every now an then she hosts an Indian feast.
For the first feast, I ambitiously offered to make samosas. We'd harvested about 300 pounds of potatoes from our garden, so I felt eager to use them in a new and different way.
As I prepared the filling, inviting aromas tantalized us. The scent of fennel, mustard, fenugreek, cumin, and turmeric peaked even daughters' interest — my daughters who rail regularly against "spicy" food.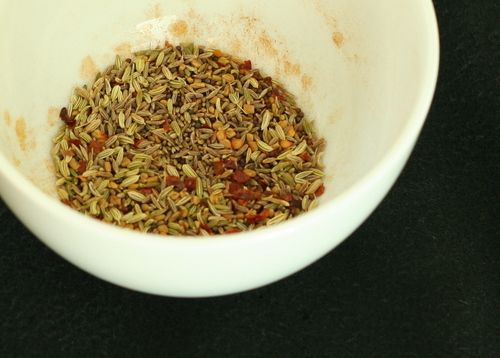 When Sharalyn invited me to the most recent feast, I'm not even sure I told her what I was bringing. By now she knows I'll make samosas. While I prepped the filling this time, Eliza asked if she could taste some of the seeds, and it was love at first bite. She nibbled fennel and brown mustard seeds as I worked. She even asked me to sprinkle them on her sandwich at lunch time. I think it's a new addiction.
The potatoes I used in the latest batch came from our harvest this year — gorgeous purple potatoes. The previous weekend, I had used them to make yeasted potato doughnuts and felt cheated when they didn't produce lavender-hued dough for me. Because of this, I didn't have high hopes for purple filling.
It takes a good chunk of time to roll out samosa wrappers, fill, and then seal them. Here's my secret for efficient samosa making: prepare the filling ahead of time, and then involve the some of your eaters in the production process shortly before your meal begins.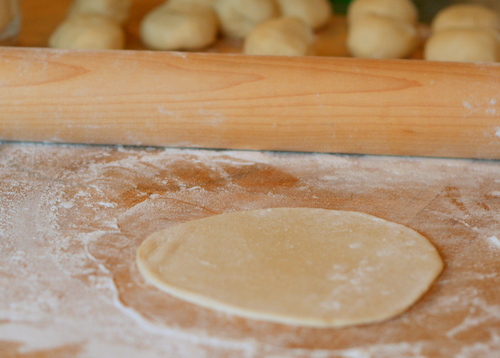 I usually head over to Sharalyn's house early, where we hang out and fill samosas, make naan, and finish other preparations for the evening. As people arrive, they invariably ask if they can help with anything. In no time, you have all your samosas filled.
I love working in the kitchen with friends, and I love eating the food that we prepare together. Sharalyn's new baby even helped by sleeping the whole time we worked.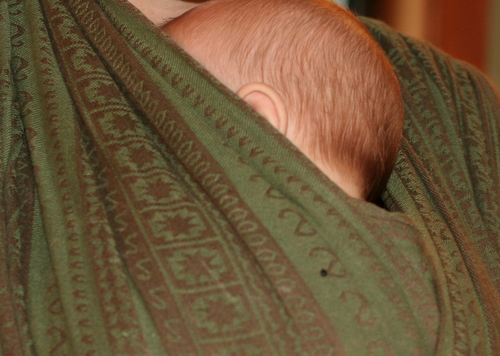 We filled 36 turnovers. Clearly it wasn't enough. At dinner's end, when I'd eaten only two, I found the samosa bowl empty. This was probably for the best. After gorging myself on the amazing Indian dishes prepared by other guests, I still had room for one of Laurie's chai ice cream cones for dessert.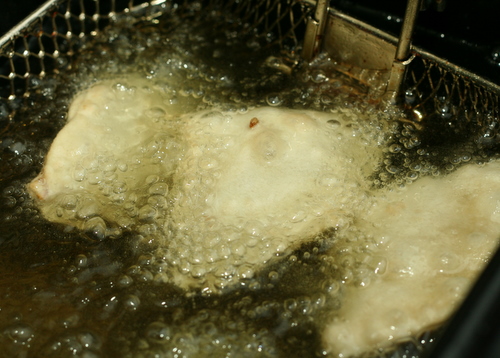 Filling the role of samosa girl is not so bad. I'd eat these samosas any day.
Potato Samosas

Adapted from Cook's Illustrated. Makes 36 turnovers.
Filling
1 teaspoon fennel seeds
1 teaspoon cumin seeds
1 teaspoon brown mustard seeds
1/4 teaspoon ground turmeric
1/4 teaspoon ground fenugreek seeds
1/8 teaspoon red pepper flakes
2 pounds russet potatoes (about 4 medium), peeled and cut into 1-inch chunk
salt
3 tablespoons vegetable oil
1 medium onion , minced
3 medium garlic cloves, minced or pressed through a garlic press (about 1 tablespoon)
1 1/2 teaspoons minced fresh ginger or grated fresh ginger
1/2 cup fresh or frozen peas
1/4 cup minced fresh cilantro leaves
1 1/2 teaspoons juice from 1 lemon
ground black pepper
Combine the spices in a small bowl and set aside. Cover the potatoes with 1 inch of water in a large saucepan and add 1 tablespoon salt. Bring to a boil, then reduce to a simmer and cook until the potatoes are tender and a fork can be slipped easily into the center, 12 to 15 minutes. Drain the potatoes and set aside to cool slightly.
Heat the oil in a 12-inch nonstick skillet over medium-high heat until shimmering. Add the spices and sauté until fragrant, about 10 seconds. Stir in the onion and 1 teaspoon salt and cook until softened, 5 to 7 minutes. Stir in the garlic and ginger and cook until fragrant, about 30 seconds. Stir in the cooled potatoes and cook until they begin to brown around the edges, 5 to 7 minutes. Mash them slightly and stir in the peas to combine.
Transfer the mixture to a medium bowl, cover with plastic wrap, and refrigerate until completely cool, about 1 hour. Stir in the cilantro and lemon juice and season with salt and pepper to taste before using. Refrigerate for up to 2 days if desired.
Wrappers
3 cups unbleached all-purpose flour, plus extra for the work surface
3/4 teaspoons salt
3 tablespoons plain whole milk yogurt
3 quarts vegetable oil , plus 4 1/2 tablespoons
9 tablespoons cold water
Pulse the flour and salt together in a food processor until combined. Drizzle the yogurt and 4 1/2 tablespoons of the oil over the flour mixture and process until the mixture resembles coarse cornmeal, about 5 seconds. With the machine running, slowly add 6 tablespoons of the water through the feed tube until the dough forms a ball. If the dough doesn't come together, add the remaining water, 1 tablespoon at a time, with the processor running, until a dough ball forms. The dough should feel very soft and malleable.
Transfer the dough to a floured work surface and knead by hand until it firms slightly, about 2 minutes. Wrap the dough in plastic wrap and let rest for at least 20 minutes, or refrigerate for up to 1 day.
Cut the dough into 18 equal pieces. Working with 1 piece of dough at a time, roll the dough into a 5-inch round using a rolling pin. Cut each dough round in half to form 36 half moons. Working with 1 half-moon piece of dough, moisten the straight side with a wet finger, then fold in half. Press to seal the seam on the straight side only and crimp with a fork to secure; leave the rounded edge open and unsealed.
Pick the piece of dough up and hold it gently in a cupped hand, with the open, unsealed edge facing up; gently open the dough into a cone shape. Fill the dough cone with about 2 tablespoons of the filling and pack it in tightly, leaving a 1/4-inch rim at the top. Moisten the inside rim of the cone with a wet finger, and pinch the top edge together to seal. Lay the samosa on a flat surface and crimp all the edges with a fork to secure.
Frying
Line a baking sheet with paper towels. Heat the remaining 3 quarts oil in a large Dutch oven or deep fryer to 375 degrees. Add several samosas and fry until golden brown and bubbly, 2 1/2 to 3 minutes, adjusting the heat as needed to maintain 375 degrees. Using a slotted spoon or tongs, transfer the samosas to the prepared baking sheet. Repeat with the remaining samosas. Make sure you eat a few before they're all gone.