Simple to make, these homemade potato gnocchi with gorgonzola cream sauce, bacon, and chives make a delicious meal.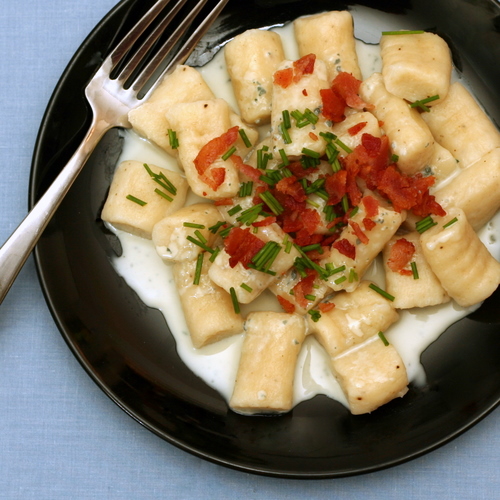 Gnocchi. I love to say it almost as much as I love to eat it.
And I'm not talking about the gnocchi that you buy in vacuum-sealed packages nestled amongst the pasta in the grocery aisle.  I'm talking about the real-deal-mixed-and-rolled-out-on-your-counter gnocchi.   I'm talking about soft pillows of goodness somewhere between pasta and dumplings made by mixing flour, egg, and spices with either potato or soft cheese.  I'm also talking easy.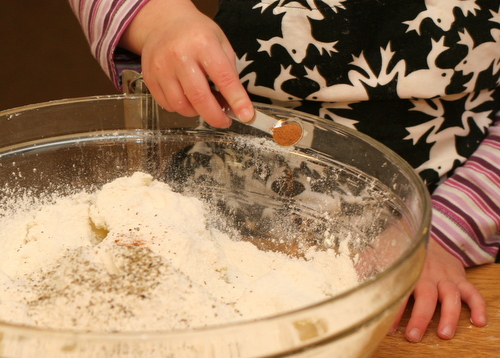 I had a hankering for gnocchi the other day, and I happened to have some potatoes on hand and no other plans for dinner.   In almost no time at all, Tessa and I mixed, rolled, and cut a whole pile of soft, fluffy potato pillows for dinner.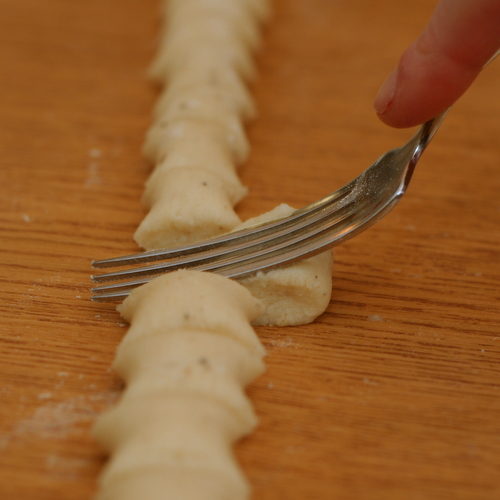 I also found a hunk of Gorgonzola cheese and a carton of heavy cream in the fridge, which I turned into sauce to drizzle over the gnocchi. Then I noticed the bacon;  I fried that up, obviously, because bacon improves everything.
I would almost admit to feeling gluttonous except for that redeeming sprinkling of  green, healthy chives that I added over the bacon bits at the last minute.  Phew.
If you feel intrigued by this dish but daunted by its richness, just serve small portions as a first course.   Of course then you'll probably find yourself tempted to go back for more.
Gnocchi with Gorgonzola Sauce and Bacon
Adapted from Epicurious.  Serves 4 as a main dish or 8 as a first course.
2 1/4 pounds potatoes
1 large egg
2 cups all purpose flour
1 teaspoon salt
1/8 teaspoon ground nutmeg
ground black pepper, to taste
1 cup whipping cream
12 ounces Gorgonzola cheese, grated
fresh chives, snipped in small pieces
3 slices bacon, fried and chopped
Pierce potatoes with fork in about four different places. Microwave until tender, about 16 minutes total, turning once about halfway through.  Cut potatoes in half lengthwise and scoop potato flesh into bowl; discard potato skins.  Mash potatoes until smooth.  Mix in egg.  Sift flour, salt, nutmeg, and pepper over potato mixture; stir to combine. Knead gently.
Divide dough into 8 pieces. Roll each piece on work surface into 1/2-inch-diameter rope. Cut dough into 1-inch pieces.  Roll each piece with a fork to make grooves along the sides.
Cook gnocchi in large pot of boiling salted water until they are tender and rise to surface, about 5 minutes. Transfer cooked gnocchi to a platter with a slotted spoon.
Bring cream to simmer in heavy medium saucepan over medium heat. Add Gorgonzola, whisking until melted.
Spoon sauce over gnocchi. Sprinkle with bacon and chives.