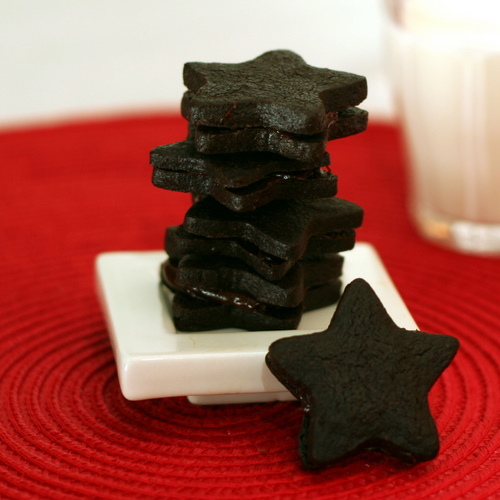 I
l finally found an evening to bake the chocolate sandwich cookies that have eluded me for two weeks.
The idea to make them hatched when a friend hosted a holiday craft fair and cookie contest at her house. I'd never made chocolate sandwich cookies, and her party seemed like the perfect opportunity to give them a try. I imagined something like an Oreo cookie with a chocolate-mint filling.
The day of the party — a Friday ending a busy week — I rushed home from work to make cookies. As I walked through my door and stumbled over knee-deep clutter scattered across my living room, I realized I didn't need to make cookies. I needed to clean my house. I couldn't do it, though. Instead, I diverted my eyes from the chaos and relaxed on the couch with a book for the first time in what seemed like forever. Before long, I was picking up my kids from school and taking them to the tree lighting ceremony in town.
Later that evening, I indulged in sweet treats baked by my friends, and when I returned home after the party, I found that my husband had cleaned up the house.
I don't usually let go of projects so easily, but I need to get better at it. Here's my new mantra: just because I have time to do something doesn't mean that I should. I know I would have enjoyed making cookies that afternoon, but I'm fairly certain I wouldn't have enjoyed it more than my respite from rushing, rushing, rushing to squeeze one more thing into my day. Besides, look how well it turned out for me in the end.
Letting go of a baking project on a given afternoon doesn't, however, divert my mind from the idea of it, and I just couldn't shake the idea of chocolate sandwich cookies. In keeping with my new philosophy, I tried not to make them just because I could squeeze cookie-making into an already jam-packed day.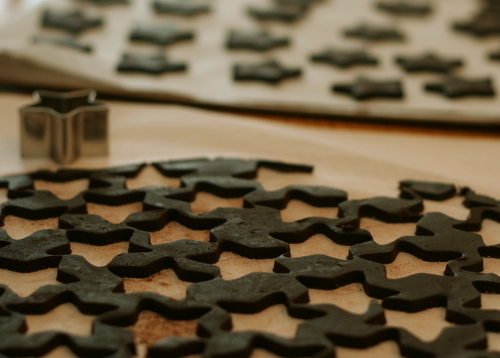 Finally though, Eliza needed treats to bring to her Daisy Scouts holiday party. I didn't have any grading or planning to do for school, so I made cookies: crisp, chocolatey wafers filled with chocolate-peppermint ganache.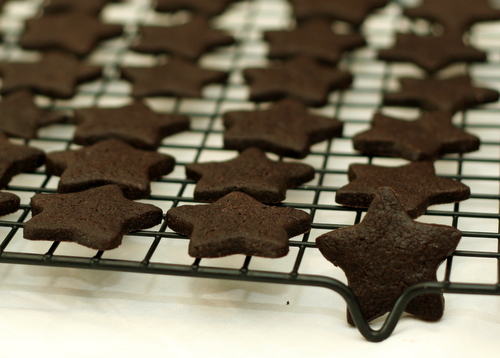 I could eat the wafers alone and feel satisfied. Crisp, textured bites melt in your mouth like a buttery chocolate cookie crumb crust with an occasional burst of salt mixing in with the sweetness. Slather rich, peppermint-laced ganache between two wafers, and it's pretty much over.
To make them feel more Christmasy, I used a tiny star-shaped cutter. Popping those little stars in your mouth makes it seem like you're eating next to nothing. The Girl Scouts are lucky they got any.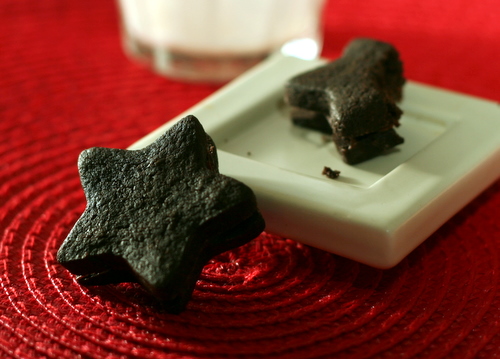 Baking these cookies takes some time, but they're not hard to make, as long as you don't mind relaxing a bit between steps.
Chocolate-Mint Sandwich Cookies
Makes about 30 to 60 cookies, depending on the size of your cutter. A 1 1/2-inch star cutter produced about 60 cookies.

Chocolate Wafers
Adapted from Epicurious.

2 cups all-purpose flour
1/2 cup unsweetened Dutch-process cocoa powder
1/2 teaspoon baking powder
1/2 teaspoon kosher salt
2 sticks (1/2 pound) unsalted butter, softened
3/4 cup sugar
1 large egg yolk
1 teaspoon pure vanilla extract
Whisk together flour, cocoa powder, baking powder, and salt.
Beat butter and sugar with an electric mixer until pale and fluffy, then beat in yolk and vanilla. At low speed, mix in flour mixture in 3 batches just until a dough forms. Divide dough in half and form each piece into a 6-inch square, then chill, wrapped in plastic wrap, until firm, about an hour.
Make ganache (see below) while dough chills.
Preheat oven to 350°F with rack in middle. Line 2 baking sheets with parchment paper.
Roll out 1 piece of dough between additional sheets of parchment paper into a 14- by 10-inch rectangle about 1/8 inch thick. Slide dough in parchment onto a tray and freeze until dough is firm, about 10 minutes. Repeat with remaining dough.
Remove first chilled rectangle of dough from the freezer. Peel parchment paper off one side and replace it (this will prevent the cookies from sticking to the paper). Turn the dough over and remove the top sheet of parchment, cutting out as many shapes as possible with your cutter. Reserve and chill scraps, then quickly transfer cookies to parchment-lined baking sheet, arranging them 1/2 inch apart. If dough becomes too soft, return to freezer until firm.
Bake cookies until baked through and slightly puffed, 10 to 12 minutes. Cool on sheet on rack 5 minutes, then transfer to rack to cool completely. Cookies will crisp as they cool.
Make more cookies with remaining dough and scraps.
Spread about 1/2 teaspoon of ganache on one wafer and top with a second wafer. Chill, layered between sheets of parchment, in an airtight container until filling is set, at least 1 hour.
Chocolate Mint Ganache
Adapted from Chocolate, by Nick Malgieri

1/3 cup heavy cream
1 tablespoon light corn syrup
1 tablespoon unsalted butter, cut in four pieces
4 ounces bittersweet chocolate, cut into 1/4-inch pieces
1 1/2 teaspoons peppermint extract
Combine cream and corn syrup in a small sauce pan and bring to a boil over low heat. Remove from heat and add butter, chocolate, and peppermint extract. Shake pan gently to submerge chocolate and butter completely in the hot liquid. Let stand for 5 minutes, and then whisk until smooth. Scrape the filling into a bowl. Let stand at room temperature or in the refrigerator until spreadable.
Some of the links in this post are affiliate links. If you click through and make a purchase, I earn a small commission for my referral at no additional cost to you. Thank you for supporting Flour Arrangements.