This Butternut Squash Galette features sweet roasted squash, sauteed leeks, and goat cheese wrapped up in sage-laced flaky pastry.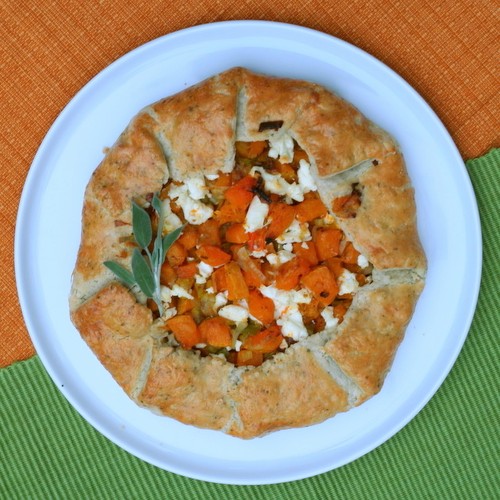 I
have a hard time planning more than a day ahead when it comes to dinner.
Sometimes I pretend I can pull off some extended planning and do a week's shopping at a time. When I do, I usually end up tossing out an embarrassing amount of perishable food because it has, well, perished, before I get around to using it.
I hate throwing away food, especially food that I've dreamed of combining in pots and pans rather than in the garbage can. To prevent food carnage, I need to go to the store every day, or at least every other day if we're up for pantry dinner roulette.
Sometimes, though, I take a chance on foods that I know won't spoil quickly. But even then I usually veer into unexpected territory.
Take the squash I bought last week.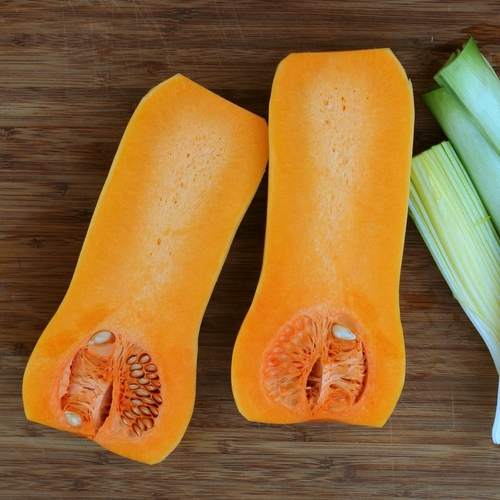 I planned to turn it into butternut squash risotto, a meal that's simple to prepare, tasty to eat, and splendid to heat up at work the next day for lunch. Mostly, though, the recipe features bacon. Need I say more?
But my week got busy. Evening plans rearranged and changed. Eventually I used the bacon for something else, so we ate no butternut squash risotto.
When the weekend arrived, I looked at that pale peach gourd on my counter and craved butternut squash galette.
Imagine sweet roasted squash, sauteed leeks, and goat cheese wrapped up in flaky pastry laced with fresh sage. A wide wedge of galette on my plate–alongside crisp romaine and apple salad with a glass of white wine–made me glad I'd taken this culinary diversion.
I savored bursts of tangy goat cheese interspersed with the hearty, caramelized flavors of squash and leek for dinner. I couldn't help but serve myself another sliver before dinner's end. And while it wasn't pretty to look at in my lunch the next day, it sure tasted good.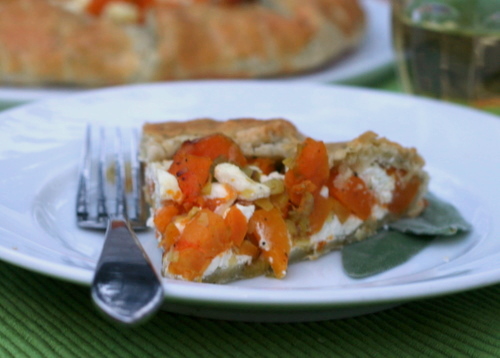 Just thinking about it makes me hungry all over again.
Butternut Squash Galette
Adapted from Epicurious. Serves 6 to 8 as an appetizer or 4 as a main course.
Pastry
1 1/4 cups all-purpose flour
1 stick cold unsalted butter, cut into 1/2-inch cubes
1 tablespoon sage leaves, chopped
1/2 teaspoon salt
4 to 6 tablespoons ice-cold water
1 large egg, lightly beaten
Filling
1 butternut squash (about 2 pounds), peeled, seeded, and cut into 1/2-inch cubes (4 cups)
1/2 teaspoon salt
3 tablespoons olive oil, divided
2 leeks (white and pale green parts only), thinly sliced crosswise
salt and pepper, to taste
6-8 ounces soft mild goat cheese, crumbled into large chunks
Pulse flour, butter, sage, and salt in a food processor until mixture resembles coarse meal. Drizzle ice water evenly over mixture and pulse until it just forms a ball, taking care not to overwork dough. Gently press dough into a flat disk about 5 inches in diameter. Chill dough, wrapped in plastic wrap, until firm, while you prepare filling.
Preheat oven to 500°F with rack in middle.
Toss squash with salt and 1 tablespoon oil and arrange in 1 layer in a 17-by 12-inch shallow baking pan. Roast, stirring once halfway through roasting, until golden brown on edges and undersides, 20 to 25 minutes. Remove squash from oven and reduce oven temperature to 375°F.
Meanwhile, wash leeks, then cook in remaining 2 tablespoons oil with a pinch of salt in a 10-inch heavy skillet over medium heat, partially covered, stirring occasionally, until tender, 10 to 15 minutes. Add squash, salt and pepper, and toss gently. Set aside to cool slightly.
Roll out dough into a 13-inch round on a lightly floured surface. Transfer to a parchment-lined baking sheet. Scatter most of the goat cheese evenly in the center of the dough, leaving a 2- to 3-inch border. Arrange butternut squash filling over the goat cheese, and then top with remaining cheese. Fold dough in on itself to cover outer rim of filling, pleating dough as necessary. Brush pastry with beaten egg and bake galette until crust is cooked through and golden on edges, 35 to 45 minutes. Place baking sheet on a rack and cool for at least 10 minutes before serving.