Poppy seed-studded shortbread and tangy lemon curd create an addictive combination in these Lemon-Poppy Seed Linzer Cookies.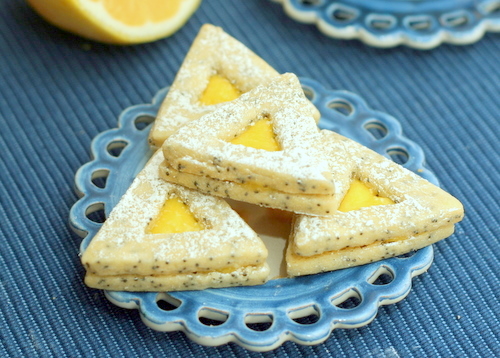 My 14-year-old niece Katja likes to bake.
Finding her a Christmas present this year allowed me to do some serious cookbook browsing without feeling completely selfish. I lose myself in cookbooks almost as much as I do in good novels — let me loose in a bookstore and I pretty much disappear from the planet.
This time, though, I didn't have to feel guilty about getting wrapped up in words on the page, oblivious to the sound of words spoken by real-live humans. I wasn't shopping for myself, and gifts, especially for a niece who lives halfway across the country, require thought.
I couldn't tell you how much time passed before I finally settled on the perfect book for Katja: One Sweet Cookie, by Tracey Zabar. Its diverse collection of recipes and gorgeous photos tantalized me, and the very idea of the book hooked me as well.
Zabar turned the idea of the holiday cookie swap into a virtual cookie exchange with her chef-pals. She requested favorite recipes from friends in her culinary circle; as ideas arrived via phone, by email, or on paper napkins, she baked them up and translated ingredient lists and notes into kitchen-friendly recipes to share with avid bakers like myself my niece.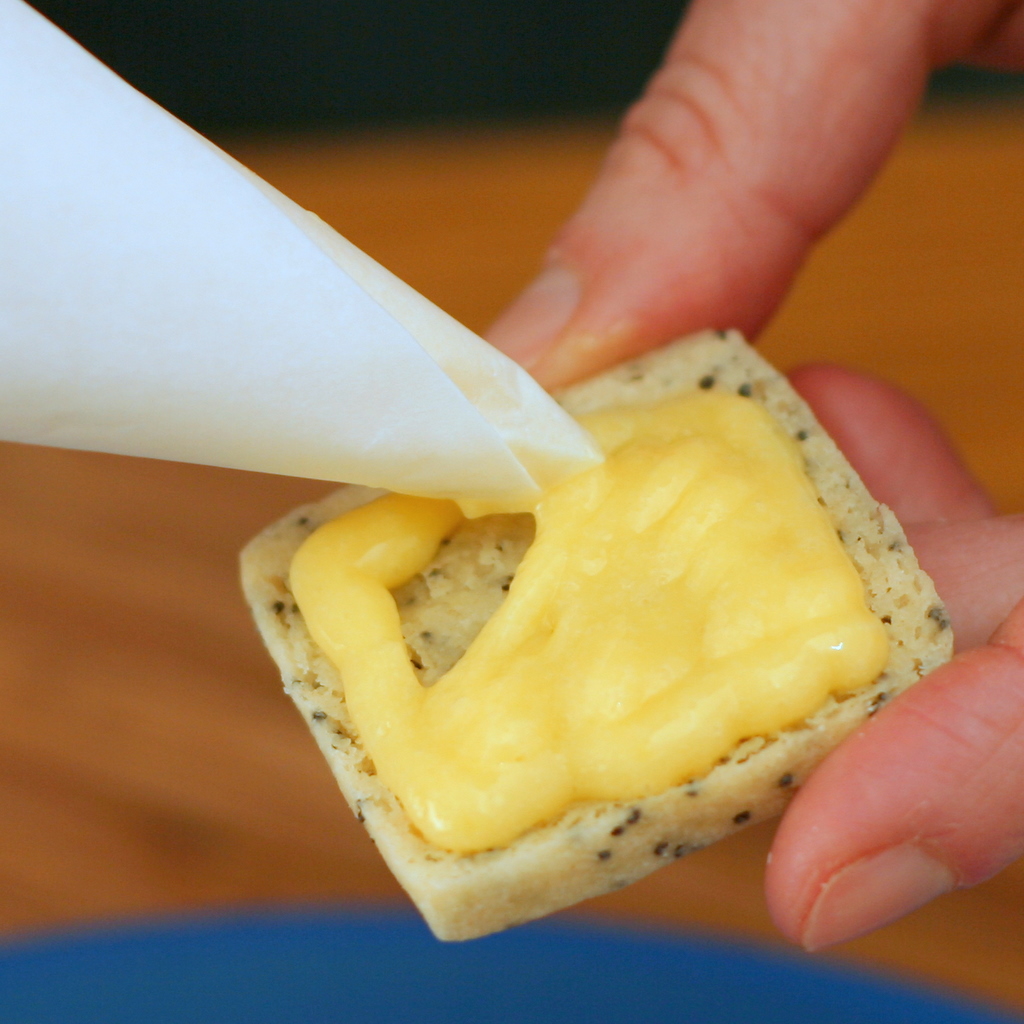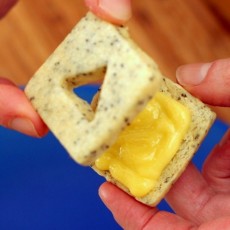 Obviously, I didn't have the store gift wrap this book; I needed more time with it before I gave it away. I didn't even have put it in the mail; most of my extended family gathered at my parents' house in California to celebrate the holidays.
As I wrestled with separation anxiety on Christmas Eve, I tucked the book under a sweatshirt and tried to sneak into the office/guest room at my parents' house to photocopy a few recipes, but my niece was flopped on the bed reading right next to the printer-copier, thereby foiling my plans.
One afternoon soon after Christmas, I returned home to my parents' house to discover a plate of cookies that Katja had baked from her new book. Only two of her Lemon-Poppy Seed Linzers remained, which made me love her more than ever; not only had she left cookies for me to sample, she had started with the very recipe that I would have baked first myself.
The cookies tasted as delightful as I dreamed they would: sweet shortbread studded with a subtle poppy-seed crunch just oozing with tangy lemon curd. Yum. I imagine that Katja had to fight off my extended family from the plate so she could save those cookies for me.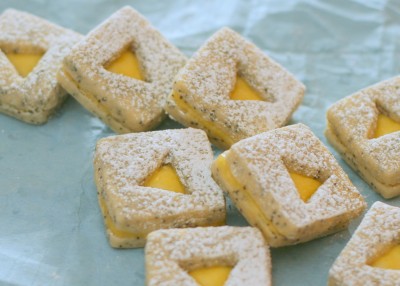 I could have asked to borrow her cookbook and walked it down the hall to photocopy the linzer recipe along with a few others.
Instead, I ordered my own copy and had it shipped home to Washington. When I returned from my Christmas holiday, my cookbook awaited me, and I got to work making Lemon-Poppy Seed Linzers.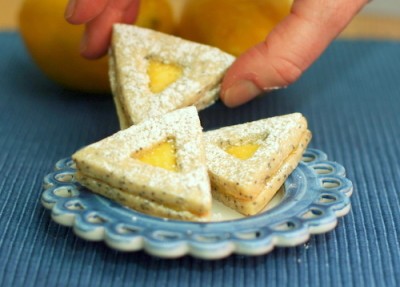 And now I'm looking forward to some virtual baking sessions with my niece in far away New Mexico. I can't wait to hear what she makes next.
Lemon-Poppy Seed Linzers
Adapted from One Sweet Cookie, by Tracey Zabar.
The recipe suggested using 1 1/4-inch round and 1/2-inch round cutters, but I didn't have them. I opted for 2-inch and 3/4-inch triangles for the first batch. After re-rolling the scraps, I used a 2-inch square and the 3/4-inch triangle. The recipe makes between 40 and 60 small cookies, depending on the size and shape of your cutters. I didn't feel like re-rolling the scraps a third time; since I can't bear to waste anything, I baked the centers and scrappy edges. They tasted delicious on their own and even better dipped in the leftover lemon curd.
Poppy Seed Shortbread
12 ounces (3 sticks) unsalted butter, softened
1/2 cup granulated sugar
1/2 cup confectioners' sugar, plus more for dusting
1 teaspoon vanilla extract
3 1/2 cups all-purpose flour
1/2 teaspoon salt
1/4 cup poppy seeds
In the bowl of a standing mixer fitted with the paddle attachment, cream butter, granulated sugar, confectioners sugar, and vanilla on medium speed until light and fluffy. Reduce speed to low and slowly add the flour and salt. Continue to mix until well incorporated. Slowly add poppy seeds and mix for about one minute.
Remove the dough from mixer and divide it in two. Place one half between two sheets of parchment paper and roll it to 1/4-inch thickness. Remove the top layer and score the dough with the larger cutter. Set aside and repeat with the second piece of dough. To make the cookie tops, score the centers of half of the cookie shapes with the smaller cutter. Return top sheets of parchment and gently slide the sheets of dough onto a baking sheet. Place in the freezer to chill for about 1 hour.
Lemon Curd Filling
1 large egg
6 large egg yolks
1/2 cup granulated sugar
finely grated zest of 2 lemons
1/2 cup fresh lemon juice
pinch of salt
4 ounces (1 stick) unsalted butter, softened and chopped in several pieces
Add enough water to a medium saucepan so it can boil under a metal bowl without touching the bottom of the bowl. Remove bowl and set aside. Boil water, then reduce heat to a simmer.
Fill a large bowl with ice water and set aside.
Whisk together egg, egg yolks, sugar, lemon juice, lemon zest, and salt in the metal mixing bowl. Set it over the simmering water and whisk the mixture constantly until it reaches 170° F. Immediately remove the bowl from heat, add butter, and whisk until smooth. Strain the mixture through a fine-mesh sieve into another metal mixing bowl. Place newly filled metal bowl over the bowl of ice water. Let the mixture stand at room temperature until cool and thickened.
Preheat oven to 325° F. Line two baking sheets with parchment paper.
Remove the dough from the freezer and pop out the centers of cut cookie dough (combine scraps, re-roll between parchment paper, cut shapes, and return to the freezer to bake later). Arrange cookies on prepared pans about 1/2-inch apart. Bake for 8 to 10 minutes or until light golden brown. Cool completely on wire racks. Pipe about 1/2 to 1 teaspoon lemon curd onto each cookie base and gently add a cookie top. Dust cookies lightly with confectioners sugar.
Some of the links in this post are affiliate links. If you click through and make a purchase, I earn a small commission for my referral at no additional cost to you. Thank you for supporting Flour Arrangements.