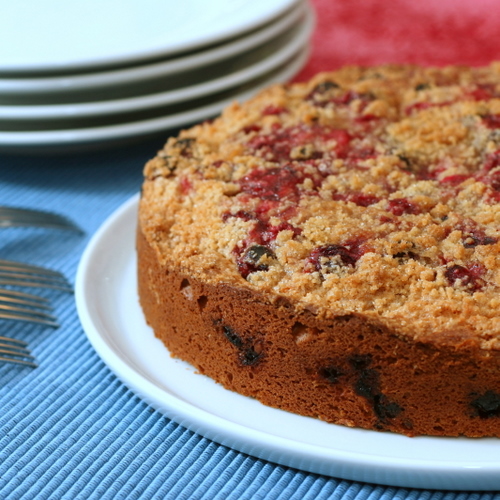 I
eyed the cranberries last week as I rolled my cart through the grocery store's produce section. I already have several bags of cranberries taking up serious real estate in my too-full freezer, so I tried to keep moving.
I can currently close the freezer door, and I try not to mess with this. But then I asked the produce guy how much longer they planned to stock fresh cranberries.
"That's the last of them," he said. "When those are gone, we won't have them again until the holidays next year."
I wheeled back and grabbed five bags, hoping I had enough to make it through next fall. We often prepare a traditional holiday turkey meal in February or April or July or whenever, really. I hate to get caught without cranberries to simmer into sauce or to mix into stuffing.
And then, of course, there's baking. These bold, crimson berries add a distinctive tangy kick to nearly any batter or dough you toss them into.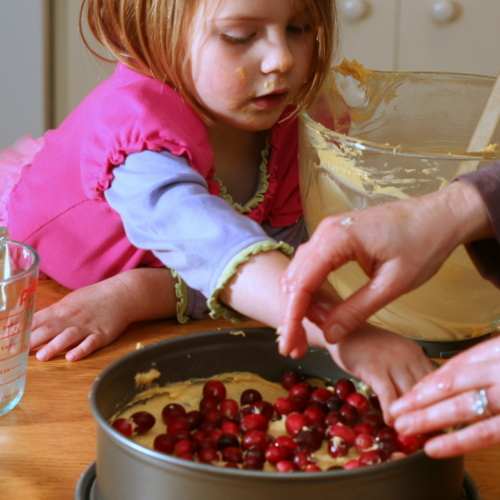 At home, I loaded almost all of the fresh bags of cranberries into my freezer. I felt a bit torn about baking with my stash right away, but I did it for my freezer's sake. And besides, when late summer rolls around, I'll be too busy baking blackberry pie to pine for this Cranberry Cake with Vanilla Crumb Topping.
Rich vanilla-cardamom cake creates a sweet backdrop for bright bursts of tart cranberry. And the crisped layer of sugary, buttery goodness atop the whole thing contributes texture, not to mention a satisfying crunch. It's lovely at dinner's end, but really, I think I enjoyed it more the next morning at the tea party my daughters spread out on our living room floor.
Before it's too late, go buy yourself several bags of cranberries to stockpile in your freezer. If you're sorry later, you can send them my way. I'll probably need them.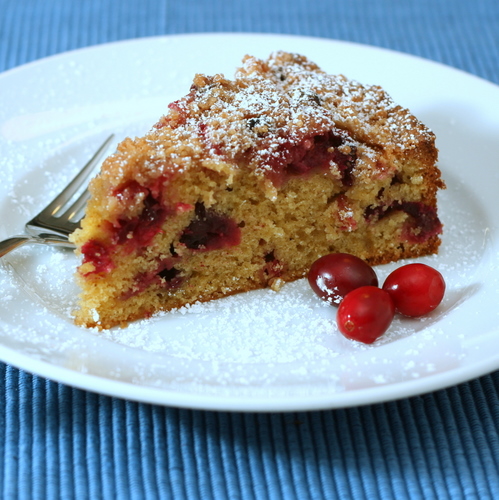 Cranberry Cake with Vanilla Crumb Topping
Serves 8 to 12 people.
Topping
1/2 cup all purpose flour
1/4 cup plus 2 tablespoons granulated sugar
2 tablespoons brown sugar
1/8 teaspoon salt
1/4 cup (1/2 stick) cold unsalted butter, but into 1/4-inch slices
2 teaspoons pure vanilla extract
Combine flour, sugars, salt, and butter in the bowl of a food processor. Pulse until the mixture has the texture of coarse crumbs. Drizzle vanilla over the mixture and pulse briefly to distribute.
Cake
1 3/4 cups all-purpose flour
2 teaspoons baking powder
1/2 teaspoon cardamom
1/4 teaspoons ground cloves
1/2 teaspoon salt
1/2 cup (1 stick) unsalted butter
3/4 cup granulated sugar
2 large eggs
1 tablespoon pure vanilla extract
1/2 cup sour cream
2 1/2 cups fresh or frozen cranberries, divided
Preheat oven to 350° F. Butter a 9- or 10-inch spring form pan.
Combine flour, baking powder, cardamom, cloves, and salt in a small bowl. In the bowl of a stand mixer, cream butter and sugar on medium-high speed until light and fluffy, about 3 to 5 minutes. Add eggs, one at a time, scraping down the sides of the bowl after each addition, and then stir in vanilla.
Stir in the flour mixture in 3 additions, alternating with the sour cream in 2 additions, beginning and ending with the flour mixture and scraping down the sides of the bowl as needed. The batter will be very thick.
Fold in 1 1/2 cups cranberries and spread the mixture into the prepared pan. Distribute the remaining cup of cranberries over the cake and sprinkle the crumb topping over the cranberries.
Bake for 45 to 60 minutes (depending on the size of your pan), until lightly golden and firm on top.