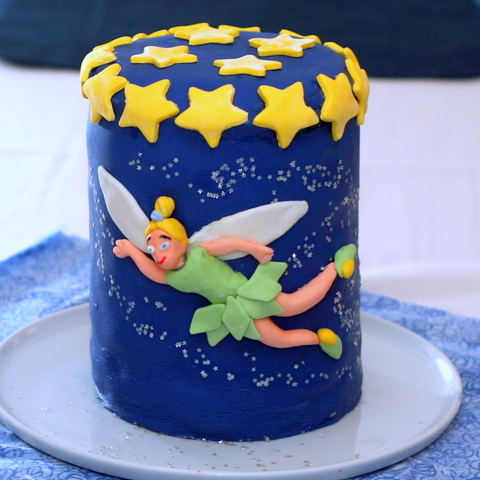 Several months ago, my youngest daughter requested a Tinkerbell cake for her fourth birthday party. This week, she turned four, but I had no plans to make her a cake this year.
In lieu of a Tinkerbell cake and birthday party, we decided to surprise her with a glimpse of the real Tinkerbell at Disneyland. We managed to keep our plans under wraps, but Eliza kept volunteering her services as birthday party-planner. Finally we had to let her in on part of the secret.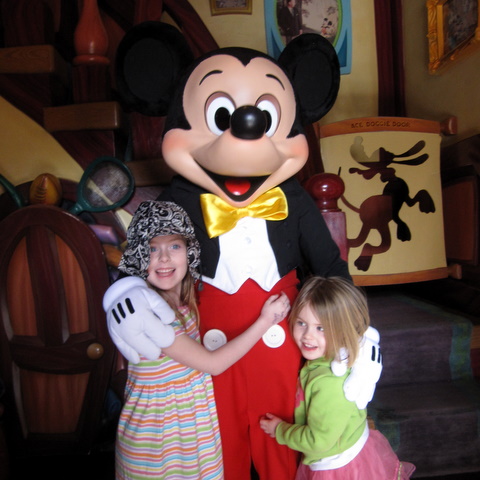 "We're worried it might rain, and you know how small our house is," we told her. "Instead of having a party, we thought we'd surprise Tessa with a trip to see Grandma and Grandpa."
Since my parents planned to meet us there, we didn't even have to lie.
The idea of a secret tickled Eliza. She even came up with a scheme to keep Tessa in the dark once we loaded on the ferry bound for the Seattle airport: "Maybe we can tell Tessa we're going to Disneyland. And then she'll be so surprised when we get to Grandma and Papa's house instead!"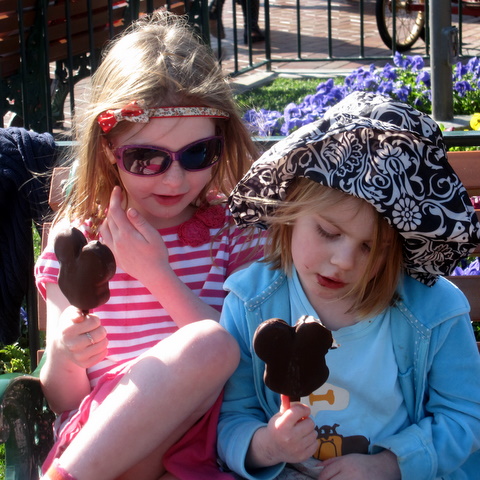 "Let's just pretend we're going to Seattle," we said.
The fireworks show featuring Tinkerbell's flight over Sleeping Beauty's castle brought Tessa to tears, and not the good kind, either. As the show began, we found ourselves near Small World, far too close to the pyrotechnic staging area. "The sky will rip open," Tessa wailed in my ear between detonations. Watching Tessa's Tinkerbell-surprise terrorize her made me feel like a crummy parent.
The next day, she astonished me by describing the birthday cake she wanted me to make for her: "Tinkerbell will fly in the sky under the fireworks."
Instead of saying, "But we're celebrating your birthday at Disneyland this year," or "Maybe next year," I found myself wondering how her the previous evening's torment had transformed itself into a vision in fondant. "Tell me more about this cake," I said. Pretty soon, I realized that, party or no party, I was going to spend the better part of a day making her a cake.
Later that evening, we watched the fireworks from Main Street. This time, instead of crying, Tessa grinned the entire time. At show's end, she said, "She's on a wire. So it's not real, right?"
This disappointed her slightly, but she still wanted the cake.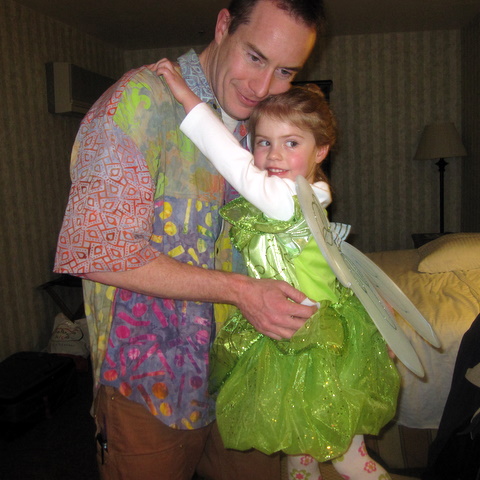 Since Tessa envisioned Tinkerbell flying through the sky, I decided to attach the mischievous pixie to the side of a tall, narrow cake. I baked six six-inch rounds and stacked them six-high. Looking back at those numbers, I should have known only trouble would arise from a cake built on a trio of hexes. I now recognize that only pixie dust held it together.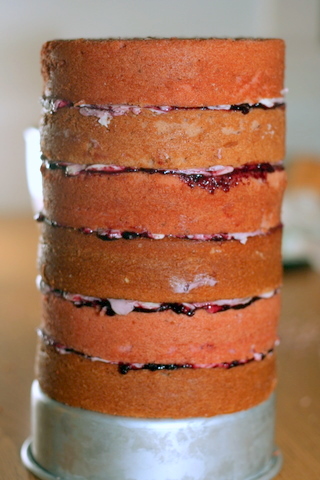 If you ask Tessa what kind of cake she wants to eat, she always says, "Strawberry-Raspberry." Since I've never seen a recipe for such a cake, I cobbled one together and hoped for the best.
I worried that covering the towering stack with fondant from the top down would create too many folds to smooth out, so I reluctantly topped the cake with a disk of fondant and wrapped a wide fondant band around its sides. I had done this before when I made a flower-pot cake; at the time I vowed never to do it again. This time, though, instead of wrapping the fondant free-hand around the cake, I rolled it around an empty paper towel tube so I could unroll it onto the cake. This might have worked perfectly except for a series of misadventures.
I hadn't given myself much wiggle room when measuring the fondant since it usually stretches quite a bit during application. I had wrapped a piece of thread around the cake to find its diameter, and then used the thread to eyeball the length of fondant I needed to wrap around the cake. Since I unrolled the fondant directly onto the cake's frosted surface, it didn't stretch at all; this left a gap down the cake's side. I gently massaged the fondant until the edges met, pleased to discover, unexpectedly, how to avoid awkwardly trimming excess fondant from a cake. The feeling didn't last though.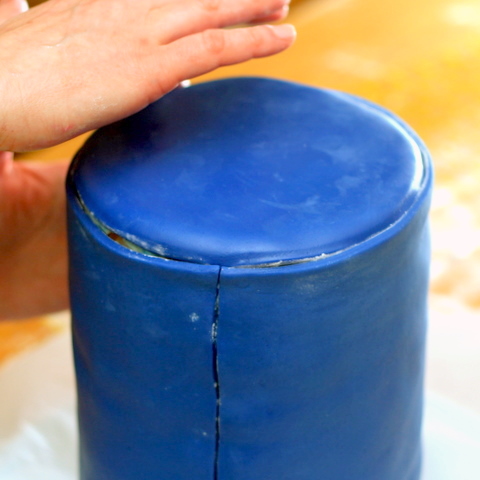 I had had the idea that cream cheese frosting would taste fantastic with strawberry-raspberry cake. Unfortunately, the cream cheese frosting's slippery, slick texture allowed elasticity and gravity free reign to do their work. This seems so obvious now; I can't believe I actually made slip-n-slide frosting and applied it to this skinny tower of a cake. The tidy seam down the cake's side refused to hang together and the fondant strained at staying put on the cake.
On the bright side, my husband's Facebook plea for sparklers had procured the necessary fireworks for the cake. Cheered on by the availability of July 4th paraphernalia in late February, I set my mind to the task of creating Tinkerbell. I pieced together body parts and adhered them to the cake's side with dabs of water. I made the mistake of drawing Tinkerbell's face with edible markers before sticking her head to the cake; her features got a bit distorted during the process, especially when I had to remove her head and then reapply it after I realized I had forgotten to give her wings.
As dinner's hour approached, I cut some yellow stars to attach around the top seam in an effort to prevent the fondant from sliding down the sides of this Tinkerbell cake.
All that was missing was pixie dust. I dug out the edible silver stars tucked beneath my icing colors. I ran a damp finger along the fondant and pressed the tiny stars against it gently.
By the time we got home from dinner, the fondant hung on by a thread. Tessa didn't care though. She got to have her cake–with a bang–and eat it, too.
Strawberry-Raspberry Cake
Inspired by Smitten Kitchen's Pink Lady Cake. I used three 6-inch round pans (two times for six layers), but they really aren't quite big enough for the volume of batter in this recipe. Next time I will use 8-inch pans or discard some of the batter for more even baking.
3 cups cake flour
2 cups sugar
3 1/2 teaspoons baking powder
1/2 teaspoon salt
2 sticks (8 ounces) unsalted butter, at room temperature
3/4 cups pureed frozen strawberries
1/4 cup de-seeded raspberry puree
5 egg whites
3 fluid ounces milk
1 to 2 drops red or pink food coloring, if desired
Preheat the oven to 350°F. Butter three cake pans (see note above), line with parchment paper, butter the paper, and then flour the pans.
Combine flour, sugar, baking powder, and salt in a large mixer bowl. With the electric mixer on low speed, blend for about 30 seconds. Add the butter and fruit purees. Mix to blend the ingredients. Increase speed to medium and beat until light and fluffy, 2 to 3 minutes.
In another large bowl, whisk together the egg whites, milk, and food coloring, if using, to blend. Add the egg white mixture to the batter in two or three additions, scraping down the sides of the bowl well and mixing only to incorporate after each addition. Divide the batter among the three prepared pans.
Bake the cakes for 30 to 40 minutes, or until a cake tester or wooden toothpick inserted into the center comes out clean. Allow the layers to cool in the pans for 10 to 15 minutes. Invert and turn out onto wire racks and peel off the paper liners. Let stand until completely cooled before assembling the cake.
Some of the links in this post are affiliate links. If you click through and make a purchase, I earn a small commission for my referral at no additional cost to you. Thank you for supporting Flour Arrangements.