The deep, lush sweetness of caramelized onions paired with goat cheese in these savory Caramelized Onion Tarts creates a flavor sensation.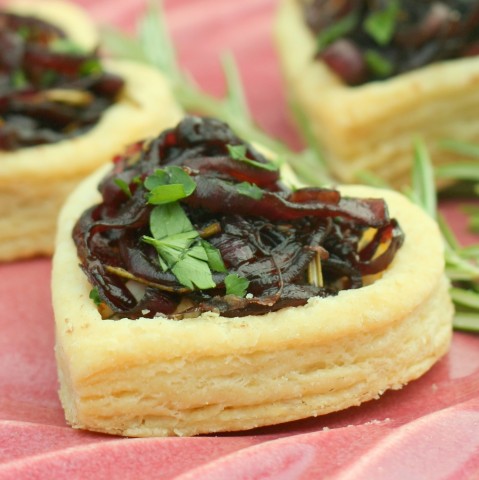 I'm not opposed to the giddy sweetness of Valentine's Day. Chocolates, roses, champagne? Yes, please.
But ever since one of my students presented Carol Ann Duffy's "Valentine" as part of her poetry final project five years ago, I can't think about Valentine's Day without thinking of onions. Sound crazy?
Valentine
Not a red rose or a satin heart.
I give you an onion.
It is a moon wrapped in brown paper.
It promises light
like the careful undressing of love.
Here.
It will blind you with tears
like a lover.
It will make your reflection
a wobbling photo of grief.
I am trying to be truthful.
Not a cute card or a kissogram.
I give you an onion.
Its fierce kiss will stay on your lips,
possessive and faithful
as we are,
for as long as we are.
Take it.
Its platinum loops shrink to a wedding-ring,
if you like.
Lethal.
Its scent will cling to your fingers,
cling to your knife.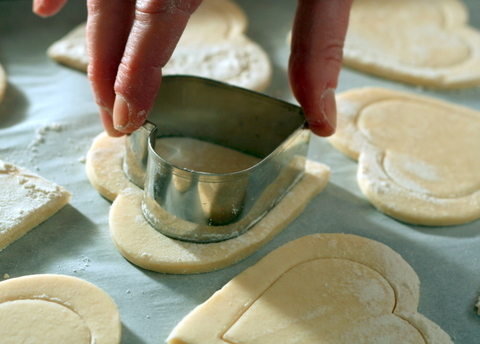 In homage to love fierce and faithful, to love frank and unvarnished, to love at times tear-wrenching and tenacious, I made some onion tarts.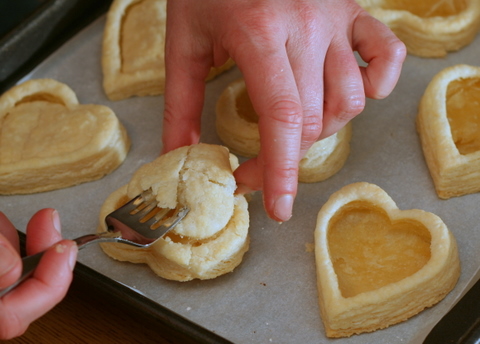 A set of
nesting cookie cutters
makes mini tart shells simple to pull off. If you decide to make your own
puff pastry
, a task easier than you might think, you'll feel extra cool. Go ahead and do it for love.
Caramelize an onion and you bring out its deep, lush sweetness. Pair it with goat cheese and you create a savory memory of sweetness that lingers long after the chocolate caramels disappear.
Caramelized Onion Tarts
Adapted from Sara Foster's Southern Kitchen . Makes 12 small tarts.
1 recipe puff pastry
1 tablespoon olive oil
1 tablespoon unsalted butter
1 red onion, halved and sliced thinly
2 tablespoons balsamic vinegar
2 tablespoons sugar
2 tablespoons fresh rosemary, coarsely chopped
salt and freshly ground black pepper, to taste
1 cup (4 ounces) soft goat cheese, crumbled
2 tablespoons fresh parsley, chopped
Preheat oven to 375° F. Parchment line a baking sheet.
Roll out puff pastry to 1/8-inch thickness. Cut into 3-inch rounds or hearts. Transfer to prepared baking sheet, flipping over so the bottom side faces up. Using a 2 3/4-inch round or heart cutter, make an indented border on the pastry shapes. Cut almost all the way through, jiggling the cutter slightly to separate the centers from the edges; this will make it easier to remove the centers after partial baking. Refrigerate for at least 30 minutes.
While pastry rests, heat olive oil and butter in a large skillet over medium-high heat. Add onions, vinegar, sugar, and rosemary and season with salt and pepper. Reduce heat to medium-low and cook for 20 to 30 minutes, until most of the liquid has evaporated and the onions are caramelized. Remove from heat to cool.
Combine goat cheese and parsley in a small bowl. Stir to soften and combine. Season with salt and pepper to taste.
Bake the pastry for about 15 minutes, until it puffs up, looks firm, and just begins to turn golden. Remove from the oven, depress and remove the top layer of puff centers with a fork or small knife. Spread a heaping spoonful of the cheese mixture into the center of each shape. Return to the oven and bake until the pastry is golden brown and the cheese is warm. Remove from the oven and top each tart with caramelized onions. Sprinkle with chopped parsley, if desired. Serve warm.
Some of the links in this post are affiliate links. If you click through and make a purchase, I earn a small commission for my referral at no additional cost to you. Thank you for supporting Flour Arrangements.