Sweet caramelized onions, rich candied bacon, and nutty, smooth Gruyere cheese all wrapped up in flaky crust combine perfectly in this Candied Bacon and Onion Tart.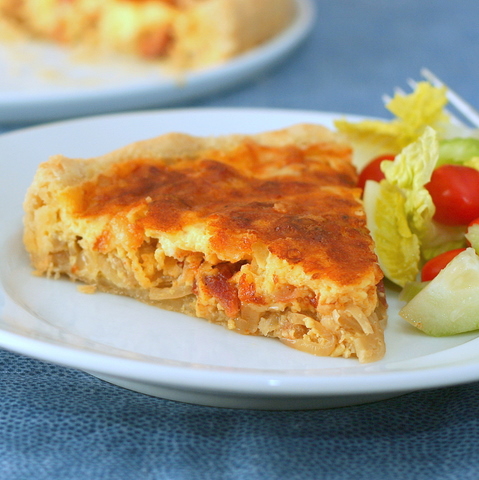 My daughters hate onions.  The presence of onions in breakfast, lunch, or dinner sets off moaning and groaning, so I've become adept at disguising them.  In macaroni and cheese, for example, I caramelize them, puree them, and then mix them into the sauce.  As long as no one mentions onions, the girls love my macaroni and cheese.
When I set out to make a bacon and onion tart, though, I knew I couldn't hide the onions.  While pureed onions work fine in some dishes, I couldn't picture them tucked into the bottom of this tart.  As I started to brace myself for complaints, inspiration struck. I decided dazzle my daughters with bacon: sweet-salty candied bacon.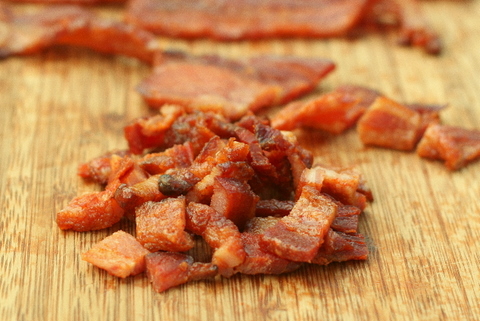 My friend calls it millionaire bacon, and I've eaten myself sick at his house on more than one occasion because of its sheer addictiveness.  He presses brown sugar into bacon and bakes it on a rack in the oven.  The bacon crisps and the sugar hardens as it cools.   When I talked about candied bacon with one of my students after trying this recipe, he recommended eating the pan drippings as well:   "It's like bacon taffy!" he raved. I'm a little frightened to try this, but he could be onto something.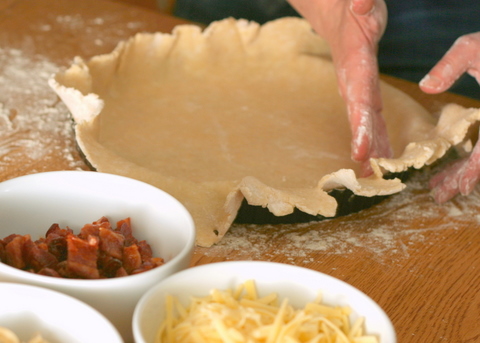 On its own, the bacon hit the jackpot.  Eliza and Tessa nibbled bacon "candy" as I prepped dinner. I finally had to cut them off so I'd have enough for dinner.I crossed my fingers that the bacon's sugar-coated charm wouldn't turn cloying in the tart.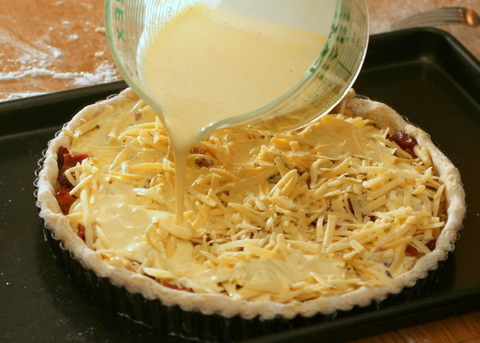 My concern disappeared after one bite:   the mellow sweetness of caramelized onions, the rich bacon edged with candy sweetness, and the nutty smoothness of Gruyere cheese–all wrapped up in buttery, crisp crust–combined in near-perfection.
At dinner, Eliza and Tessa ate like I've never seen them eat before.  And after they'd each scarfed down one slice in nothing flat, they both asked for seconds.  And those onions?  They never even came up, not even once.  Keep it quiet, would you?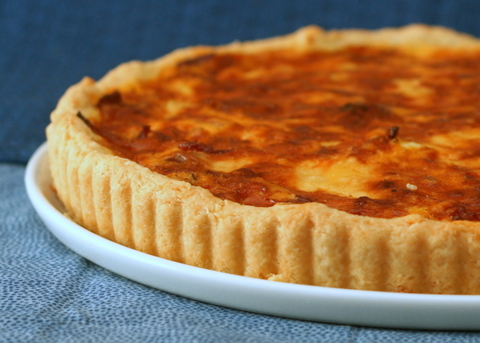 Candied Bacon and Onion Tart
Inspired by Epicurious.com.
Crust
1 1/4 cup all-purpose flour
1 teaspoon brown sugar
1/2 teaspoon salt
1 1/2 sticks cold, unsalted butter, cut in 1/4-inch pieces
1/4 cup ice water, strained
Filling
6 thick-cut bacon slices
3/4 cup brown sugar
1 teaspoon smoked paprika
2 medium onions, thinly sliced
2 tablespoons unsalted butter
1/2 cup white wine
1 1/2 cups heavy cream
3 large eggs
Salt and pepper, to taste
Generous pinch of ground nutmeg
1 cup packed, grated Gruyère cheese
Whirl dry ingredients for crust in the bowl of a food processor.  Add half a stick of the butter and process until you no longer see chunks.  Add remaining butter and process briefly, leaving chunks the size of peanuts.  Working quickly, turn on the food processor and pour the ice water through the feed tube, stopping before the dough comes together.  Pinch a bit of the dough between your fingers.  If it does not stick together, add a couple of teaspoons more water and whirl briefly.  Turn out the dough onto a large piece of plastic wrap.  Use the plastic wrap to help you create a large, flat disk:  fold the edges of the dough toward the center and press down to smooth out the roughness.   Refrigerate dough for at least 30 minutes.
Preheat oven to 400° F and place the oven rack in the top half of the oven.   Line a rimmed baking sheet with foil and place a rack on top of the foil.  Mix brown sugar and smoked paprika in a small bowl.  Sprinkle about half the mixture evenly over the tops of the bacon slices.  Press sugar firmly into the bacon;  turn bacon over and repeat.  Lay the bacon slices on the prepared rack.  Bake for 15 to 25 minutes, until bacon has cooked to desired crispness.  Set aside to cool.  Once cool, chop bacon into bite size pieces.
While bacon is cooking, heat two tablespoons of butter in a large skillet over medium heat.  Add onion and sauté until deep golden brown, about 20 minutes.  Add white wine and cook until it has evaporated.
Whisk cream, eggs, salt and pepper, and nutmeg in small bowl to blend.
Roll out dough into a 13-inch circle.  Transfer to an 11-inch tart pan with removable bottom set on a baking sheet.  Fold the dough's overhanging edge down inside the tart pan–pressing gently to help it adhere–so its top edge is even with the top of the tart pan.  Spread onions over the bottom of the crust.  Add bacon and then cheese.  Pour the egg and cream mixture over the top.
Bake on the middle rack at 400° F until the tart is puffed, the filling is set, and the crust is pale golden, about 25 to 30 minutes.  If the filling begins to brown too much for your liking, slide a baking sheet on the top rack of the oven to diffuse the heat.   Cool tart on rack 10 minutes.  Remove pan sides.  Serve warm or at room temperature.