Rich chocolate pudding layered over a cinnamon-pecan-chocolate crust and topped with freshly whipped cream, this Chocolate Cream Pie tastes heavenly.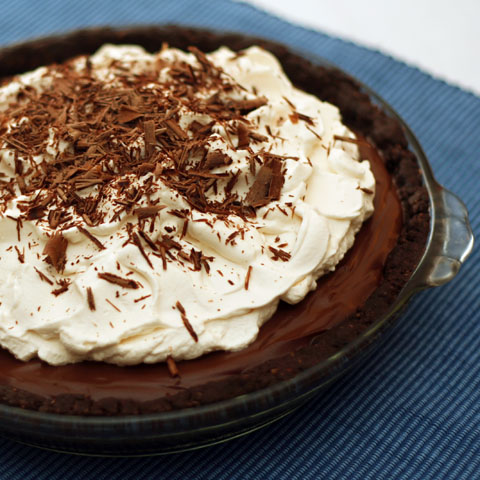 I
still remember the moment when, more than eight years ago, a particular issue of
Gourmet
magazine swished through my door's mail slot. My mouth watered as I flipped through page after page of chocolate recipes. Chocolate Cream Pie. Chocolate Espresso Pots de Creme. Chocolate Fallen Souffle Cake. Chocolate Bread Pudding. Chocolate Layer Cake. Chocolate Mint Cupcakes. Chocolate Caramel Frozen Parfaits. Hot Fudge Sauce. I'm pretty sure I dropped everything and got right to work making the Chocolate Caramel Frozen Parfaits.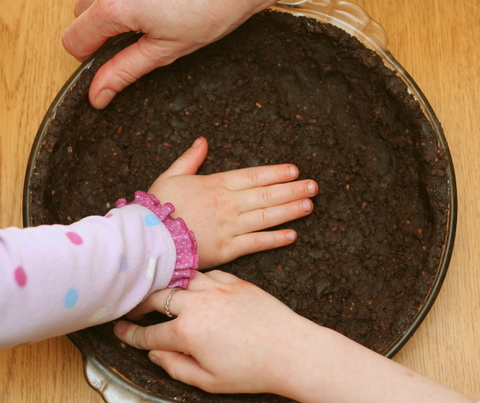 Just last week, as I scanned recipes from the February 2004
Gourmet
issue on
Epicurious
(my magazine somehow did not survive the purging of my last two moves), I realized that this was the source of the
hot fudge recipe
I ate every nearly every day during my pregnancy with Eliza. The recipe comes together quickly when the urgent need for a sweet treat strikes, and I still–with frightening regularity–spoon this thick, molten chocolate over fresh strawberries or vanilla ice cream, usually, but not always, after my children go to bed. Aside from the hot fudge, I remember making several of the other recipes once or twice, but the one imprinted in my memory, the one I kept making again and again, was the the chocolate cream pie. The cool smoothness of the bittersweet chocolate filling makes it sort of pie you want to just sit down to with a fork and eat until you've finished off the entire thing.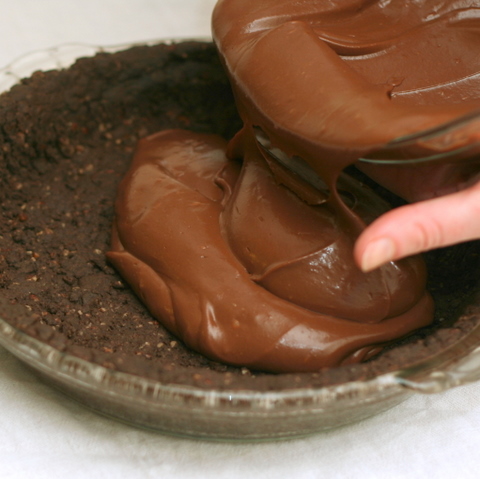 If you go that route, though, you miss out on witnessing the impossibly triangular wedges of pudding and cream that emerge from the pie dish. I recommend making this at least twice to help you decide which method works best for you.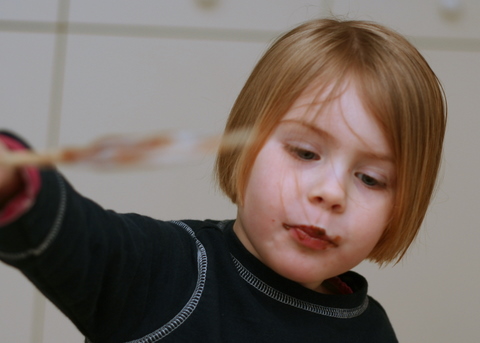 Chocolate cream pie isn't difficult to make, but it takes some planning since the pie has to chill in the refrigerator for at least six hours. Before I mainlined hot fudge for nine months and had a baby, I could handle that kind of planning. As a new mom, though, I couldn't, or wouldn't plan so far ahead for dessert, and so I eventually lost track of the recipe. But just the other day, when Eliza suggested that we make a chocolate cream pie, the memory of the pie's rich flavors and textures came right back to me. Fortunately, the magazine issue's visual splendor had sealed its source in my mind. With a few key strokes, the recipe appeared on my screen alongside a small but tantalizing picture of a the very chocolate cream pie that tempted me years ago.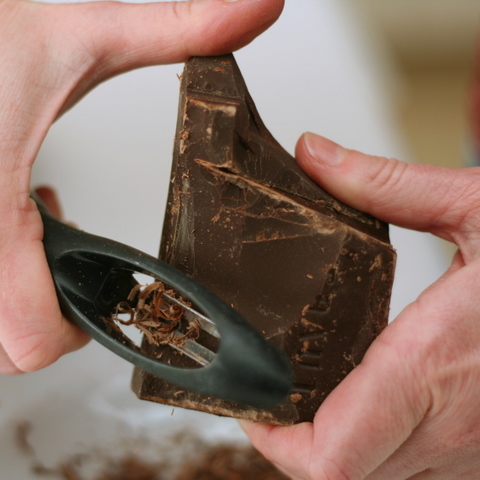 Since I last made chocolate cream pie, I've done enough baking to feel confident deviating from recipes when I feel inspired. Because this particular filling made such an impression on me, I followed that part of the recipe almost exactly, but I experimented with a chocolate nut crust. Toasted pecans impart richness and texture to the crust, as well as a satisfying contrast to smooth chocolate filling. On a whim, I mixed in cinnamon in with the nuts, which added dimension to intense the chocolate flavors. The girls and I made quite a mess in the kitchen making chocolate cream pie together. We licked chocolate pudding off beaters and spatulas and bowls. We munched on toasted pecans and nibbled stray chocolate crust crumbs. And then we waited six long hours before we topped our pie with whipped cream and chocolate shavings.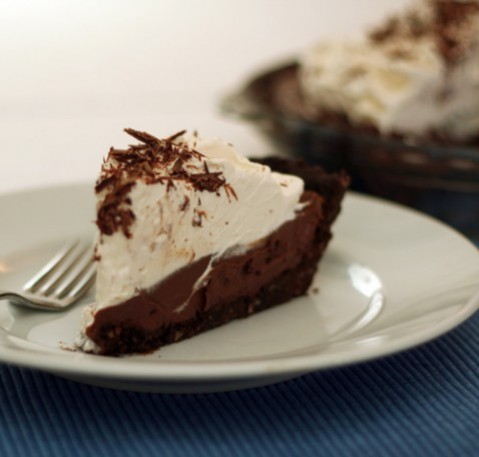 It tasted better than I remembered. This time, I'm not letting it get away from me.
Chocolate Cream Pie
Filling adapted from
Gourmet
. Crust adapted from
The King Arthur Flour Baker's
Companion
. Makes one 9 1/2-inch pie. Serves 8 to 10.
Crust
1 cup pecan halves, toasted 1/2 cup (1 stick) unsalted butter, softened 1/2 teaspoon kosher salt 1 teaspoon vanilla 1 teaspoon cinnamon 1/3 cup confectioners' sugar 1/4 cup Dutch-process cocoa powder 1 cup unbleached all-purpose flour
Filling
2/3 cup sugar 1/4 cup cornstarch 1/2 teaspoon salt 4 large egg yolks 3 cups whole milk 5 ounces bittersweet chocolate (not unsweetened), melted 2 ounces unsweetened chocolate, melted 2 tablespoons unsalted butter, softened 1 teaspoon vanilla
Topping
1 1/2 cups chilled heavy cream 1 tablespoon confectioners' sugar 1 1/2 teaspoons vanilla chocolate shavings Preheat oven to 400°F. Whirl toasted pecans in a food processor until the mixture resembles coarse cornmeal. Set aside. In a medium-sized bowl beat 1 stick butter until fluffy. Add the salt, vanilla, cinnamon, sugar, and cocoa, and blend until smooth. Add the flour and stir to blend. Finally, add the nuts. The mixture will be dry. Lightly grease a 9 1/2-inch pie pan. Press the crust into the bottom and up the sides of the pan. Bake for 15 to 18 minutes, until it the crust is set (The dark color makes it hard to tell, but it's done when you can just begin to smell the chocolate.). Remove the crust from the oven and set it aside to cool. Whisk together sugar, cornstarch, salt, and yolks in a 3-quart heavy saucepan until combined well, then add milk in a stream, whisking constantly. Bring to a boil over moderate heat, whisking, then reduce heat and simmer, whisking, 1 minute (filling will be thick). Force filling through a fine-mesh sieve into a medium bowl, then whisk in chocolates, butter, and vanilla. Place the bowl containing filling in a larger bowl containing ice and water. Whisk filling until it feels just warm to the touch, adding more ice to the water bath if necessary. Pour filling into crust and chill pie, loosely covered, at least 6 hours. Just before serving, beat cream with confectioners' sugar and vanilla in a bowl using an electric mixer until it just holds stiff peaks. Spoon the whipped cream on top of pie and spread it evenly with a spatula. Garnish with chocolate shavings.
Some of the links in this post are affiliate links. If you click through and make a purchase, I earn a small commission for my referral at no additional cost to you. Thank you for supporting Flour Arrangements.