Last August I embarked on a lunch box challenge:  I set out to bake bread each week of the school year for my daughter's peanut butter and jelly sandwiches.
Our final (and extra, thanks to snow days) week of school just came to a close, finishing of a 41-week marathon of freshly baked bread.  I shirked my duties only once — the week I made two crazy cakes (one / two) and two recipes of Thanksgiving rolls.  Thankfully, my friend Sharalyn offered to bake for me, so Eliza still had homemade bread in her lunch box for the three school days that week.
My baking quest led our family to try all kinds of bread, some that I wrote about, like French Bread, Sour Dough, Potato Bread, Fennel Bread, Cornmeal Graham Bread, Spinach Bread, as well as some others that I just haven't gotten around to writing about yet, like Peanut Butter Bread, Honey Whole Wheat, and Whole Grain Maple Bread.
Aside from hearing my daughter rave about my bread, the best part of this weekly challenge has been finding myself back in the bread baking habit.  It takes less time and effort to bake bread than you might think, especially when you do it often.
Eliza's favorite is one that we created together.   It's a cross between the French loaves that got this whole weekly ritual going and the Seeded Bagels she loves so much.
One evening, after greedily devouring the poppy, sesame, and fennel seeds scattered under the rack of cooling bagels, Eliza asked me to make some bread with seeds inside.
I've baked this bread for five weeks in a row, and she still requests it if I ask her what kind of bread she wants.   Tessa, who refuses to eat seeded bagels, loves this bread, too.  Go figure.
And so, now that I've made it through the school year, will I keep baking all summer long?   Will I tackle the lunchbox challenge again next year?
Why not?  Once you get used to having fresh bread, it's hard to turn back. And now that I'm in the habit again, I'd hate to break it.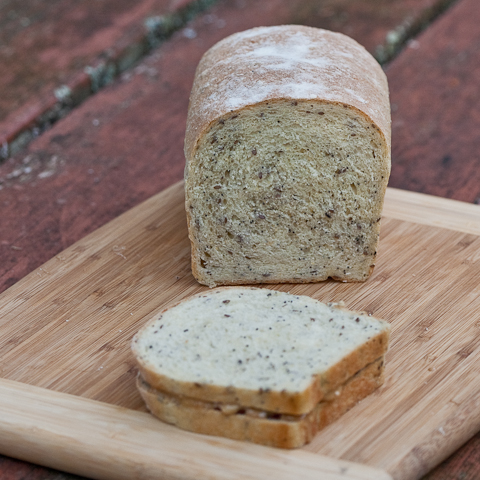 Seed Bread
Makes two 5-by 8-inch loaves.
2 cups warm water (105º to 115º F)
1 1/2 tablespoons active dry yeast
1 tablespoon sugar
3 cups bread flour
1 tablespoon salt
2 tablespoons cornmeal
1/3 cup mixed seeds (sesame, black sesame, poppy, flax, fennel, etc.)
2-3 cups unbleached all-purpose flour
Pour the water in the bowl of a heavy-duty standing mixer.  Sprinkle the yeast and sugar over the surface of the water.  Stir until combined.  Let stand at room temperature until dissolved and foamy, about 10 minutes.
Add 2 cups of the bread flour, salt, cornmeal, and mixed seeds.  Beat with the paddle attachment until smooth, about 2 to 3 minutes.  Add remaining bread flour and most of the all-purpose flour, 1/2 cup at a time, until the dough clears the sides of the bowl.
Switch to the dough hook and knead for about 3 minutes, or until the dough is smooth and springy.  Knead briefly by hand on a lightly-floured counter top, if desired.
Place the dough in a large, lightly-greased bowl.  Turn once to coat the top and cover the bowl with plastic wrap.  Let rise until tripled in bulk, about 1 1/2 to 2 hours.  If you have time, punch down the dough and let it rise again for about an hour.
Set oven to 450° F, and then turn out the dough on a lightly floured surface.  Divide dough in half, shaping each portion into a tight loaf, pinching the seams together.   Place loaves, seam-side down, in well-greased pans.  Sprinkle tops lightly with flour.  Cover loaves loosely with plastic wrap and let rise until the dough rises above the tops of the pans, about 30 to 40 minutes.
After placing loaves in the oven, reduce temperature to 400° F.   Bake until golden brown and the loaves sound hollow when tapped with your finger, about 30 to 35 minutes.   Turn loaves onto a cooling rack immediately.  Allow loaves to cool completely before slicing.