These chewy, chocolate-studded blond brownies taste like caramel. This simple recipe calls for mixing the ingredients in a saucepan on your stove.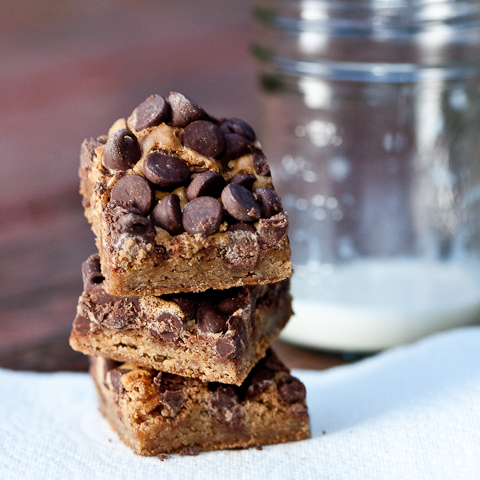 Summer's here. Finally. The rain has given way to sunshine, and I'm trying to spend time outdoors.
I say trying because now that my teaching year has ended, I'm ever-tempted to fill some of my newly-found free-time experimenting with certain elaborate recipes I didn't have time for during the school year. I need to remind myself why I avoided them while busy with work — if I don't pay attention, summer will make way to cold, dark days before I know it, and I'll have missed my opportunity to play outside.
Aside from keeping me indoors, these baking projects tend to overwhelm us with sweets. Last week, when I felt inspired to make a Salted Caramel Chocolate Tart, we called for reinforcements.
I sent a text to several friends: "Bike riding at Market Place parking lot. I'm bringing dessert." We loaded our kids and their bikes into the car, along with our tart that needed sharing.
The kids made wide loops around the parking lot while the adults discreetly ate dessert. When the time to leave arrived too quickly for the kids' liking, we lured them off their bikes with promises of another biking rendezvous the next week.
Yesterday morning, even though I'd hinted at bringing another baking experiment to our biking date that evening, I decided to pack lunches and head to the beach with the girls. We spent the morning playing in the sand and water with friends.
In the afternoon, instead of tackling a new, uncharted baking project in the few hours I had left, I decided to bake one of my childhood favorites — my mom's Blond Brownies.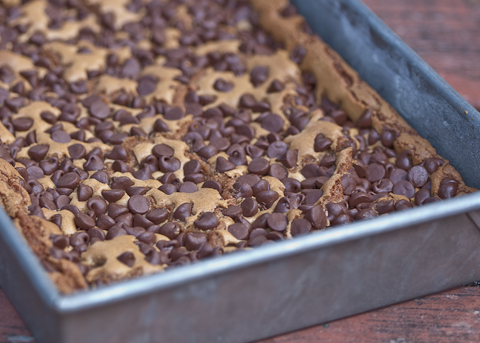 These chewy, chocolate-studded bars taste like caramel. And the ease with which a handful of simple ingredients transform into rich brownie goodness makes them more than a little dangerous. I never tire of them, so I should only bake them when friends can help make them disappear as quickly as possible.
I mixed the batter in the saucepan I used for melting the butter, and in no time, I scraped the thick mixture into a baking pan, topped it with chocolate chips, and tucked the pan into then the oven. This left me with plenty of time to read in my hammock while Tessa napped and Eliza swam at the pool with friends.
The gorgeous weather held out for our bike riding date in town. The kids did their crazy loops around the empty parking lot with only a few crashes and and spills. And there were no scrapes or bruises that a bit of brownie couldn't fix.
Here's to long summer days and short baking projects.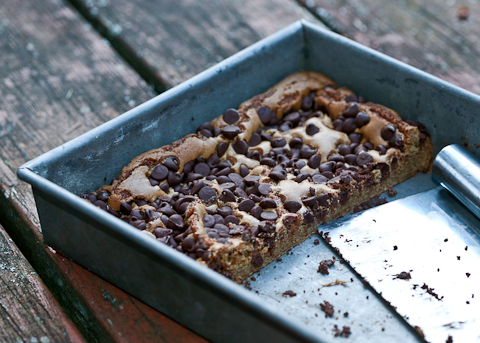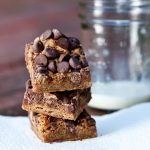 Print Recipe
Quick Fix | Blond Brownies
Adapted from Ginny Cowden's recipe. Makes about 24 brownies.
Ingredients
3/4

cups

unsalted butter

2 1/3

cups

packed brown sugar

1/2

teaspoon

salt

2

eggs

lightly beaten

2

teaspoons

vanilla

2

cups

unbleached all-purpose flour

1

teaspoon

baking powder

1/4

teaspoon

baking soda

12

ounces

chocolate chips
Instructions
Preheat oven to 350° F.  Butter and flour a 9 x 13-inch baking pan;  set aside. 

Melt butter in a saucepan over medium heat. Stir in brown sugar and salt. 

Remove from heat and stir in eggs and vanilla. Mix well. 

Add flour, baking powder, and baking soda. Stir until combined. 

Scrape batter into prepared pan and spread it as evenly as you can (it will be very thick).  Sprinkle chocolate chips on the top. 

Bake for 35 to 40 minutes. Cool in pan before slicing.
YOU MIGHT ALSO LIKE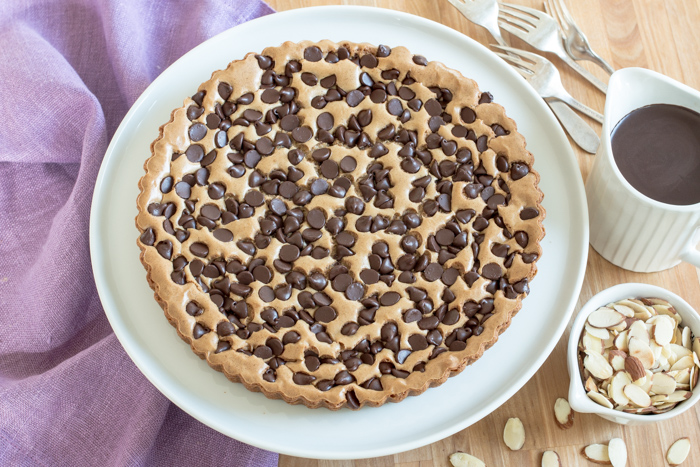 Blond Brownie Tart with Mocha Sauce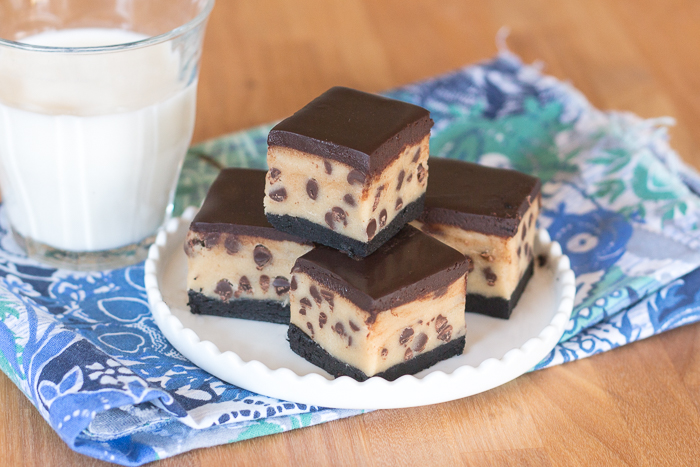 Chocolate Chip Cookie Dough Brownie Bites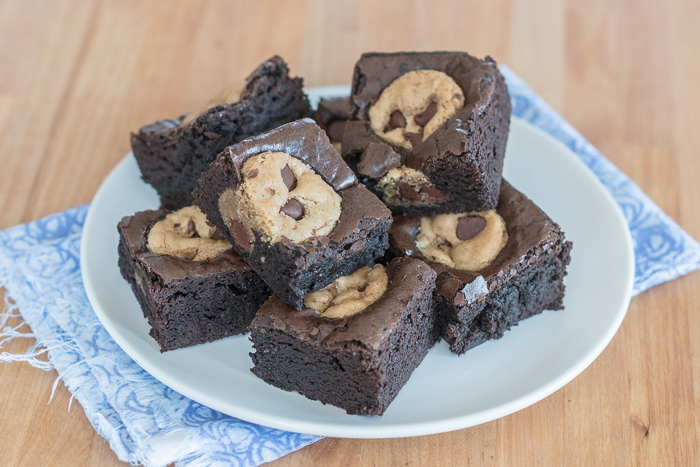 Chocolate Chip Cookie Brownies