These peanut butter chocolate chip cookies burst with super-peanutty flavor, smooth chocolate-richness, and an amazingly crunchy texture.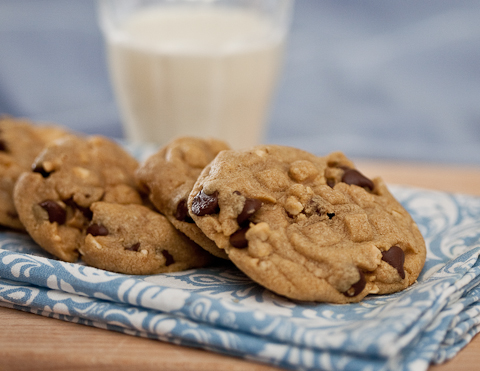 As I grabbed the jar of peanut butter from the grocery store shelf, Eliza asked if we could get the chunky kind instead.
I nearly dropped the jar from my hand.
For as long as can recall, my little peanut butter and jelly sandwich aficionado has always favored creamy peanut butter. I prefer the crunchy variety, but since she's our prime peanut butter consumer, it always seemed fair to let her choose.
"Really?" I asked
"Really," she replied.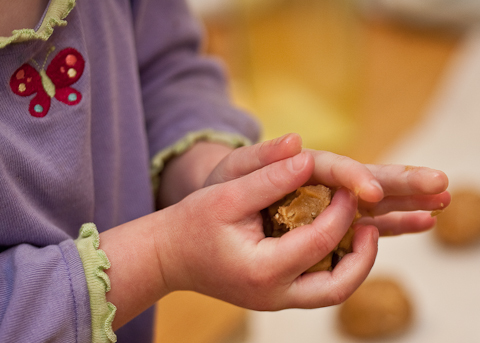 Somewhere out in the world, Eliza had tried crunchy peanut butter again and decided that it tasted better, nuttier, and just plain yummier with jam.
Thank you, dear friend, whoever you are, for reintroducing chunky peanut butter to my daughter. This just goes to show how important it is to mix things up every now and again.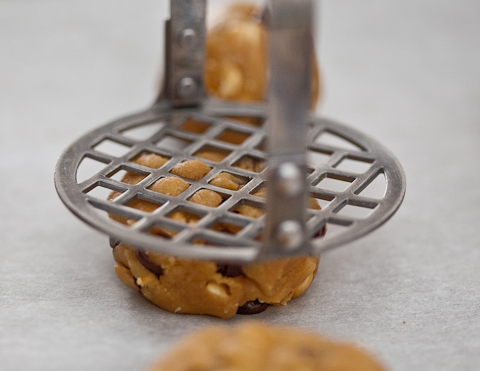 The reappearance of chunky peanut butter in our pantry suddenly got me thinking about one of my favorite cookie recipes: Peanut Butter Chocolate Chip.
For some reason, it had never occurred to me to mix up these cookies with creamy peanut butter. In retrospect, this seems silly, especially since they get extra extra crunchy from the addition of coarsely chopped peanuts. In any case, now that I had chunky peanut butter, I needed to eat some Peanut Butter Chocolate Chip Cookies. Right away.
These cookies burst with super-peanutty flavor, smooth chocolate-richness, and an amazingly crunchy texture. One bite sealed the crunchy peanut butter deal in our household for both Eliza and her younger sister Tessa; I should have baked these cookies years ago.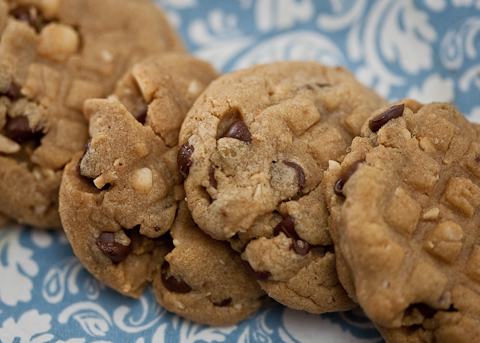 Peanut Butter Chocolate Chip Cookies
Adapted from Cook's Illustrated The New Best Recipe Cookbook. Makes about 36 cookies.
2 1/2 cups unbleached all-purpose flour
1/2 teaspoon baking soda
1/2 teaspoon baking powder
1 teaspoon salt
1 cup unsalted butter (2 sticks), softened but still cool
1 cup packed brown sugar
1 cup granulated sugar
1 cup extra-crunchy peanut butter
2 large eggs
1 tablespoon vanilla extract
1 cup salted dry-roasted peanuts, coarsely chopped
1 1/2 cups semisweet chocolate chips
Adjust the oven racks to the upper- and lower-middle positions. Heat oven to 350° F. Line 2 large baking sheets with parchment paper.
Combine flour, baking soda, baking powder, and salt in a medium bowl. Whisk to combine and set aside.
Using the paddle attachment, beat butter and sugars together in the bowl of an electric mixer. Beat until light and fluffy, about three minutes, scraping down the sides several times. Add peanut butter and beat until fully incorporated, and then add eggs, one at a time, and then the vanilla. Working with about a cup at a time, gently mix in the dry ingredients. Add peanuts and chocolate chips. Stir gently until just incorporated.
Roll dough into 2-inch balls, placing them on prepared baking sheets spacing them at 2-inch intervals. Press dough balls gently with a potato masher to create a pattern on the top, or use a dinner fork to create the traditional crosshatch pattern.
Bake for 6 minutes and then rotate baking sheets. Continue to bake for 5 or 6 minutes more until the cookies are puffed and barely brown around the edges. The cookies will not look fully baked. Cool on baking sheets until cookies are fully set, about 5 minutes. Transfer to wire racks to cool completely.
Some of the links in this post are affiliate links. If you click through and make a purchase, I earn a small commission for my referral at no additional cost to you. Thank you for supporting Flour Arrangements.