This Skillet Polenta with Tomatoes and Goat Cheese recipe is simple and delicious. Top freshly-made polenta with sun-ripened tomatoes, garlic, herbs, pine nuts, and lots of cheese and roast it in your oven for a simple, delicious meal.
M
y husband's job as a marine biologist comes with certain geographical requirements. Fortunately, we love living by the ocean, and we've bounced from beach town to beach town.
We've grown close to amazing friends in each spot. Happily, scientist friends we've met along the way have similar geographical requirements, and so, not so coincidentally, we often find ourselves together again in a different beach town. When we lived in Santa Barbara, CA, our friend Carrie and her husband moved there from Pacific Grove, CA, — our former home — after she finished her Ph.D program. Carrie headed south before her husband and stayed with us while she looked for a place for to live. The first day she arrived, she offered to make us dinner. Carrie's an incredible cook, so while I probably should have offered to make her dinner — she had, after all, hauled herself down the coast alone — I couldn't bring myself to to argue. I'd never made polenta from scratch before, but as I watched her transform cornmeal into a smooth, golden porridge, I knew I would try soon. She scraped the mixture it into my cast iron skillet, topped it with cherry tomatoes, garlic, basil, Gorgonzola, mozzarella, and pine nuts, and then popped it in the oven.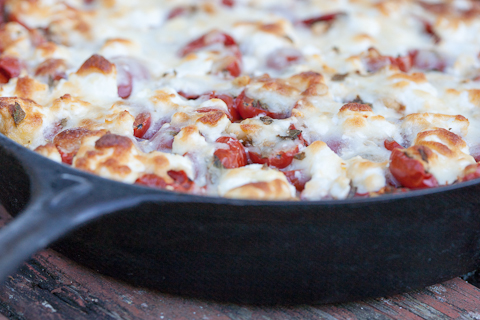 The smell of roasting tomatoes and garlic took the edge off a long day's work wrangling coherent prose out of high school students. I remember feeling so happy that our friends had ended up on the same stretch of coast as us again. Years have passed since then, and we've long since left Santa Barbara for our next adventure in Friday Harbor, WA. I've made Carrie's Skillet Polenta many times, and I always think of her when I do. The other day, when I had a hankering for it, I found myself short on basil and Gorgonzola. Not to be deterred, I subbed in sage and goat cheese, giving this old favorite a new twist. I like it just as much as Carrie's version. Really, how can you go wrong topping freshly-made polenta with sun-ripened tomatoes, garlic, herbs, pine nuts, and lots of cheese. Now that I've broken the mold, you can bet I'll try out new combinations. Carrie had some research to do at Friday Harbor Labs two years ago. She brought her family to stay for the summer, and we had the chance to play on the beach again and share many meals together.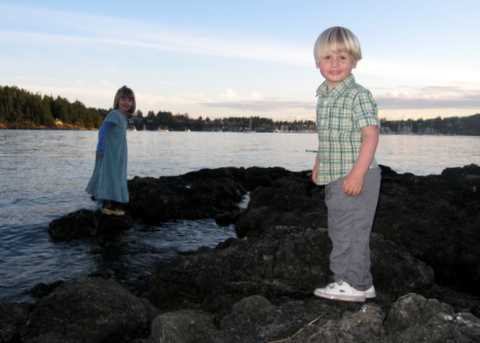 Visits with good friends always pass too quickly. Until the marine biologist shuffle lands us — once again — on the same stretch of coast, I'm depending on Carrie's recipes to help us feel close to her family.
Skillet Polenta with Tomatoes and Goat Cheese
Inspired by Carrie's recipe (adapted from
Epicurious
).
2 cups cherry or grape tomatoes, halved 2 garlic cloves, minced 1/2 cup fresh sage leaves, chopped and divided 1/4 cup pine nuts, toasted 1 1/4 teaspoons salt, divided 4 cups water 1 1/3 cups yellow cornmeal 1 tablespoons extra-virgin olive oil 4 ounces crumbled goat cheese ( about 1 cup) 4 ounces shredded mozzarella cheese ( about 1 cup) Preheat oven to 400°F. Brush a 12-inch-diameter ovenproof skillet generously with olive oil. Toss tomatoes, garlic, 1/4 cup sage, pine nuts, and 1/4 teaspoon salt in a small bowl. Set aside. Combine water, cornmeal, and 1 teaspoon salt in large saucepan over medium-high heat. Whisk constantly until the mixture begins to boil. Reduce heat to medium-low and cook until polenta is very thick and pulls away from sides of pan, whisking constantly, about 3 minutes. Whisk in 1 tablespoon olive oil and 1/4 cup sage. Transfer polenta to prepared skillet, spreading it evenly in the pan. Top polenta with tomato mixture. Sprinkle evenly with goat cheese and mozzarella. Bake until cheese is melted and bubbling, about 20-25 minutes. Let sit at least 15 minutes before serving. Cut polenta into wedges and serve from skillet.
For Skillet Polenta with Tomatoes and Gorgonzola:
Replace sage with fresh basil and goat cheese with Gorgonzola cheese.