Cherry juice soaks into this lemon-infused cake during baking, making it super-moist. This Cherry Upside-Down Cake looks impressive and tastes delicious.
The day before our last camping trip, I found a bag of cherries in the back of my fridge. Since they were almost past their prime, I decided I to bake with them rather than throw them in the cooler with the rest of the food for our trip.
I asked Eliza if she felt like helping with a project as I waved our cherry pitter like a magic wand. In seconds, she hopped into the kitchen asking, "Cherry Pie?"
I actually had my heart set on making a Cherry Upside-Down Cake, but this two-word question from my pie-obsessed daughter nearly changed my mind. While I waffled, I remembered that we needed to transport our dessert–and everything else– to the campsite in our prodigiously packed Prius.
On a previous trip, I discovered an easy way to transport cake; I simply slipped plastic-wrapped cooled layers into clean baking pans and squeezed them into the car with the rest of our gear.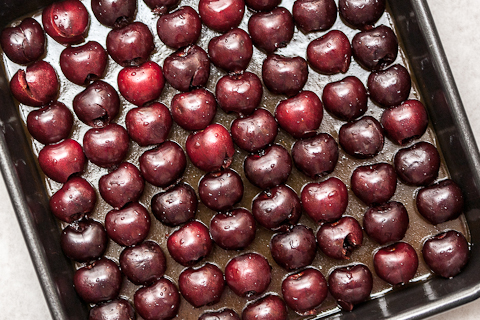 Fortunately, Eliza agreed that cake seemed a better idea; besides, she knows the mere suggestion of pie-baking quickly turns to reality in our house. Almost certainly, a cherry pie will emerge from our oven in the near future.
This cake involves several steps, which makes it a perfect project for two. Pitting cherries kept Eliza busy while I melted sugar on the stove for the caramel topping.
After the caramel cooled slightly in our baking pan, Eliza arranged the cherries in perfect rows as I mixed the rich lemon cake batter. We managed to get the cake in the oven before Tessa woke up from her nap.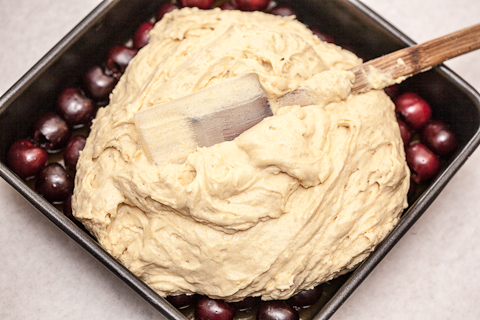 As the juicy, moist cake emerged emerged from pan, I wondered if I'd made a tactical error. Rich, caramel-infused cherry juice drizzled enticingly down the cake's sides; it looked like a dessert best enjoyed warm from pan.
It smelled delicious, and as I tasted the thick juices lingering in the pan, I worried the cake might not last the night, especially since I feared that wrapping and transporting this syrupy, cherry-topped treat would transform it into a soggy mess.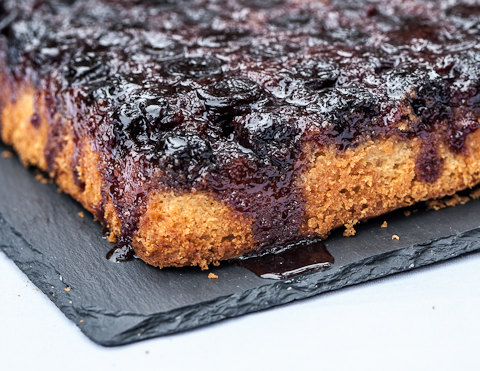 Only sheer will power allowed the cake to remain intact. Once cool, I wrapped it tightly in plastic and then slipped it cherry-side-up in the baking pan.
At the campsite, I unpeeled the wrappings to reveal still-perfect parallel lines of cherries. As friends dug in, I warned them to watch out for pits.
Eliza felt sure she'd pitted each cherry, but sometimes it's hard –even for me– to know for sure if I've gotten all of them. Nearly everyone who had a piece tossed a few pits aside and went back for a second or third slice.
The fruit's thick juices had soaked into the cake, making it super-moist and providing a sweet contrast to the tangy lemon flavor in the cake.
Meanwhile, around the fire, other campers made S'mores. Chocolate squares melted into golden-toasted marshmallows at a rapid pace. When my husband offered Eliza a piece of cake, she looked longingly at the marshmallows, chocolate bars, and graham crackers.
"Has Mommy written about this for her blog yet?" she wanted to know.
When he said, "No," she replied, "Oh, good. That means we"ll make it again soon. Can I have another S'more?"

Cherry Upside-Down Cake
Adapted from Rustic Fruit Desserts. Serves 10 to 12
1 cup (2 sticks) unsalted butter
1 3/4 cups granulated sugar, plus 2 tablespoons, divided
2 lemons, zested and juiced, divided
4 cups sweet cherries, pitted
1 3/4 cups all-purpose flour
1 teaspoon ground cinnamon
1 teaspoon baking powder
1/2 teaspoon baking soda
1/2 teaspoon salt
2 eggs, separated
1 tablespoon pure vanilla extract
3/4 cup sour cream
Preheat the oven to 350° F. Generously butter a 9-inch-square baking pan.
To prepare the caramel topping, melt 1/4 cup butter in a small pan over medium heat. Stir in 3/4 cup sugar and 2 tablespoons lemon juice with a silicone spatula. Increase heat to medium-high and bring the mixture to a boil. Resist the temptation to stir once it starts to boil; swirl the pan gently if it seems to be cooking unevenly. As it boils, the mixture will become foamy and change color from beige to amber brown. Remove it from the heat once it turns amber. Immediately pour the caramel into the prepared pan. Set aside to cool for about 8 to 10 minutes.
Place the cherries in a single layer on top of the caramel with the pitted sides facing up.
For the cake, combine the flour, cinnamon, baking powder, baking soda, and salt together in a small bowl. In the bowl of a standing electric mixer, whisk the egg whites until soft peaks form. Transfer the egg whites to a clean bowl and set aside. Into the now empty mixer bowl, add 3/4 cup butter, 1 cup plus 2 tablespoons sugar, and lemon zest. Beat on medium-high with the paddle attachment until light and fluffy, about 3 to 5 minutes. Add the egg yolks one at a time, scraping down the sides of the bowl occasionally, and then mix in the remaining lemon juice and the vanilla.
Stir in the flour mixture in three additions, alternating with the sour cream, and beginning and ending with the flour. The batter will be thick. Gently fold half of the whites into the batter, incorporating them fully before adding the second half.
Scrape the batter into the pan and gently spread it in an even layer over the cherries. Bake for 60 to 65 minutes, or until the top of the cake is firm and the center springs back when lightly touched. The cake will be very brown. Cool the cake in its pan on a wire rack for 45 minutes.
To flip the cake out of its pan, run a knife around the edges, place a flat plate or serving platter face down over the top of the pan, and then quickly invert the cake onto the platter in one fell swoop.
Some of the links in this post are affiliate links. If you click through and make a purchase, I earn a small commission for my referral at no additional cost to you. Thank you for supporting Flour Arrangements.