Fresh blueberries and strawberries layered over Earl Grey-infused cream filling make a spectacular combination in this Earl Grey Tart with Fresh Berries.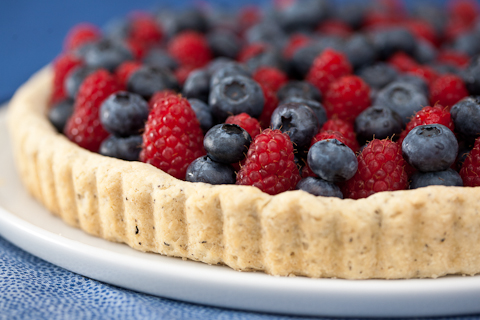 My friend Val just launched a new online magazine, and I agreed to write a guest post for one of her first issues.  Read  about my short-lived love affair with coffee and find the recipe for this tea-steeped cream tart over at Bonbon Break.
I managed to get all the way through college without acquiring a coffee habit.
As a child, when I begged my coffee-chugging mom for sips of her coveted brew, she told me in a horrified tones how drinking coffee  would stunt my growth.  Clearly this made an impression on me (she barely clears 5 feet, so I figured she knew what she was talking about).  Now that I'm a mom, I realize she probably had her hands full without having one of her three kids amped up on caffeine.