Ripe cherries, awash in thick lemony syrup top brown sugar-almond shortbread. A sprinkling of almond-streusel topping adds extra sweetness to these Cherry Almond Bars.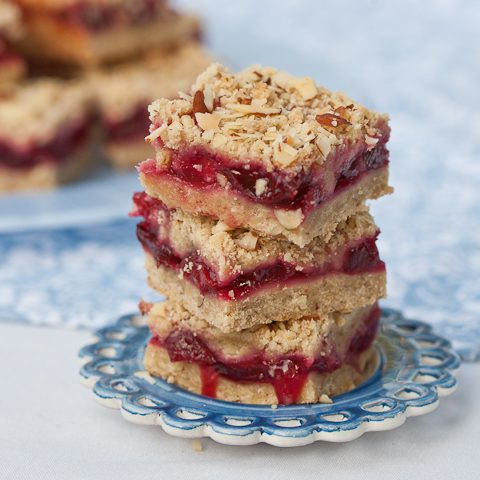 This summer, just like last summer, I bought too many cherries. My children, who gobbled them madly for weeks, now refuse to eat them.
At the market, they now oooh and ahhh over the flats of fresh berries — brilliant red raspberries like giant thimbles, glossy purple Marion berries bigger than their hands, and deep, muted blueberries looking like over-sized marbles. Of course I buy them. How could I say no to berries so beautiful, juicy, and delicious?
But then there's the matter of those neglected cherries. We've already done some baking with them, but clearly not enough.
If my children won't snack on fresh cherries, darn it, they will eat them in dessert. How's that for a threat?
These Cherry Almond Bars won me over as soon as fresh cherries and lemon juice began to simmer on the stove. The smell alone made the splattery mess of pitting cherries worthwhile. One taste of the tangy, rich juices got me thinking about other potential variations of these perfectly paired fruits — cherry lemonade, lemon cherry souffle, or cherry-lemon ice cream.
To prepare the bars, you pour cherries, awash in their thick lemony syrup, over unbaked brown sugar-almond shortbread. A reserved portion of the shortbread mixture, along with extra sliced almonds, gets sprinkled over the cherry filling. Super easy. Super delicious.
I started this project on a mission to get rid of my cherries, but — I confess — I bought more cherries so I could make these bars again. In the process, I learned that slightly overripe cherries produce tastier bars that are a prettier, deeper red.
Now, once again, I have cherries in my fridge. If no one feels like eating them, I don't mind. When they're almost past their prime, I'll just make more cherry bars.
Cherry Almond Bars
Adapted from Rustic Fruit Desserts. Makes 16 two-inch square bars.
Filling
3 cups fresh Bing cherries, pitted and halved
1/2 cup granulated sugar
1 tablespoon cornstarch
1/4 teaspoon salt
1 lemon, zested and juiced
Shortbread and Topping
2 1/4 cups unbleached all-purpose flour
1/2 cup packed brown sugar
1/2 teaspoon salt
1 1/4 cups sliced almonds, divided
3/4 cup (1 1/2 sticks) cold unsalted butter, sliced in pieces
1 large egg
1 tablespoon vanilla extract
Preheat oven to 350º F. Butter a 9-inch square baking pan.
To prepare the fruit filling, combine cherries, sugar, cornstarch, salt, lemon zest and lemon juice in a medium saucepan. Bring to a full boil over medium heat, stirring occasionally. Boil for 1 minute to thicken. Set aside.
Combine flour, brown sugar, and salt in the bowl of a food processor. Whirl to mix. Add butter and 1 cup of the almonds and process until crumbly. Mix egg and vanilla in a small measuring cup. Pour egg mixture through feed tube with the processor running, pulsing only until the mixture comes together.
Press about two-thirds of the shortbread mixture into the prepared pan, then pour the cherry filling over it. Scatter the remaining shortbread mixture over the cherry filling. Gently crush remaining 1/4 cup almonds with a mortar and pestle before scattering them over the crumb mixture.
Bake in the middle of the oven for 30 to 35 minutes, or until the topping is pale golden and the filling bubbles thickly around the edges. Cool for several hours before cutting to let the filling set.
Some of the links in this post are affiliate links. If you click through and make a purchase, I earn a small commission for my referral at no additional cost to you. Thank you for supporting Flour Arrangements.