Prepared in little mason jars, this creamy Bittersweet Chocolate Pudding hits the spot topped with whipped cream and toasted pine nuts.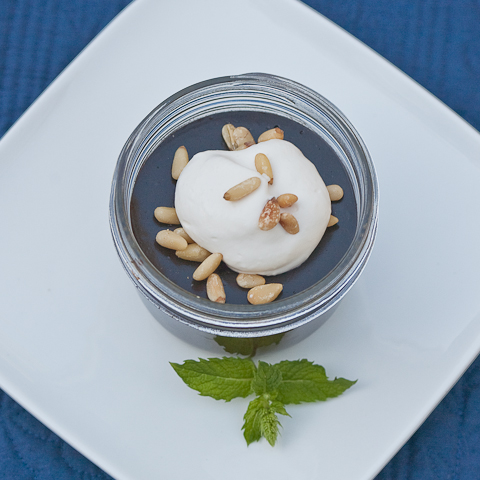 I stole a cookbook from some friends' house a couple of months ago.
It happened like this. I have this uncontrollable need flip through cookbooks, and this particular one, Molto Italiano, had too many recipes that I needed to try.
So I took it home with me. I've had it all summer, and I've loved every recipe I've made from it.
My friends, the ones I stole it from — really don't need it right now. It's summer time, and Ivan runs a whale watching boat. Obviously he's not getting crazy in the kitchen these days since he's busy helping people commune with orcas and other wildlife currently frequenting the San Juan archipelago. And Jackie, well, Jackie doesn't really like to cook anyway. That's my story, and I'm sticking to it.
I obviously need this book way more than they do. I even made them pudding — courtesy of their cookbook — to prove it.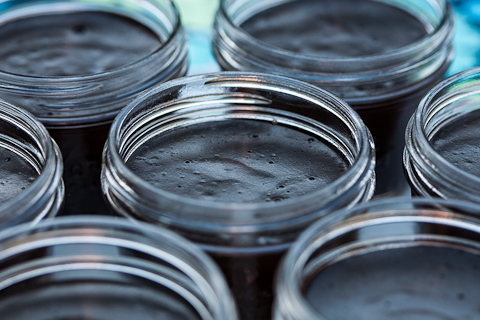 I brought cute little mason jar puddings to their house one night when Ivan made us salmon for dinner (I'm going to pretend that last sentence doesn't completely undermine the rationale of my moral justification).
Those puddings I made that night, well, imagine a cool, creamy spoonful of dark chocolate with a bit of whipped cream and a toasted pine nut or two. Oh, and behind all of that, add a hint of cinnamon for depth. That Mario Batali, he really knows his stuff.
After the salmon dinner, we savored slow spoonfuls of rich pudding around a bonfire in Jackie and Ivan's backyard. The kids left us in peace and ran off to play in a huge dirt pile. How perfect does that sound?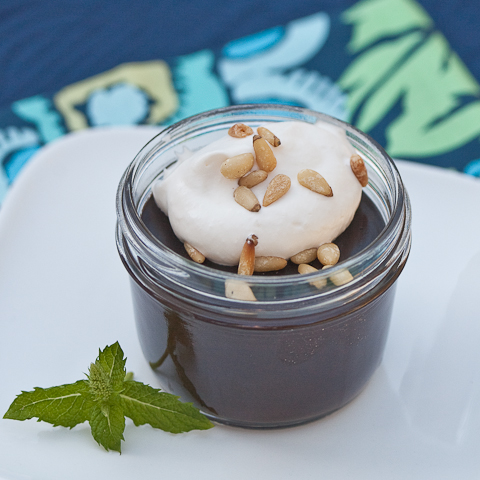 This story, remember, began with the act of stealing. This story, dear reader, therefore, must end with a moral. The moral of this particular tale could read, "Stealing cookbooks will spoil your pudding."
If I had only returned the cookbook as I should have that night we ate pudding, I surely would have avoided the disaster I am about to relate.
Let me explain.
We had a party to attend, and I offered to bring something. The magic of that pudding lingered in my thoughts, and, because I wasn't yet ready to part with it, I still had the cookbook.
The pages of my own cookbooks alternate with splashes of sauce, cake batter, and, in once case, an entire bottle of balsamic vinegar. I may be a thief, but I do have standards; when using a borrowed (or stolen) book, I keep it far away from where I'm working.
Since this recipe came off so well the first time I made it, I got careless. After a quick glance at the recipe, I sauntered over to the stove and got started. Somehow, as I walked across my tiny kitchen, 1/3 cup flour transmogrified into 1/2 cup flour. And the cookbook, too far away to trouble me, never got a second look.
I realized my error too late, long after the mixture seemed too thick and tasted of flour, long after it poured gloopily into those cute little jars. This time around they did not look cute, and the pudding was neither smooth or creamy. It tasted more like gummy cake batter.
I hate to waste food, so I figured I'd serve these less-than-perfect puddings to our friends the next day anyway. It's not like cake batter tastes terrible, right? With a little cream and a sprinkling pine nuts, they'd be just fine. Right? Right.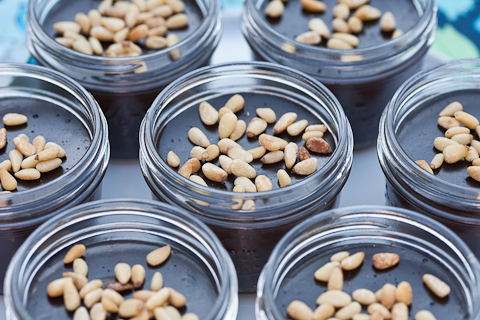 As I mulled this over, my husband walked out the door to check on his Biomechanics students who were madly preparing their final presentations for the following day.
"Ask them if they want pudding," I called after him.
He returned in a hurry for the still-warm puddings. Not long afterward , he came back with empty cups and a good report. He did add a caveat: "They looked so frazzled I'm not sure they paid much attention to the taste or texture."
We still had the party to go to, so I made pudding again the next day.
This time, I read the recipe twice and used the proper amount of flour. Oh, and, in penance, I ordered my own copy of the cookbook.
I'm glad I did. Not only have I recaptured the pudding's magic, but I now own a new cookbook.
And I'm almost sure I'll never steal a cookbook again. But I totally understand if you feel the need to hide your cookbooks when I come over to your house.
Bittersweet Chocolate Pudding
Adapted from Molto Italiano. Makes 10 servings.
1 cup unsweetened cocoa powder
2 cups sugar
1/3 cup flour
1/8 teaspoon salt
4 1/2 cups milk
12 ounces dark chocolate, finely chopped
1 1/2 teaspoons vanilla extract
1 teaspoon cinnamon
5 tablespoons pine nuts, lightly toasted
Mix the cocoa powder, sugar, flour, and salt together in a large saucepan. Whisk a portion of the milk into the dry ingredients to form a paste, and then slowly whisk in the remaining milk. Over medium heat, slowly bring to a boil, whisking constantly, about 20 to 25 minutes.
Remove from heat and stir in chocolate, vanilla, and cinnamon, mixing well until the chocolate melts. Divide the hot mixture between ten 6-ounce ramekins or small mason jars, pouring quickly to achieve the smoothest possible surface.
Cool to room temperature and then refrigerate until cold. Before serving, sprinkle with toasted pine nuts. Top with lightly sweetened whipped cream, if desired.
Some of the links in this post are affiliate links. If you click through and make a purchase, I earn a small commission for my referral at no additional cost to you. Thank you for supporting Flour Arrangements.