Finely ground pecans give these Chocolate Pecan Cookies interesting texture and a richness that elevates them a notch above your standard chocolate chip cookies.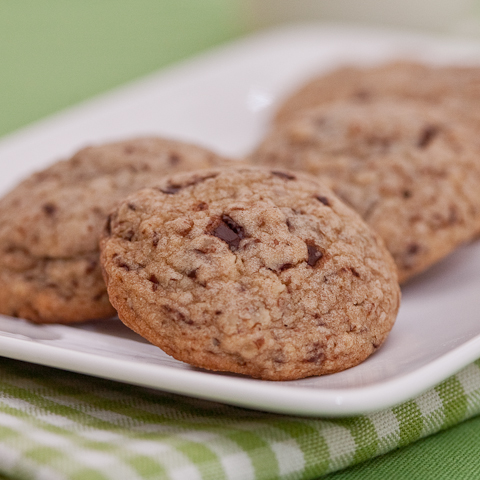 I usually shy away from cookies studded with walnuts or pecans. Besides the fact that I'm allergic to walnuts, chunky nuts, in my opinion, interfere with the chocolate-to-dough balance in a perfect bite of cookie.
I do love pecans, though, and I love to bake with them — just not in cookies.
But then I stumbled across a recipe that called for finely chopped nuts instead of the usual chunks, and I started to wonder if this simple variation would change my mind about pecans in cookies.
A few good whirls in my food processor reduced those brainy looking nuts into small crumbs that I mixed into the dough. The nuts give the cookies an interesting texture and a richness that elevates them a notch above your standard chocolate chip cookies.
Of course the addition of fine dark chocolate doesn't hurt anything either. I chopped part of a four-ounce bar — the part I didn't eat while I worked — into irregular chunks, which resulted in cookies laced throughout with fine veins of chocolate, as well as rich chocolatey pockets inside.
I never thought I'd get excited about cookies with pecans in them, but these sophisticated little bites have me hooked. Even my husband, ever wary of nuts in any baked good, likes them. His only suggestion — add more chocolate. Next time, I'll try not to snack on the chocolate bar.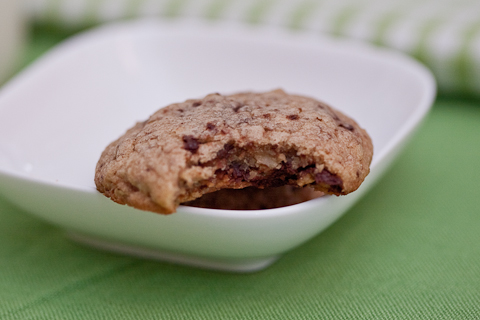 Chocolate Pecan Cookies
Adapted from Vegetarian Cooking for Everyone. Makes about three dozen cookies.
1 stick (1/2 cup) unsalted butter
3/4 cup brown sugar, packed
1 large egg
1 1/2 teaspoons vanilla extract
1/4 teaspoon salt
1 1/4 cups flour
1 mounded cup pecans, toasted and finely chopped
2 – 4 ounces dark chocolate, coarsely chopped
Preheat oven to 375 ° F. In the bowl of a standing mixer, beat butter and sugar with the paddle attachment until smooth and light. Beat in egg, vanilla, and salt. With the mixer on low, stir in nuts and chocolate.
Drop teaspoonfuls of dough right away onto parchment-lined cookie sheets and bake, or chill the dough for about 45 minutes before rolling it into 1-inch balls for smoother, more evenly shaped cookies. Bake until pale brown on top and slightly browner around the bottom edge, about 10 minutes. Remove from baking sheets to cooling rack immediately.
Some of the links in this post are affiliate links. If you click through and make a purchase, I earn a small commission for my referral at no additional cost to you. Thank you for supporting Flour Arrangements.