This sturdy, slightly sour white bread with sesame seeds provides the perfect vehicle for jam.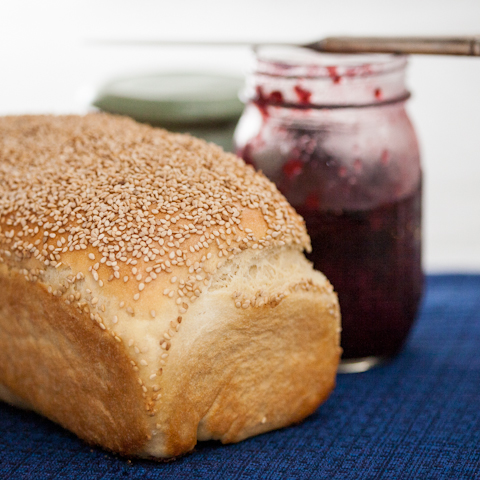 When we first moved to San Juan Island, Eliza, who was three at the time, introduced herself to everyone she met as Frances.
After she introduced herself, she would say, "And this is my baby sister Gloria," of her eight-month-old sister Tessa.
Since we didn't know anyone, most people just assumed it was her real name, but occasionally people asked her if she liked bread and jam. In response, she always said yes as she smiled knowingly.
Russell and Lillian Hoban's books about the quirky young songwriting badger named Frances had struck a chord with Eliza. For months and months we'd read A Baby Sister for Frances, A Bargain for Frances, A Birthday for Frances, Best Friends for Frances, and, of course,Bread and Jam for Frances, over and over and over again. And then we read them all some more.
I had forgotten all about Eliza's obsession with Frances until the other day after school when she asked for her fourth piece of bread and jam.
Eliza, like Frances, is a picky eater, and I suddenly wondered if we were heading toward a tough-love deadlock in which I refused to serve her anything but bread and jam until she broke down in tears one night at dinner and quietly begged for a plate of spaghetti and meatballs.
I handed her a thick slice of freshly-baked bread slathered with berry jam and said, "Remember how long it took for people to get your name right after we moved here, Frances?"
She had no idea what I was talking about.
The girl may not recall the quirky escapades of her not-so-distant youth, but she sure knows her bread and jam.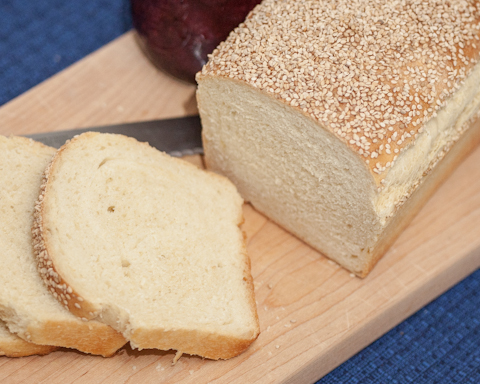 This sturdy, slightly sour white loaf provides the perfect vehicle for jam. The sesame seeds on top add some crunch and a subtle nutty flavor. Eliza's been eating so much of this bread that I've had to bake more than once a week on several occasions to keep up with my school lunch challenge.
After Eliza finished her snack, she read Bread and Jam for Frances to me.
Here's the funny thing: she took serious issue with Frances' eating habits. She couldn't believe that Frances simply refused to try anything at all.
"I at least take a bite of everything," she claimed, "even if I'm pretty sure I'm not going to like it."
She even asked me to make spaghetti and meatballs, "without onions, please."
It looks like I'll get some mileage out of calling Eliza "Frances" next time she decides to get feisty about the food on her dinner plate. As long as she keeps eating her dinner, though, I'll happily make extra loaves for her after school snack.
White Bread with Sesame Seeds
Adapted from The Bread Bible. Makes two 9-by 5-inch loaves.
Sponge
1 cup warm water (105° to 115° F)
1 1/2 tablespoons active dry yeast
1 tablespoon sugar
1 1/4 cups buttermilk
2 cups unbleached all-purpose or bread flour
Dough
1 tablespoon salt
1/4 cup (1/2 stick) unsalted butter, melted and cooled
3 1/2 to 4 cups unbleached all-purpose or bread flour
1 egg white
1 tablespoon water
sesame seeds
To make the sponge, add water to the bowl of a standing electric mixer. Sprinkle yeast over the water's surface and stir to dissolve. Add sugar, buttermilk, and flour. Beat hard with the paddle attachment until smooth and creamy, about 1-2 minutes. Cover loosely with plastic wrap and let sponge rise at room temperature until foamy and doubled in bulk, about an 1 hour.
To form the dough, add the salt, butter, and 1 cup of the flour to the sponge. Beat for 1 minute. Add remaining flour, 1/2 cup at a time, until a soft dough that clears the sides of the bowl is formed.
Switch to the dough hook and knead for 3 to 4 minutes, or until the dough is smooth and springs back when pressed. Transfer to a floured surface and knead briefly by hand, if desired.
Place the dough in a deep greased container. Turn once to coat the dough before covering the bowl with plastic wrap. Let rise at room temperature until the dough is doubled or tripled in bulk, about 2 hours.
Grease two 9-by-5-inch loaf pans. Turn the dough out on a lightly floured work surface. Divide into 2 equal portions. Shape each portion into a rectangle and roll it up into a loaf, pinching the seams together. Place loaves, seam sides down, in loaf pans. Let rise until almost doubled in bulk, about 1 hour.
Preheat oven to 425° F. Right before baking, combine egg white with water and whisk until foamy. Brush the tops of the loaves with egg mixture, and sprinkle generously with sesame seeds. Bake for 10 minutes, and then reduce the oven temperature to 375° F. Continue baking for 20 to 30 minutes, until the tops are brown and crusty and the loaves sound hollow when tapped with your finger. Turn out the loaves immediately onto a rack. Cool before slicing.
Some of the links in this post are affiliate links. If you click through and make a purchase, I earn a small commission for my referral at no additional cost to you. Thank you for supporting Flour Arrangements.