Crisp chocolate crust, rich, thick ganache, sweet butterscotch pudding, and airy whipped cream come together in this indulgent Butterscotch Cream Pie.
A few weeks ago, Tessa looked in the refrigerator and told us that we had too much food. "We shouldn't go to the store until we eat all of this," our nearly-five-year-old declared.
She was right, of course. Even if we'd wanted to go shopping, between neglected leftovers and assorted perishables, we couldn't have possibly squeezed one more item in our fridge.
We promised Tessa that we'd wait at least one whole week before going to the grocery store again.
I imagined suffering through a week of meals like wilted carrots combined with leftover mashed potatoes, but we ate remarkably well. We even discovered some satisfying new recipes in our attempts to cobble together meals from on-hand ingredients.
I especially loved this Penne with Chicken, Arugula, Roasted Tomatoes and Feta for its ease and great combination of flavors.
What I really loved, though, was not going to the store. Not only did I save time and money, I didn't have to endure all those agonizing conversations with my kids about the junk food they thought we should buy.
But just when I started feeling like I might make a habit of shopping less frequently, I started craving butterscotch pudding. A quick glance in our tidier-than-usual refrigerator told me that we had neither cream nor whole milk on hand.
Since I'd promised not to go shopping, I did my best to put the idea of sweet, creamy butterscotch pudding out of my mind.
I couldn't shake the craving though. Thanks to our shopping moratorium, I spent several days fantasizing about the pudding I would make as soon as I possibly could.
As I replayed a vision of pudding in my mind over and over again, it didn't take long for chocolate to assert itself into this daydream.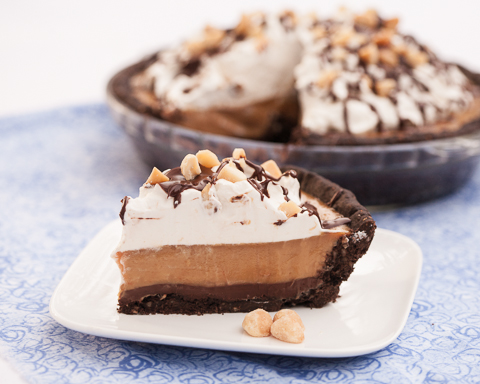 When we finally went shopping, I put whole milk and cream at the top of my list, along with macadamia nuts to make the chocolate crust I'd envisioned. As soon as I returned home from the store, I got to work making a nut-studded, espresso-enriched, dark chocolate crust.
I wasn't sure if the crust would provide enough chocolate flavor, so I added a layer of ganache to the pre-baked crust before I started making pudding.
This pudding, unlike many butterscotch pudding recipes, gets extra richness from the addition of homemade caramel sauce. While this step involves extra time, the use of one more sauce pan, and caramelized sugar fused to your stove, it's definitely worth the effort. Just make it, and you'll see. The proof, as they say, is in the pudding.
While we're on the subject of dirty pans, this might be the time to mention that this dessert will, in fact, make a disastrous mess of your kitchen. I hate cleaning up messes as much as anyone, and to be sure, this pie generates an especially atrocious mess.
By the time I had a lovely pie chilling in my refrigerator, I had used my food processor, electric mixer, three sauce pans, and an army of measuring cups, utensils, and other kitchen implements. I'm not even going to talk about wiping up cocoa powder or the splatterings of pudding and chocolate, but the fact that I have made this pie three times surely must tell you that it is worth the maelstrom it unleashes.
When you make this pie — and I urge you to do so — as you find yourself surveying the chaos, please be sure to lick the spatula that you used for scraping the butterscotch pudding into the pie dish. You will feel instantly better.
I warn you, though, that you may not be able to stop yourself from consuming the entire pie right then and there, so tuck it safely in your refrigerator before taking even the smallest taste.
And six hours later, as you indulge in your first bite — a bite that combines crisp chocolate crust, rich chocolate ganache, sweet butterscotch pudding, and airy whipped cream — the memory of scrubbing clean every single pot, bowl, and utensil that you own will suddenly seem a trivial inconvenience. I promise.
I find it somewhat crazy that this decadent, indulgent dessert resulted from a week of austerity imposed by my youngest daughter.
Perhaps she knew what she was doing all along. You never can tell.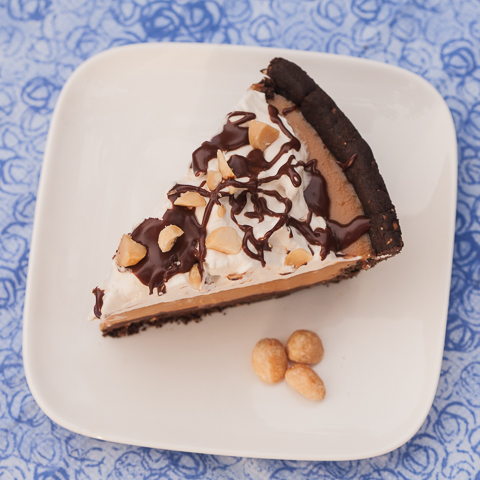 Butterscotch Cream Pie
Pudding adapted from Epicurious.com. Crust adapted from The King Arthur Flour Baker's Companion. Makes one 9 1/2-inch pie. Serves 8 to 10.
Crust
1/2 cup (1 stick) unsalted butter, softened
1/2 teaspoon salt
1 teaspoon vanilla
1 1/2 teaspoons espresso powder
1/3 cup confectioners' sugar
1/4 cup cocoa powder
1 cup unbleached all-purpose flour
1/2 cup dry roasted macadamia nuts, finely chopped
Chocolate Ganache
1 cup dark chocolate chips (6 ounces if using chopped chocolate)
3/4 cup heavy cream
Butterscotch Pudding
3/4 cup granulated sugar
1/4 cup water
1/4 cup whipping cream
1/2 cup packed brown sugar
1/3 cup cornstarch
1 teaspoon salt
3 cups whole milk
4 large egg yolks
1/4 cup (1/2 stick) unsalted butter, cut into small pieces
1 tablespoon vanilla extract
Topping
1 1/2 cups chilled heavy cream
1 tablespoon confectioners' sugar
1 1/2 teaspoons vanilla
reserved chocolate ganache
3 tablespoons macadamia nuts, coarsely chopped
To prepare crust, preheat oven to 400°F.
In a medium-sized bowl beat 1/2 cup butter until fluffy. Add the salt, vanilla, espresso powder, confectioners' sugar, and cocoa. Blend until smooth. Add the flour and stir to blend. Finally, add the nuts. The mixture will feel dry.
Lightly grease a 9 1/2-inch pie pan. Press the crust into the bottom and up the sides of the pan. Bake for 15 to 18 minutes, until it the crust is set (The dark color makes it hard to tell, but it's done when you can just begin to smell the chocolate). Remove the crust from the oven and set it aside to cool.
After taking the crust from the oven, prepare the chocolate ganache. Add chocolate pieces to a heat-proof 2-cup measuring glass. Set aside. Bring 3/4 cup heavy cream to a boil in a small saucepan. Pour cream over chocolate chips and let sit for two minutes. Mix well until smooth.
Pour about 3/4 cup of the ganache on top of the baked crust, spreading with a spatula as needed to create an even layer of chocolate. Cover remaining ganache and reserve for topping the dessert. Refrigerate the crust while you prepare the butterscotch pudding.
Combine granulated cup sugar and water in heavy medium saucepan. Stir over low heat until sugar dissolves. Increase heat to high and boil without stirring until syrup turns deep amber, occasionally swirling the pan and brushing down its sides with a wet pastry brush. Remove from heat and add cream (mixture will bubble vigorously), stirring until smooth. Set caramel sauce aside.
Mix brown sugar, cornstarch, and salt in heavy medium saucepan. Slowly whisk in milk. Stir over medium heat until the mixture thickens and boils. Remove from heat and immediately pour into the saucepan containing caramel sauce, whisking until well combined.
Whisk egg yolks in medium bowl. Add about 1 cup of the warm caramel mixture into yolks, whisking constantly until well combined. Whisk yolk mixture back into caramel mixture in the saucepan. Bring to a simmer over medium heat. Remove from heat and whisk in butter and vanilla.
Pour warm pudding into the prepared pie dish. Refrigerate uncovered for at least six hours.
Just before serving, combine cream, confectioners' sugar, and vanilla in the bowl of a standing electric mixer. Beat at high speed until it just holds stiff peaks. Spoon the whipped cream on top of pie and spread it evenly with a spatula. Garnish with several tablespoons of reserved ganache and macadamia nuts. Pass remaining ganache or use to decorate serving plates.
Some of the links in this post are affiliate links. If you click through and make a purchase, I earn a small commission for my referral at no additional cost to you. Thank you for supporting Flour Arrangements.