Basic shapes and bold colors come together in a simple but striking balloon cake design.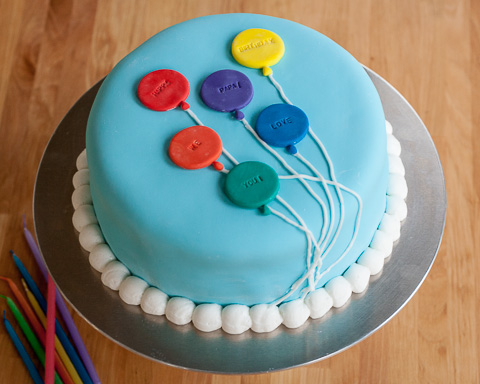 When we lived in Santa Barbara, CA, and then farther afield in Friday Harbor, WA, my mom and dad always made a point of coming to visit for my kids' birthdays.
Every year, weeks before their birthdays, my girls began anticipating their grandparents' arrival from the San Francisco Bay Area. The simple, yet extraordinary presence of Grandma and Papa somehow signaled the beginning of the birthday festivities.
Now, unbelievably, we're back in California living a mere 30 minutes from my parents. While we haven't lived here long enough to celebrate the girls' birthdays in our new home, I know, come February, and then April, my parents will be here spreading birthday cheer in that special way only grandparents can.
When my daughters realized my dad's birthday was just around the corner, they felt thoroughly astonished that we'd never been to any of his birthday parties; right then, we decided to throw a surprise birthday dinner to start making up for lost time. The girls brainstormed some pretty awesome ideas for our celebration, many of which involved cakes with multiple tiers in a variety of shapes. When I reminded them that only six of us would attend the party, they reluctantly agreed that a small layer cake would do — so long as we made it fancy.
I can't remember which of the girls came up with the idea of a balloon cake, but the more we talked about it, the more perfect the cake sounded. Basic shapes and bold colors would come together in a simple but striking design.
The day of the party, we topped our 8-inch layer cake with sky-blue fondant. This cake required only one batch of marshmallow fondant, which simplified its assembly. We colored about two-thirds of the fondant blue and used the remainder to create several colors for the the balloons.
Round cutters made shaping the balloons easy, and we formed tiny triangles by hand for the ends of the balloons. It turns out you can actually buy a balloon-shaped cutter, but really, the round cutters worked out so well that I'd use them again the next time around.
I wanted the white piping along the bottom of the cake to appear cloud-like, so, as I prepared frosting for decorating the cake, I dropped — somewhat reluctantly — a hunk of glistening white Crisco into my mixer rather than pale yellow butter. When I got ready to pipe the fluffy white frosting on the cake, I realized I didn't have the right size tip to create billowy puffs around the bottom edge, so I just used the coupler to do it.
My dad arrived in time to consult on the the cake's final touches and even helped me apply the frosting to the cake. After figuring out where the balloons should go on the top of the cake, I used a number two tip to pipe all of the strings at one time. Attaching the balloons and their ends to the piped strings helped hold them in place. Compared to some of the cakes I've decorated, this one was a breeze.
I know my dad felt tickled about his surprise party, complete with balloon-bedecked cake, but I'd venture to guess that my daughters enjoyed the evening even more than he did. Clearly my parents' considerable efforts to attend every single one of my daughters' birthday parties has made an impression on these girls. Celebrating important milestones with the people you love holds more value than any present money can buy.
Some of the links in this post are affiliate links. If you click through and make a purchase, I earn a small commission for my referral at no additional cost to you. Thank you for supporting Flour Arrangements.