Rosemary-garlic infused monkey bread oozes with Jahrlsberg cheese–a decadent twist to savory pull-apart bread! Adding chopped salami takes this Cheese-Stuffed Monkey Bread over the top.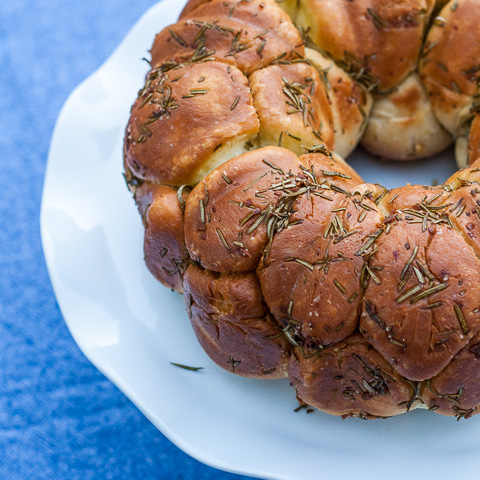 I
've lost track of how many times I've made
savory monkey bread
since I first baked this addictive pull-apart bread in November.  Despite various flavor improvisations, Eliza's specialty, a combination of lemon, rosemary, and garlic, remained my favorite until only just recently.  Previously, whenever I experimented — replacing the rosemary with thyme or changing it up entirely by using parsley, shallots, and poppy seeds instead — I always found myself wishing I'd stuck with our original recipe. I finally vowed to do just that, and I meant to, really I did.  It's just that, one afternoon while making dough for monkey bread, I found myself wondering what it would taste like stuffed with cheese.  Cheese-stuffed monkey bread was bound to be a winner.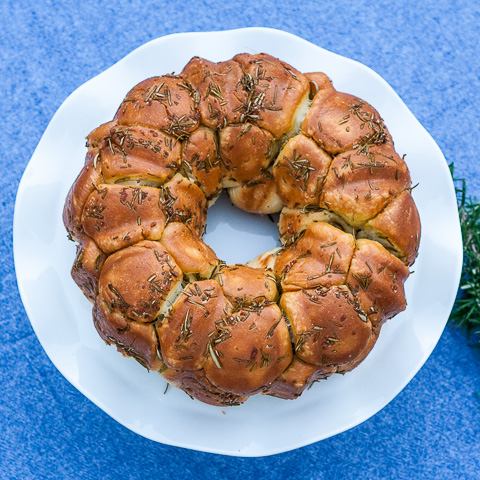 I'm not a vow-breaker by nature, but I've had a long relationship with
cheese-stuffed bread
.  I felt certain I wouldn't be disappointed if I tinkered with the recipe just one last time. The more I thought about it, the more confident I became that this new iteration would perfectly combine two of my favorite foods —
cheese zombies
and savory monkey bread.
I stuffed three dozen small pieces of soft, supple dough with cheese and drenched them in garlic-rosemary olive oil.  When I finally put my bundt pan in the oven, the 35-minute baking time felt like an eternity. I could hardly wait to pluck off that first warm, tender hunk of bread.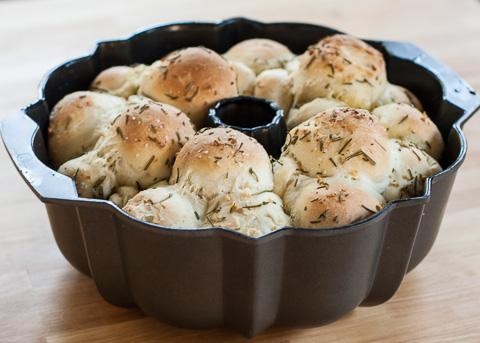 I should have had more patience, though, since cheese, not surprisingly, transforms into a fiery molten mass after hanging out in an oven for half an hour at 375° F. Despite my seriously burned tongue, I felt ecstatic:  rosemary-garlic infused bread oozing with flavorful cheese tasted even better than I imagined.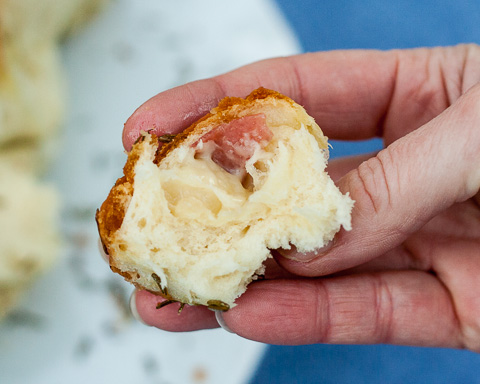 Of course, I couldn't resist more tinkering.  I stuffed monkey bread with different cheeses — Colby-Jack, cheddar, Jarlsberg, Gruyere — all the while playing with the flavors in the oil, not to mention throwing a bit of cured meat into the mix. I haven't yet felt disappointed by any of my cheese-stuffed variations, though I do now have a clear favorite:  rosemary-garlic-cayenne monkey bread stuffed with Jarlsberg cheese and salami. It sounds like a mouthful, I know.  I'm calling it zombie monkey bread for short.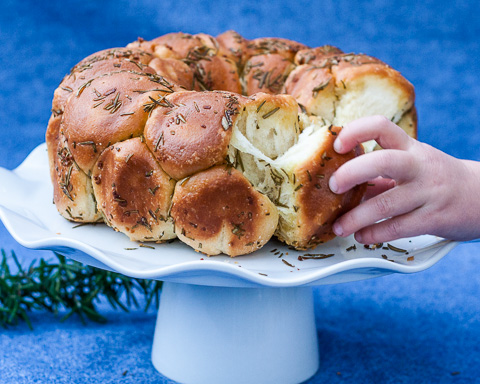 Zombie Monkey Bread (Cheese-Stuffed Monkey Bread)
Vary the fillings and flavorings to suit your fancy.  Serves 8-10.
Bread Dough
3 tablespoons warm water 2 1/4 teaspoons active dry yeast pinch sugar 5 tablespoons butter 1 cup milk or buttermilk 2 tablespoons honey 1 teaspoon salt 1 large egg 3 1/2 to 4 cups unbleached all-purpose flour
Filling
5-6 ounces Jarlsberg cheese, cut in generous 3/4-inch cubes 9 slices of salami, each one cut into 8 pieces
Oil Coating
1/3 cup olive oil 1/4 cup plus 2 tablespoons coarsely chopped rosemary 3 garlic cloves, minced 1/8 teaspoon cayenne pepper, or to taste 1/2 teaspoon salt
Instructions
To make the dough, add water to the bowl of a standing electric mixer.  Scatter yeast and a pinch of sugar over the water's surface.  Stir to combine.  Let stand until bubbly, about 5 minutes. Meanwhile, melt butter in a small saucepan over medium heat.  Remove from heat and add milk (or buttermilk), honey, and salt.  Stir to combine.  Add egg and mix well. Add contents of the saucepan to the yeast mixture along with 2 cups of the flour.  Beat with the paddle attachment until combined.  Add remaining flour, about a half a cup at a time, until a smooth but sticky dough forms.  Switch to the dough hook and knead for 3 to 5 minutes.  Transfer the dough into a greased bowl, flipping it to coat the entire surface with oil.  Cover with plastic wrap and let rise until doubled in size, about 1 to 2 hours. To prepare the oil mixture, combine olive oil, rosemary, garlic, cayenne, and salt in a shallow bowl.  Set aside. To assemble, lightly brush the inside of an 8-inch tube or bundt-style pan with a bit of the oil mixture.  Turn out the dough onto an unfloured surface and divide it into 36 pieces of roughly the same size.  Working a few at a time, shape the dough pieces into flat disks.  Place one wedge of salami on each piece of dough, top it with cheese, and add another salami wedge.  Wrap the dough around the filling, pinching it tightly together at the bottom as you shape it into a small ball. Dip the filled balls into the oil mixture, coating them completely before placing them in the pan. If you have time, let the dough rise for 15 to 20 minutes;  if you're in a hurry, putting it in the oven it immediately works out just fine.   Bake in an oven preheated to 375° F until golden brown on top, about 35 minutes.   Let cool for several minutes in the pan before inverting it onto a platter.  Let the bread cool briefly before serving as the cheese filling can be quite hot.