Warm, tender pull-apart bread oozing with caramelized cardamom-clove brown sugar makes Cardamom-Clove Monkey Bread pure comfort food.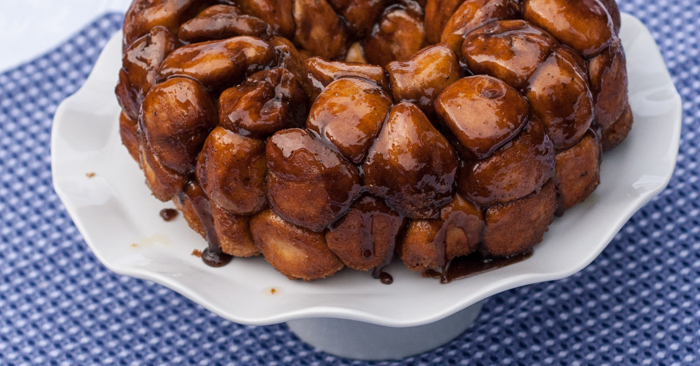 Years ago, my daughter Eliza admitted that she and her friend Tarn had tried to eat the lemon verbena soap by the sink at our friends' house. It was hard to keep a straight face while she explained their resulting disappointment. The girls just didn't understand how something that smelled so good could taste so awful.
This woeful soap story had all but disappeared from my memory until I lathered up with a bar of cardamom-clove soap made by my friends Sharalyn and Peg. As soon as I realized how much I wanted to eat this ambrosial bar, I flashed back to a baffled and sad-faced soap-eating Eliza.
Fortunately, this vision helped me restrain myself — but just barely. Since I started to salivate every time I used the soap, I realized that I needed to incorporate this alluring spice combination into something edible before I started nibbling my shrinking bar.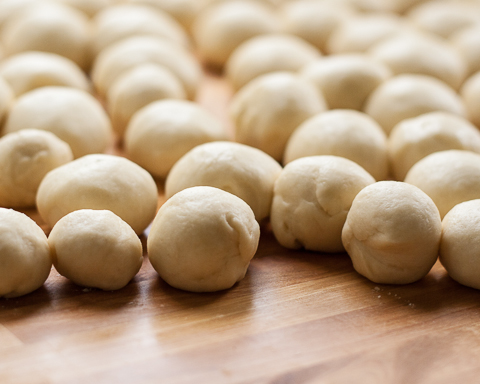 This presented a perfect opportunity to experiment with monkey bread again. After great success with a
rosemary-lemon
version, as well as one
stuffed with cheese
, I felt ready to try making sweet monkey bread. Recipes for the traditional cinnamon variety abound, but I couldn't find a single cardamom-clove recipe to use as a starting place. So when my dough — a sweeter version of the recipe I'd used for savory monkey bread — finished rising, I sprinkled cardamom and cloves into the brown sugar a bit at a time until the mixture smelled and tasted right.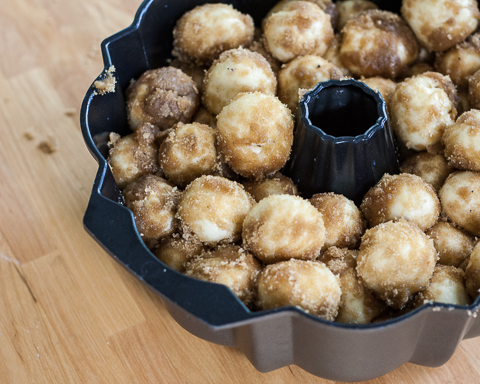 As I dunked the soft, supple dough in melted butter and then rolled it in generously-spiced sugar, I had a feeling that even Eliza, my die-hard
cinnamon lover
, would approve — despite the fact that I'd passed over her go-to spice. As the bread baked, aromatic spices filled the house. It didn't take long for my kids to ask what I'd put in the oven and when they could finally eat it. And that was before they'd had the opportunity to look at it.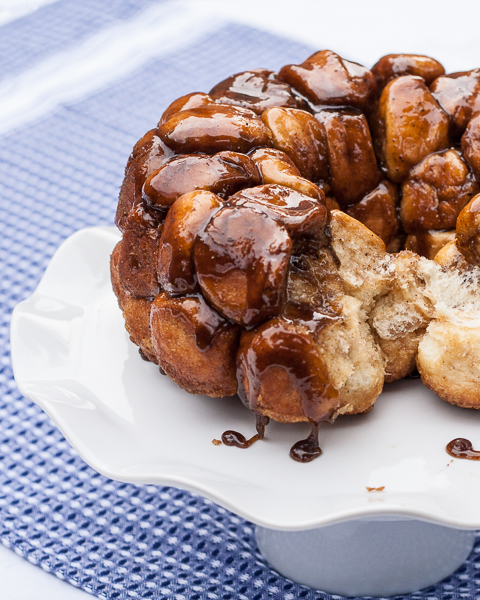 When I turned out the sweet, syrupy pull-apart loaf, I literally heard gasps. I almost I had to hold my girls back for fear that they would burn their fingers on the piping hot bread.
As we waited for it to cool a bit, we impatiently eyed the thick layer of caramelized sugar oozing down its sides. Finally, we got our fingers on sticky, warmly spiced gobs of tender bread. They tasted even better than I imagined.
We ate until until our bellies could hold no more, and then we ate some more. If you lack self control, I suggest baking this sweet delicacy for a crowd. And now that I can finally use cardamom clove soap without feeling tempted to eat it, my bar is all gone. I may need another care package from Sharalyn and Peg.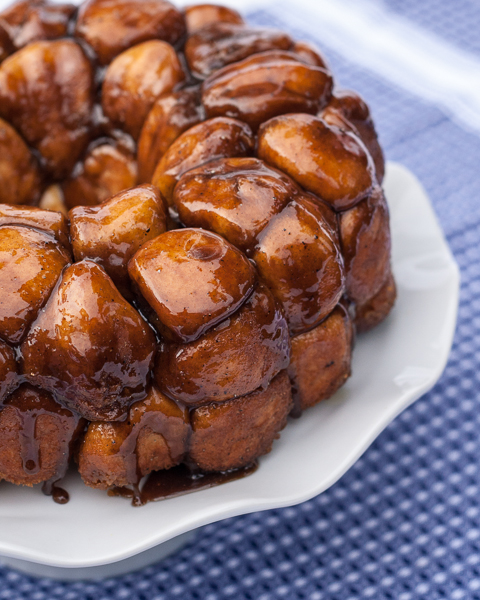 Cardamom-Clove Monkey Bread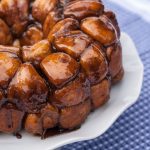 Print Recipe
Cardamom-Clove Monkey Bread
Ingredients
Bread Dough
3

tablespoons

warm water

2 1/4

teaspoons

active dry yeast

1/4

cup

granulated sugar

5

tablespoons

butter

1

cup

milk

1

teaspoon

salt

1

large egg

3 1/2 to 4

cups

unbleached all-purpose flour
Cardamom-Clove Topping
1 1/2

cups

brown sugar

2

teaspoons

ground cardamom

1/2

teaspoon

ground cloves

3/4

cups (1 1/2 sticks)

unsalted butter
Instructions
To make the dough, add water to the bowl of a standing electric mixer. Scatter yeast and a pinch of the sugar over the water's surface. Stir to combine. Let stand until bubbly, about 5 minutes.

Meanwhile, melt butter in a small saucepan over medium heat. Remove from heat and add milk, sugar, and salt. Stir to combine. Add egg and mix well.

Add contents of the saucepan to the yeast mixture along with 2 cups of the flour. Beat with the paddle attachment until combined. Add remaining flour, about a half a cup at a time, until a smooth but sticky dough forms. Switch to the dough hook and knead for 3 to 5 minutes. Transfer the dough into a greased bowl, flipping it to coat the entire surface with oil. Cover with plastic wrap and let rise until doubled in size, about 1 to 2 hours.

To prepare for assembly, combine sugar and spices in a wide, shallow bowl. In a separate bowl, melt the butter. Lightly brush the inside of a large tube or bundt-style pan with a bit of the melted butter. Turn out the dough onto an unfloured surface and gently deflate it. Shape the dough into scant one-inch balls (I ended up with 84).

Dip the balls, one by one, in the melted butter and then roll them in the brown sugar mixture. You may need more of the sugar mixture depending how generously you coat each ball. Drizzle any remaining butter over the top of the filled bundt pan.

Bake right away in an oven preheated to 375° F until golden brown on top, about 35 to 40 minutes. Let rest for 5 to 10 minutes in the pan before inverting it onto a platter. Let the bread cool briefly before serving as the sugary syrup will be extremely hot.
Pin Cardamom Clove-Monkey Bread for Later