Lemon-Pepper Pasta with Lemon & Arugula combines spicy greens and tart lemon flavor, which shine against a backdrop of creme fraiche and Parmesan cheese.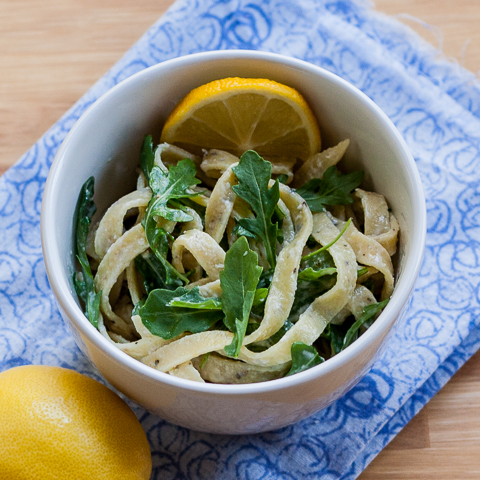 I've never liked juniper.  These prickly shrubs always seem to take over the yards where they grow, edging out other plants with more distinctive or colorful foliage. 
Additionally, when I brush up against juniper's mass of short, rough needles, I break out in hives.  You can imagine my delight, then, about the awesome juniper display in the front yard of the house we bought last summer.
A rock garden mounded with with 18 bristly juniper tufts covered the tiny 16′ by 16′ area directly in front of our house.  Another juniper behemoth loomed from the small side area lining the path to our front door.
Aside from the sheer mass of juniper in the yard, our house was practically perfect in every way.  As soon as we could manage it, we ripped out the bushes and hauled away the gravel.
Instantly, even with bare dirt, our house looked better.  Now, a Meyer lemon tree, apple tree, strawberries, rosemary, and blueberries have given our yard a new beginning.   In the weeks to come, we'll add more plants to fill in the rest of the bare dirt.  Someday, maybe we'll even forget what it looked like with all that juniper.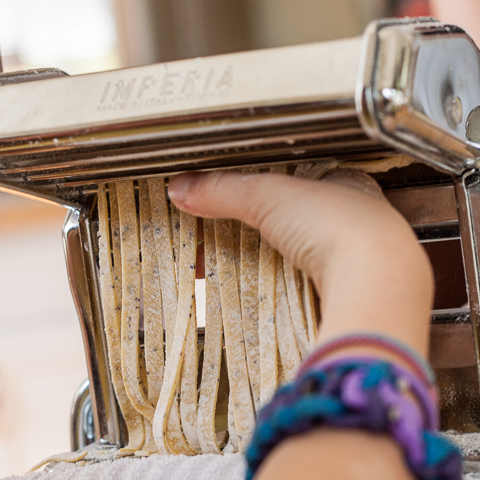 Many of our new plants already have blossoms.   When the sun shines on the lemon tree's tiny white flowers, a sweet, dizzying fragrance fills the yard.   While I'm loving those gorgeous, scented blooms, I'm eager for them to get on with the business of turning into lemons.
The prospect of homegrown citrus has me itching to use lemons in the kitchen constantly now.  In addition to hankering for lemon meringue pie and lemon cake, I started craving one of my favorite meals, lemon-arugula pasta, a quick, super-flavorful meal that seems to make itself.  If, as I do, you live close to Trader Joe's, you can have this meal on the table within 30 minutes, and that includes a trip to the store.
Spicy greens and tart lemon flavor shine against a backdrop of creme fraiche and Parmesan cheese.  The stuff tastes amazing with dried pasta, but I decided to make my own pasta — chock full of lemon zest, lemon juice, and freshly cracked black pepper — in an attempt to satisfy my intense lemon craving.   I knew I could count on my kids to roll out the dough, which meant the project required minimal effort on my part.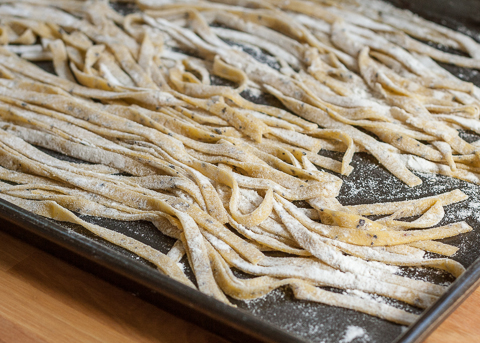 As fresh pasta does to most recipes, the lemon-pepper pasta kicked up this lemon-arugula recipe a notch.  In fact, with its lemony zing and peppery bite, it made this simple meal feel downright fancy.
I liked these fresh noodles so much that we made them again, and I'm happy to report that, simply tossed with butter and Parmesan cheese, they taste spectacular.
I'm totally convinced that they'll taste even better with lemons from my own tree.  This leaves me wondering why would anyone plant juniper instead of fruit trees.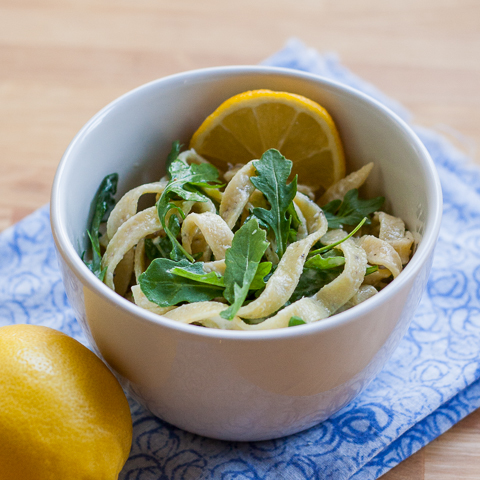 Lemon-Pepper Pasta with Lemon & Arugula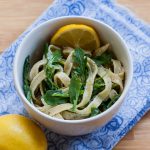 Print Recipe
Lemon-Pepper Pasta with Lemon & Arugula
Ingredients
Pasta
3/4 to 1

cup

semolina flour

3/4

cup

all purpose flour

1 1/2

teaspoons

freshly cracked black pepper

1/2

teaspoon

salt

3

lemons

zested

2

tablespoons

fresh lemon juice

2

tablespoons

olive oil

2

large eggs
Sauce
2

lemons

zested and juiced

1

cup

creme fraiche

1 1/2

cups

Parmesan cheese

grated

5

ounces

arugula

salt and pepper

to taste
Instructions
Combine 3/4 cup semolina flour, all-purpose flour, pepper, and salt in the bowl of standing mixer. Whirl with the paddle attachment to combine.

In a 2-cup glass measure, combine and lightly beat lemon zest, 2 tablespoons lemon juice, olive oil, and eggs. With the mixer on low speed, slowly drizzle the egg mixture into the flour mixture. Stir to combine, adding additional semolina flour 1 tablespoon at a time until the dough comes together and is no longer sticky. Remove dough from the mixing bowl and knead by hand for about five minutes, adding additional flour only if needed to prevent sticking. Let dough rest for at least 20 minutes before forming pasta.

For the sauce, stir together creme fraiche, lemon zest, and lemon juice in a large bowl.

Roll pasta dough thinly and cut into strips by hand, or feed the dough through a pasta machine.

Boil pasta until tender – 1 to 4 minutes – in a large pot of salted water. Transfer drained pasta into the bowl with the creme fraiche mixture, stirring to coat pasta. Add arugula and the cheese and toss gently to combine. Season with salt and pepper. Top with Parmesan shavings, fresh arugula, and lemon slices.