Nestled in a buttery shortbread crust, this Mocha Tart's truffle-like texture and decadent chocolate-coffee lusciousness belie its simplicity.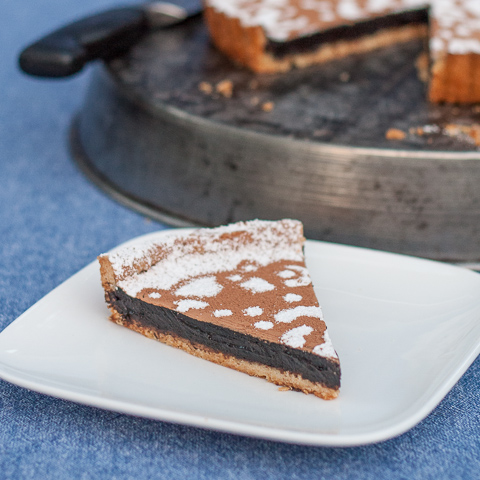 Long ago, I gave up on pie and tart recipes that require prebaked crusts. Tricks like using pie weights or allowing the crust to rest before baking just never worked for me.
With the exception of this chocolate crust, every time I've ever pre-baked a crust, it slumped or buckled miserably, dashing any foolish hope I'd had about serving a fresh fruit tart or banana cream pie.
These luscious sweets are filled only after the crust has cooled, and, once filled, they require no additional baking; their velvety pastry cream and cool, succulent fruit leave no leeway for workarounds like baking the crust and filling simultaneously. Because of this, I resigned myself to enjoying fresh-fruit tarts prepared by others.
But now, miraculously, I see fresh fruit tarts in my future, all thanks to a shortbread tart crust recipe I discovered while baking a mocha tart recipe from Alice Medrich's Seriously Bitter Sweet. I shudder to think that I nearly passed this recipe over when I noticed that it involved pre-baked crust.
Fortunately, Medrich's description of the mocha tart recipe focuses on its crust: "Two weeks of nonstop shortbread testing produced an unorthodox surprise: perfect shortbread made with melted butter." She extols its virtues and versatility and all but promises that it "barely shrinks in the pan, so there's no need to weight or even prick it before baking."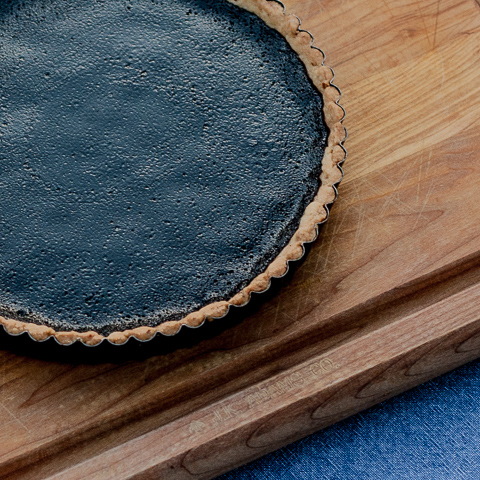 While I felt skeptical about making a shortbread crust with melted butter, I had to know if it would really work. The picture on the page opposite the recipe showed a perfect tart crust, its pale golden hues complemented by a deep dark chocolaty filling. I knew I wouldn't rest until I'd at least tried to replicate it. And since it looked like I could do so in less than hour with minimal effort and mess, I got started right away.
In minutes, the ingredients for the crust came together by hand in one bowl. Pressed gently into a tart pan, the shortbread mixture baked while I prepared the filling — cocoa powder, cream, butter, sugar, espresso powder, vanilla, and egg — in a saucepan. After 20 minutes, the crust — without the slightest bit of slumping or buckling — turned a beautiful golden brown. I poured in the filling, turned off the oven, and cleaned up the few kitchen tools I'd used to prepare the tart. Fifteen minutes later — in my spotless kitchen — I removed a gorgeous tart from the oven.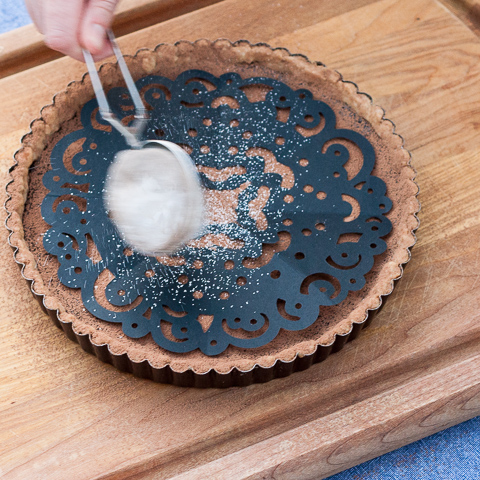 I had prepared the tart first thing in the morning to bring to our friends' house that evening. Since I have such an atrocious track record with prebaked crusts, I gave myself plenty of time to bake something else when my tart crust failed. Now I had to wait all day long to find out how this renegade melted-butter tart tasted!
The crust sliced remarkably well, and its thin crispness delivered an almost caramelized flavor. But the filling! WOW! Its truffle-like texture and decadent chocolate-coffee lusciousness belied its simplicity.
While lost in reverie about how something so easy could taste so complex and sophisticated, I heard my husband say that he loved the flavor of the shortbread, but that he thought it seemed too hard. My friend Rebecca, on the other hand, thought it was perfect. She felt that shortbread, by nature, should be denser than a flaky pastry crust. She immediately began imagining the tart crust's possibilities with other fillings, lemon in particular, and wondered, by the way, when I thought I'd have the recipe posted.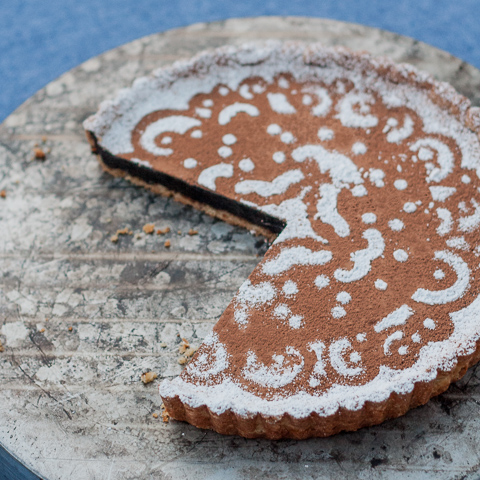 I wrenched my thoughts away from the filling and focused on the crust. I liked it, but I could see both sides. I wondered if adding chopped pecans might make the crust more delicate while maintaining its shortbread character. Now that I knew I could prebake a crust, I felt bold enough to experiment with the recipe. It turns out that finely chopped — but not pulverized — nuts add just enough texture to make the crust lighter without sabotaging its cookie-like personality.
At first I felt somewhat disappointed when I realized that toasting and chopping the nuts added to the crust's preparation time, but when I made it again without the nuts, I realized that the crust comes together so quickly that it's ready to bake before my oven has a chance to preheat. When I lightly toast and chop pecans, my oven comes to temperature just as I finish patting crust into the tart pan.
Rebecca tasted a version of the pecan shortbread crust, and, while she liked it, she still prefers the original version, which she'd especially like to fill with something lemony.
For myself, I prefer the pecan-laced crust with the rich mocha custard filling, but I can imagine other tart variations where I might favor the straight-up shortbread version. And while I fully intend to get started on fresh fruit tarts soon, I need (at least) one more slice of mocha tart before I can move on. Since I can have one ready in about 35 minutes, I've got time to crank one out right now.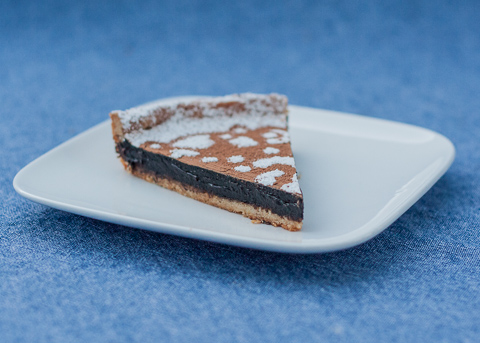 Mocha Tart
Adapted from Seriously Bitter Sweet. The optional addition of chopped pecans to the crust creates a more delicate texture than without. Both are delicious.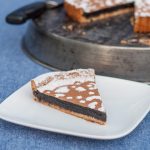 Print Recipe
Mocha Tart
Ingredients
Crust
7

tablespoons

unsalted butter

melted

1/4

cup

sugar

1/4

teaspoon

salt

1

teaspoon

vanilla extract

1/4

cup

toasted pecans

chopped finely (optional)

1

cup

unbleached all-purpose flour
Filling
3

tablespoons

unsalted butter

cut into chunks

1/2

cup

sugar

1/4

cup

unsweetened cocoa powder

1

cup

heavy cream

1 1/4

teaspoons

instant espresso powder

1

teaspoon

vanilla extract

1

large egg

lightly beaten
Instructions
To make the crust, mix butter, sugar, salt, vanilla, and pecans (if using) in a medium bowl. Add flour and mix until just blended. Press the dough evenly over the bottom and up the sides of a 9 1/2-inch tart pan with a removable bottom. Bake in the lower third of an oven preheated to 350° F until the crust is pale golden, about 20 to 25 minutes.

Meanwhile, make the filling. Combine butter, sugar, cocoa powder, and cream in a medium saucepan. Stir over medium heat until mixture is blended and smooth and begins to simmer around the edges. Remove from heat and stir in espresso powder and vanilla.

Just before the crust finishes baking, add beaten egg to the cocoa mixture, whisking until well combined.

Pour the filling into the hot crust and turn off the oven. Leave the tart in the oven until it quivers slightly in the center when the pan is nudged, about 10 to 12 minutes. Cool on a rack.

If desired, add a decorative pattern to the tart; sprinkle the top with cocoa powder, cover with a doily or handmade snowflake, and then sprinkle with powdered sugar. Remove paper carefully and serve.
Some of the links in this post are affiliate links. If you click through and make a purchase, I earn a small commission for my referral at no additional cost to you. Thank you for supporting Flour Arrangements.